UK College of Nursing, UK HealthCare, Eastern State Hospital Partner for Inaugural Research and Practice Initiatives Day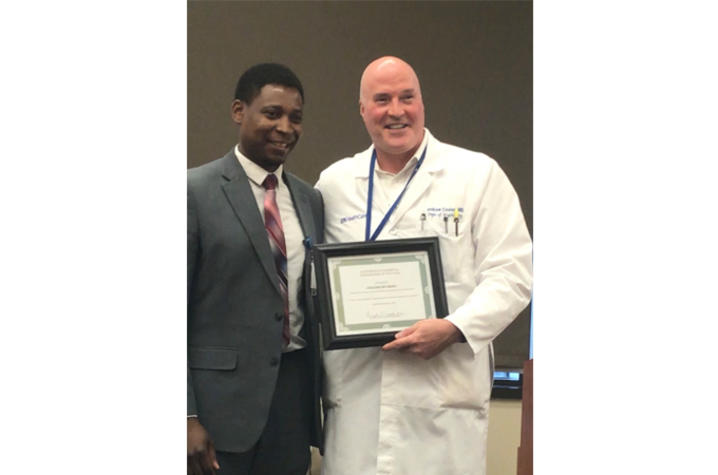 LEXINGTON, Ky. (May 9, 2018) – Researchers, administrators and health care providers from the University of Kentucky College of Nursing, UK HealthCare, and Eastern State Hospital gathered on April 25 for the inaugural Research and Practice Initiatives Day (RAPID). As part of an academic-clinical partnership, the intent of RAPID was to advance education, enhance staff development, support research, and improve patient outcomes.
After opening remarks by Eastern State Hospital Chief Administrative Officer Carrie Rudzik and College of Nursing Dean Janie Heath, Dr. Seth Himelhoch, chair of the Department of Psychiatry, and Dr. David Susman, clinical director of UK's Jesse G. Harris Jr. Psychological Services Center, delivered the keynote speeches on the day's topic, the importance of inter-disciplinary collaboration for improved recovery outcomes and advocacy for mental health respectively.
Healthcare professionals from several disciplines presented their research throughout the day. Topics included drug and alcohol education, opioid intervention, outcomes of long-term brain injury rehabilitation and ways to improve psychiatric inpatient experiences for LGBTQ patients.
Dr. Chizimuzo Okoli, associate professor in the UK College of Nursing, received the first ever Eastern State Hospital RAPID Research Award for his research presentation entitled, "Predictors of Intentions to Deliver and Engage in Tobacco Treatment at Eastern State Hospital."
"Everything we do for our patients as clinicians and staff in mental health is motivated by the same instincts that drive research: curiosity, beneficence, ethics, and an intrinsic desire to help others," said Cassie Brown, chair-elect of the Eastern State Hospital Research Council. "Research is more than just a practice; it is a mindset. It is an ongoing critical examination of ourselves, our patients, and our current practices with the intention of advancing our collective knowledge of our population, sharing meaningful outcomes, and developing the evidence-base to advance our service."