UK College of Pharmacy and Partners Receive $5 Million for Malaria Research Collaboration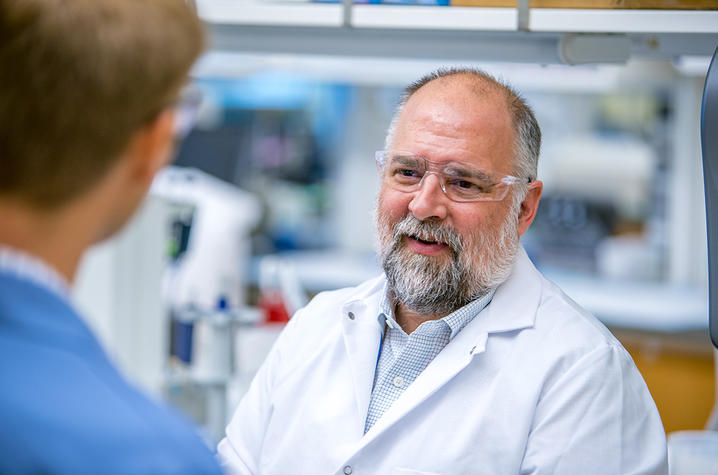 LEXINGTON, Ky. (Aug. 29, 2017) – Approximately $5 million in additional funding from the Global Health Innovative Technology Fund (GHIT) has been awarded to the lab of Dean Kip Guy at the University of Kentucky College of Pharmacy, in partnership with Eisai Pharmaceuticals and Medicines for Malaria Venture (MMV), for ongoing malaria research.
This award from GHIT funds research over two years with Dean Guy as the project's principal investigator.
Through their collaboration, UK, Eisai, and MMV are developing an innovative drug known as SJ733 to address malaria: this drug, in combination with one other antimalarial or more, would potentially cure patients and could provide substantial protection after treatment.
"This award from GHIT will continue to support our research, and we're excited about being able to take this promising drug through the next stages of development," said Guy. "Despite being an entirely preventable and treatable disease, malaria still places 3.2 billion people at risk and it is still the cause of almost half a million deaths each year. We want to see those numbers fall."
"We're looking forward to the start of the Phase IIa studies which will be conducted by our partners at MMV, and to making an impact where it's needed," said Fabian Gusovsky, a representative for Eisai. "In ongoing studies, the drug has proved to be well tolerated in humans, and we hope further studies will continue to show its efficacy."
The Phase IIa studies, undertaken in malaria patients, will set the stage for additional testing to determine appropriate combinations of malaria treatments which will ultimately help those hit hardest by this disease, including children and pregnant women.
"We welcome GHIT's sustained and generous support," said Dr. Joerg Moehrle, Head of Translational Medicine, MMV. "It is critical to the success of this promising research into novel antimalarial compounds. With Eisai and University of Kentucky, we have forged an excellent team fully committed to developing next-generation medicines with the ability to counter the growing threat of multi-drug resistant malaria and to save the lives of countless people at risk from this terrible disease."
Malaria remains a global health problem, and growing resistance to available antimalarial drugs enforces a need to discover next-generation therapies.