UK Gill Heart and Vascular Institute Gives 23-Year-Old New Heart, New Life
LEXINGTON, Ky. (Aug. 1, 2017) — Growing up, Adrianne Rogers was an active and extremely capable athlete, pursuing interests in basketball, football, skateboarding and motocross racing. She was skilled enough to play up on a varsity softball team as a middle-schooler.
But at age 13 she began to experience an inexplicable decline in performance and endurance. She chalked it up to "being out of shape," and tried harder.  But her decline persisted.
At Roger's annual well visit two years later, pediatrician Mary Jane Lagrew heard, to her surprise, a heart murmur.
"I've been Adrianne's pediatrician since birth and had never heard one before," Lagrew said. "Finding a murmur for the first time at Adrianne's age is typically not innocent."
Lagrew referred Rogers to a cardiologist, and after an EKG, and echocardiogram and a heart catheterization, Rogers received a one-in-a-million diagnosis: restrictive cardiomyopathy.
Restrictive cardiomyopathy occurs when the walls of the lower chambers of the heart become rigid, making it harder for them to pump blood out to the body properly. While many cases are mild, some are severe enough to cause heart failure – a dangerous and sometimes lethal situation resolved only by a heart transplant. The condition is usually diagnosed in the elderly; restrictive cardiomyopathy is an extremely rare diagnosis in teens.
Rogers was benched from sports of any kind. Diuretics and blood pressure medicine helped her keep the status quo. She graduated from Lexington's Henry Clay High School and began working towards a degree in Environmental Science at the University of Kentucky.
As a senior, however, she began having episodes of atrial fibrillation.  Now her atria – the upper chambers of the heart – were struggling to keep a normal rhythm.
Atrial fibrillation (also called Afib) is associated with higher risks of stroke and heart failure, so Rogers went to see Dr. Andrew Leventhal, director of the Kentucky Adult Congenital Heart Program (KACH) at the UK Gill Heart and Vascular Institute.
Leventhal is among an elite group of cardiologists with special training to recognize and treat the issues that affect adults with congenital heart defects. He heads a talented group of physicians and staff at the Gill's KACH Program, which draws patients from all over Kentucky and West Virginia.
According to Leventhal, adults who were born with heart defects face unique challenges. "It wasn't that long ago that children with heart defects didn't survive to adulthood," he explained. "Technical advances in cardiac surgery have improved outcomes dramatically, but that presents a new issue:  patients who reach adulthood have outgrown their pediatric cardiologists and the facilities that provide treatment – typically children's hospitals. Simply transitioning to an adult cardiologist isn't the best fit either, since their heart problems can be very different from cardiac conditions that begin during adulthood."
Rogers instantly bonded with Leventhal.  "I just fell in love with him," Rogers said. "It was clear that he knew a lot about my condition and was committed to keeping a close eye on me."
Leventhal followed her carefully as she slipped in and out of atrial fibrillation three times in a year. Medications and cardioversions (a procedure that attempts to shock the heart into a normal rhythm) weren't working. Finally, she admitted to Leventhal that she felt "so bad" that he performed a heart catheterization that very day. Her cardiac index — a measure of how much blood the heart was pumping — was low. Rogers wouldn't survive long without a heart transplant.
Leventhal made a call to Dr. Maya Guglin of UK HealthCare's Heart Transplant Program, who immediately began the process to put Rogers on the priority wait list. Her new heart arrived about a month later, and on Dec. 28, she left the hospital with a new lease on life.
Rogers describes waking up after surgery to a strange feeling. "I was laying there and felt something weird and a little uncomfortable on my back," she says. She then realized that the sensation she was feeling was that of a healthy, beating heart. "It had been so long since I'd felt a real heartbeat that I didn't even recognize it at first."
Rogers follows up regularly at the Gill Heart Clinic under the care of Dr. Navin Rajagopalan, medical director of Heart Transplantation. "Adrianne is taking great care of the gift she has been given," Rajagopalan said. "I always have a moment of gratification when the surgery is completed and the patient is doing well, but it's especially rewarding when we can help a younger person recover and live a normal, healthy life."
She now visits the gym regularly for strength training and has used her recovery time to take up skateboarding, painting and guitar. She returns to UK in the fall and will graduate in December.
"It's crazy how good I feel," Rogers exclaims. "I really haven't felt well since I was 11 or 12, so this all feels amazing."
At each follow-up appointment she makes a point to see every member of her care team, who she says made her feel like she was their only patient.  "They were so accessible and helpful; I felt super-comfortable during my time in the hospital waiting for a new heart," she says. She even painted gifts for Donna Dennis and Heather Ross, who were responsible for coordinating her care pre- and post-transplant.
While Rogers was hospitalized and waiting for her new heart, she was visited by a young man who'd recently had a heart transplant of his own. "He really calmed my nerves and made me realize this was doable," she says.  So, when Dennis asked Rogers if she would talk to another transplant candidate, she was more than willing to pay it forward. "I can give them an experience to relate to, and see that a transplant isn't so scary."
Leventhal wants young people with congenital heart defects to understand the importance of regular follow-up care with a cardiologist trained to work with these unique conditions.
"Even if you've been told you're cured, even if you're feeling good, you need to have a relationship with a cardiologist who specializes in treating adult patients with congenital heart defects," he said. "Adrianne's story is the perfect example of someone who was careful about managing her defect but still became critically ill.  Thankfully, she was wise to keep up with her care and seek help when she didn't feel well. That was a huge factor in this success story."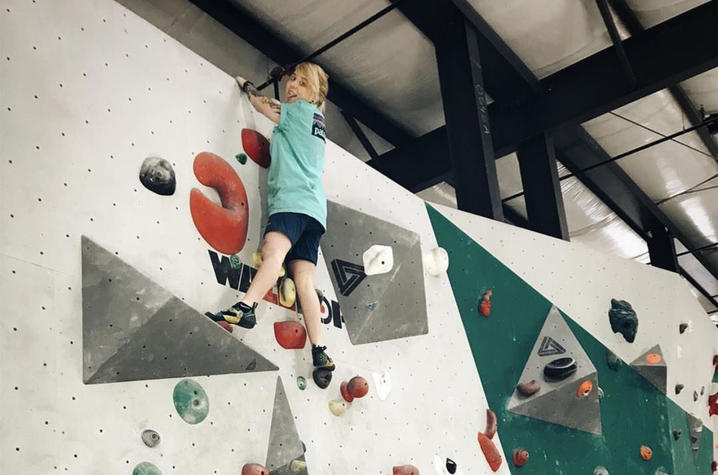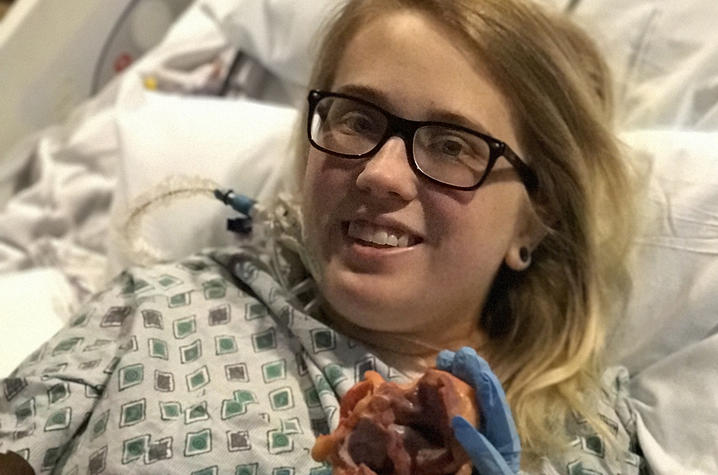 UK is the University for Kentucky. At UK, we are educating more students, treating more patients with complex illnesses and conducting more research and service than at any time in our 150-year history. To read more about the UK story and how you can support continued investment in your university and the Commonwealth, go to: uky.edu/uk4ky. #uk4ky #seeblue