'UK at the Half': UK Don T. Frazier Science Outreach Center open for business once again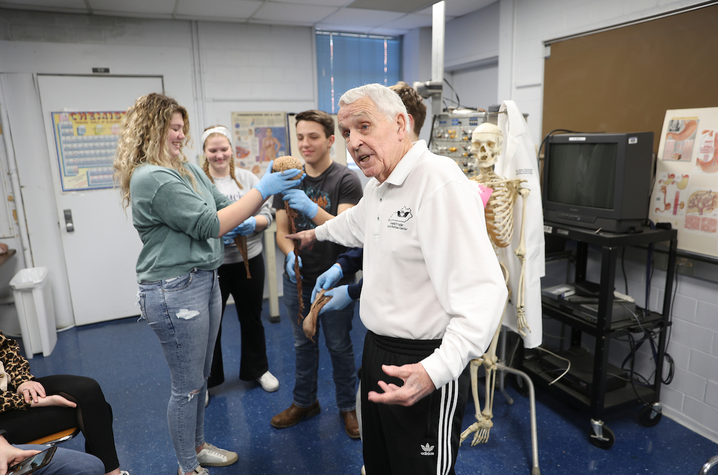 LEXINGTON, Ky. (Feb. 1, 2023) — In this "UK at the Half," Don Frazier, Ph.D., professor emeritus at the University of Kentucky and long-time former chair of the Department of Physiology is announcing that the UK's Science Outreach Center is open for business once again, after halting operations during the COVID-19 pandemic.
Frazier has been engaging in outreach since 1980 and has been working out of the science outreach center at the University of Kentucky since 1993. The goal of the outreach center is to expose kids to the wonders of our world and inspire them to enter science-related career paths in research and medicine.
He is inviting any science classes from across the Commonwealth to come learn about science in a fun and engaging way, with countless models and scientific specimens that Frazier has collected over the course of his career.
Frazier is also offering to travel to elementary schools in the Bluegrass Region of Kentucky to bring the science to a younger audience. He recognizes the importance of getting kids excited about science at an early age and customizes each lesson to enhance the curriculum of their existing science education.
If you would like to schedule the outreach center, contact Lisa Stevens at 859-257-6440.
"UK at the Half" airs during halftime of each UK football and basketball game broadcast on radio and is hosted by UK Public Relations and Marketing. To hear the "UK at the Half" interview, click on the play button above.
UK HealthCare is the hospitals and clinics of the University of Kentucky. But it is so much more. It is more than 10,000 dedicated health care professionals committed to providing advanced subspecialty care for the most critically injured and ill patients from the Commonwealth and beyond. It also is the home of the state's only National Cancer Institute (NCI)-designated cancer center, a Level IV Neonatal Intensive Care Unit that cares for the tiniest and sickest newborns, the region's only Level 1 trauma center and Kentucky's top hospital ranked by U.S. News & World Report.  
As an academic research institution, we are continuously pursuing the next generation of cures, treatments, protocols and policies. Our discoveries have the potential to change what's medically possible within our lifetimes. Our educators and thought leaders are transforming the health care landscape as our six health professions colleges teach the next generation of doctors, nurses, pharmacists and other health care professionals, spreading the highest standards of care. UK HealthCare is the power of advanced medicine committed to creating a healthier Kentucky, now and for generations to come.