UK HealthCare's New Advanced Eye Care Clinic Enhances Patient Care, Education and Research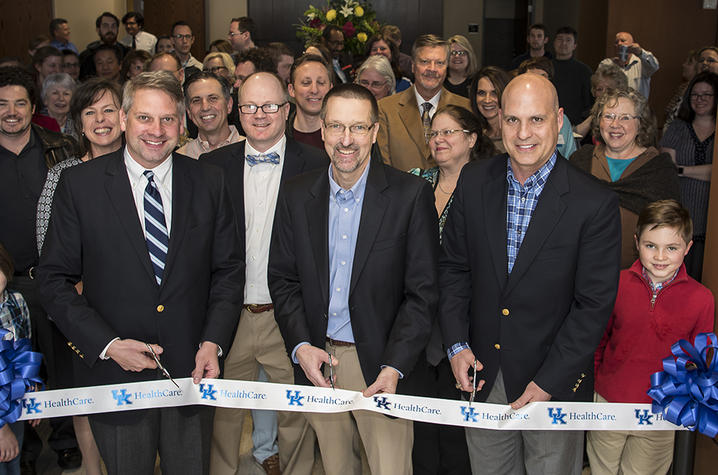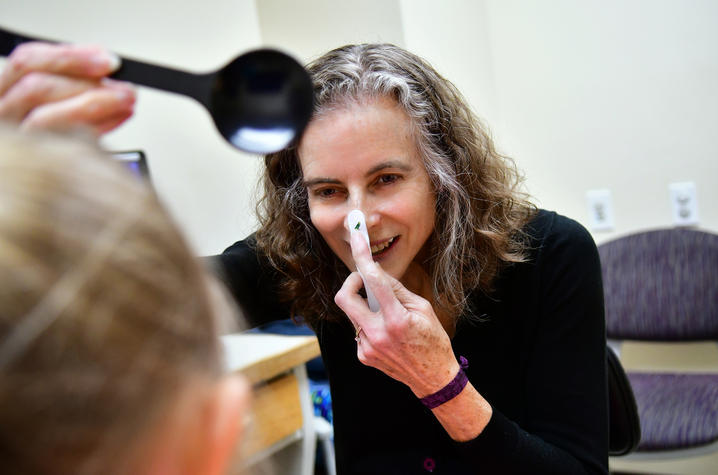 LEXINGTON, Ky. (March 23, 2017) – In the continuous pursuit of providing unsurpassed excellence in health care to the people of Kentucky and beyond, the UK HealthCare Advanced Eye Care Clinic opened its' doors to the future of eye care at UK on March 20.
The Advanced Eye Care Clinic, formerly located at the Kentucky Clinic, now occupies the entire fourth and fifth floors of the new Shriner's Hospital for Children building located at 110 Conn Terrace, just across the street from UK's Albert B. Chandler Hospital. The state-of-the-art clinic will be the flagship for advanced ophthalmologic care, research, and education in Kentucky. 
The patient-centered Advanced Eye Care Clinic is designed for ease of navigation and convenience. Upon arrival, patients can park in the UK HealthCare parking garage on Transcript Avenue and reach Shriner's directly via pedway located near the elevators on level C of the parking garage, without ever having to go outside. Once inside the building, patients will take the elevator to the fourth floor.
The fourth and fifth floor entries open to spacious reception areas for patient registration. The fifth floor, where the pediatric specialists see patients, includes a playroom and features for children and families. The space is designed to flow patients through any needed testing and procedures efficiently in a pleasing and private environment. With nearly double the number of exams rooms than in the previous clinic, more specialists can be available each day, allowing care for a higher number of patients with shorter wait times.  
An optical shop is located by the fifth floor lobby for patients who wish to purchase their eyewear on location, complete with a special section of pediatric eyewear for UK's youngest patients. The fifth floor also accommodates the administrative offices for faculty and staff, and includes dedicated teaching space for residents and medical students including a surgical skills lab and a medical library.
In addition to the vast increase in clinical space at the Advanced Eye Care Clinic, patients will also have access to the most current and sophisticated technology available for enhanced patient care and delivery. UK Ophthalmology recruits elite physicians, researchers and scientists to support their clinical services, education and a robust research program that is responsible for scientific breakthroughs that have revolutionized the world of medicine in ophthalmology.
"The University of Kentucky Department of Ophthalmology and Visual Sciences has a long-standing commitment to world-class biomedical research, contributing to several major scientific discoveries and medical advances in the past few decades," said Dr. Mark Kleinman, assistant professor in the UK Department of Ophthalmology. "Our laboratories developed the first intraocular drug implants to treat vision threatening eye infections and inflammation, engineered the first RNA targeted therapeutics for the treatment of advanced dry macular degeneration, and identified several new biomarkers for age-related retinal diseases. We continue to build on these important and exciting research programs to improve our abilities to cure blindness and provide the most cutting-edge eye care to our patients."
The UK Eye Research program was recently boosted by the contribution of advanced pediatric electroretinogram (ERG) equipment raised by the Susan Bradley-Cox Tri-For-Sight. This important addition will allow full evaluation of children with unexplained vision loss without sedation, providing better understanding of genetic eye diseases for both research and clinical care.
Dr. Andrew Pearson, chair of the Department of Ophthalmology and Visual Sciences, says about 60,000 patients a year are seen by their faculty of general ophthalmologists, ocular specialists and optometrists for everything from preventive eye care to the most challenging ocular diseases.
"The new clinic gives us the infrastructure we've needed to meet the high quality of care that we already provide," Pearson said. "We want to be the place that people of the state and region want to go to for complex eye care."
UK has the largest multi-specialty eye care group based solely in Kentucky. In addition to the clinic on the main medical campus in Lexington, UK has multiple outreach clinics throughout the state, and works with community providers to offer the best, most comprehensive eye care available. Outreach clinic locations include Campbellsville, Corbin, Harlan, Lexington, London, Maysville, Nicholasville, Morehead, Paris, Richmond and Somerset. 
UK is the University for Kentucky. At UK, we are educating more students, treating more patients with complex illnesses and conducting more research and service than at any time in our 150-year history. To read more about the UK story and how you can support continued investment in your university and the Commonwealth, go to: uky.edu/uk4ky. #uk4ky #seeblue