UK Law Grad Becomes Patient After Life-Threatening Diagnosis
LEXINGTON, Ky. (Nov. 27, 2019) — Skylar Hollon heard her alarm clock buzz at 6 a.m. on June 10. Every Monday is a busy one for the 26-year-old lawyer and University of Kentucky alum. She's a prosecutor in the Madison County Attorney's Office and Mondays are packed with back-to-back afternoon hearings.
"I had a full afternoon of court to prepare for, but I hit snooze and fell back asleep," Skylar said.   
About a half hour later, she woke up to her husband, Jason, shaking her and calling her name.
"I could hear him, and I could see him, but I couldn't respond for a few seconds," she said. "When I finally could, my head was pounding and my vision was blurred."
Skylar figured she had a migraine. Never having experienced one before, she called in for medicine.
"The medicine did not work, so Jason forced me to go to the emergency room," Skylar said. "I did not want to go. I told him, 'Who goes to the hospital over a headache? They're going to think I'm crazy!'"
It turns out, the trip saved Skylar's life.
Shortly after she was admitted into the University of Kentucky Chandler Emergency Department, Skylar's memory goes dark. Jason helps to fill in the blanks.
"I think they largely treated her for a migraine at the start, but they did do a CT scan," he said. "After about an hour in the emergency department, they got the results back."
The results were terrifying. Skylar's brain was bleeding.
"I was shocked, surprised," Jason said. "I don't really know what was going through my mind. I was just kind of numb."
Skylar and Jason were just married six weeks earlier. The couple, both UK College of Law grads, are attorneys who met through mutual friends. Their wedding was perfect – exactly what they always dreamed of. They had finally settled into newlywed life in Lexington with their two cats, Milo and Simba.
Life was perfect, but now it was all flashing before Jason's eyes.
*****
The couple was whisked away to another room where a team of doctors used a drain to help alleviate the pressure in Skylar's brain. The next morning, UK HealthCare's director of cerebrovascular surgery, Dr. Justin Fraser, performed surgery to stop the bleeding.
During the procedure, Fraser placed coils into the aneurysm that ruptured in Skylar's brain.
"It is very rare to see a patient as young as Skylar on the operating table," Fraser said. "We placed coils, which stop the ruptured aneurysm from bleeding. It can also prevent an unruptured aneurysm from bleeding in the future."
Skylar was treated for vasospasm, which is a sudden contraction of artery walls that can occur after this type of brain bleed. The contraction reduces the amount of blood that can flow through the artery which, if severe enough, will cause strokes.
Skylar was diagnosed with Behcet's disease in 2006, which is a rare inflammatory disease that affects blood vessels throughout the body. Fraser recognized that Skylar's presentation was likely a manifestation of Neuro-Behcet's, a subtype where the brain vessels are affected. Skylar said her great aunt had the same type of aneurysm surgery decades ago but didn't survive. She was in her 60's. Fraser told Skylar that if anyone else in her family has an aneurysm, her siblings will need to get scans, too.
*****
Skylar woke up from surgery in the intensive care unit (ICU), where she stayed for the next 18 days. Her long blonde locks were gone and so was her fighting spirit.  
"It was really, really tough. I was miserable, in a lot of pain," she said. "I was also really struggling with having my head shaved."
Both local to Green and Lee counties, respectively, Skylar and Jason had a huge support system behind them and lots of people praying for Skylar's full recovery.
Skylar is also thankful for the nurses, who she said went above and beyond to make her feel better. They painted her nails and brought her baked goods. She said one of them shopped for her on their day off.
"I'm a big fan of 'Alice in Wonderland' and one of the nurses went to the store and bought me some 'Alice in Wonderland' stuff," she said. "They did everything they could to keep my spirits up."
Although Skylar is a proud cat owner, she was also thankful for the visits from UK HealthCare's therapy dogs. Any time there was one around, Jason would make sure they stopped into her room.
"They made such a difference," Jason said. "She was so miserable, and I knew how happy they would make her. She started talking and laughing when they came in."
When Fraser walked into Skylar's room on June 28 and asked if she and Jason were ready to go home, Skylar said they were overwhelmed.
"When we finally got home, I just broke down and cried on top of my cats," Skylar said. "I was so happy to be home and I hadn't gone that long without seeing Milo and Simba their whole lives."
Skylar had to learn how to walk again – not a side effect of her aneurysm, but of her bed-ridden state for several weeks. Otherwise, she hasn't had to do any physical therapy. She follows up with Dr. Fraser every six months for new scans.
"Skylar has had a remarkable recovery, but we are keeping a close eye on her," Fraser said. "Aneurysms develop slowly, so if one is forming, the hope is to catch it early and act fast to keep it from rupturing."
In the meantime, Skylar is back to work full time, but takes it easy on the weekends. She's looking forward to a very special trip in January, courtesy of Jason.
"He's taking me to Disney World. It's my favorite place on Earth and when I was lying miserable in the hospital bed, he promised that when we got out, he would take me to Disney," Skylar said. "He promised we could stay wherever I want, which he probably regrets now."
Jason is looking forward to their first holiday as a married couple. It's not the path either of them would have chosen to get here, but they've stuck to their vows – in sickness and in health.
"It has taken a toll on our whole family," Jason said. "I'm looking forward to the holidays for a reset."
Taking a step back, Skylar is thankful for Jason's insistence on going to the emergency department.
"I never thought I could die while it was all happening. I always believed I was going to be OK," she said. "Now, taking a step back, it's like an out-of-body experience. I'm thankful to have survived this and I am especially grateful for a positive prognosis."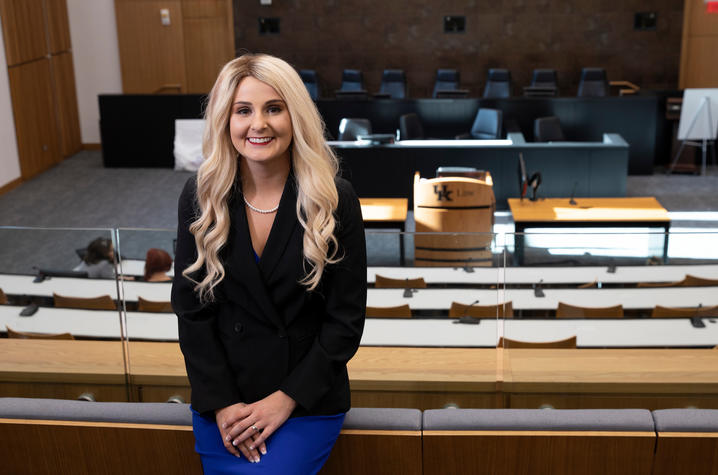 As the state's flagship, land-grant institution, the University of Kentucky exists to advance the Commonwealth. We do that by preparing the next generation of leaders — placing students at the heart of everything we do — and transforming the lives of Kentuckians through education, research and creative work, service and health care. We pride ourselves on being a catalyst for breakthroughs and a force for healing, a place where ingenuity unfolds. It's all made possible by our people — visionaries, disruptors and pioneers — who make up 200 academic programs, a $501 million research and development enterprise and a world-class medical center, all on one campus.   
In 2022, UK was ranked by Forbes as one of the "Best Employers for New Grads" and named a "Diversity Champion" by INSIGHT into Diversity, a testament to our commitment to advance Kentucky and create a community of belonging for everyone. While our mission looks different in many ways than it did in 1865, the vision of service to our Commonwealth and the world remains the same. We are the University for Kentucky.