UK Medical Students Open New Eye Clinic at the Salvation Army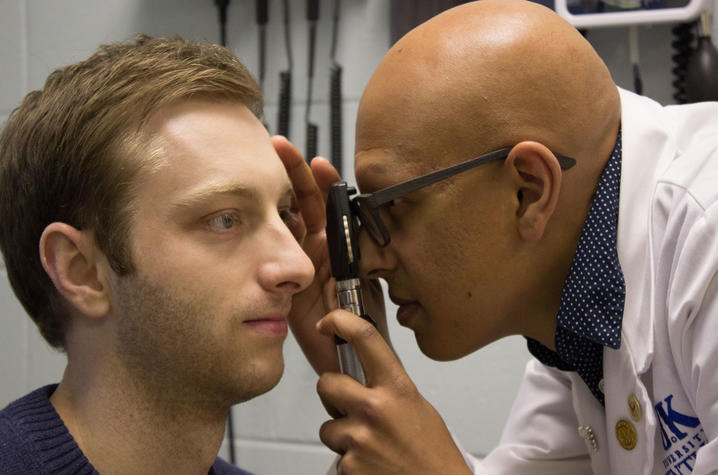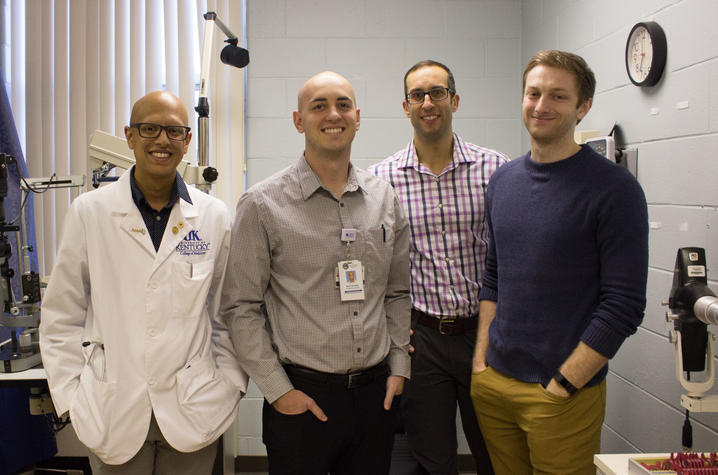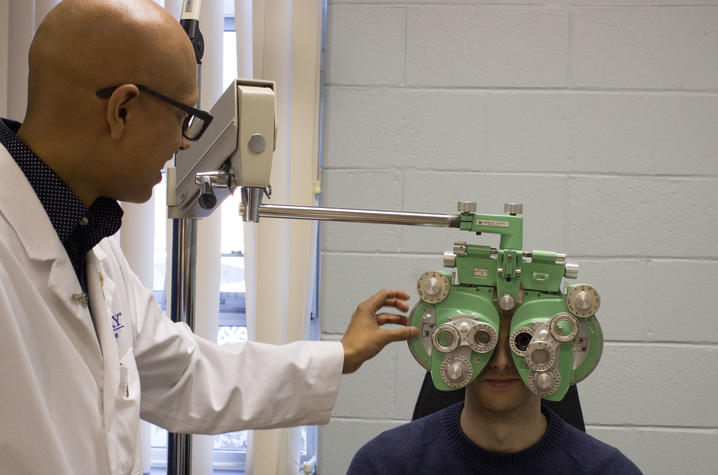 LEXINGTON, Ky. (Jan. 22, 2018) —The opening of a new ophthalmology clinic at the student-run University of Kentucky College of Medicine Salvation Army Clinic was "a culmination of people saying we can do this," said Dr. Julia Stevens, associate professor of ophthalmology and pediatrics, and liaison to the students working to bring the clinic to life.
When the UK Department of Ophthalmology began the process of moving their clinic into the new Shriners Hospitals for Children Medical Center, now located on the UK campus on South Limestone, the opportunity to acquire donated equipment and supplies from the old space arose. Medical students Paras Vora and Riley Bylund jumped at the opportunity to increase volunteer opportunities at the Salvation Army Clinic and help underserved patients receive vision care.
"We had the idea to encourage more volunteer opportunities within the field of ophthalmology, and serendipitously Dr. Stevens had just found out that there would be equipment and supplies available as the Department of Ophthalmology moved to the new Shriners location," Vora said. In 2017, Vora and Bylund began the process of developing the new clinic space.
Because of the donation of equipment, Vora and Bylund say the amount of funding they needed to secure was minimal. The pair submitted a proposal to the Salvation Army Clinic Board and with the help of clinic managers Lindsay Westerfield and Akin Erol and the proposal was accepted.
A portion of the space at the Salvation Army Clinic, located on West Main Street in Lexington, was modified to create a hybrid exam room which could function both as a traditional exam room as well as a specialized eye examination space.
While Voras and Bylund have advanced in their studies and begun to focus on research, the current clinic managers are excited about what the new space will mean in terms of serving the community and improving their skills as physicians.
"Starting an ophthalmology clinic is exciting because it provides students a unique opportunity to gain hands-on experience practicing ophthalmology examination techniques under the guidance of caring physicians — all while providing a much-needed service to patients who otherwise would not receive this type of care," said students Connor Appelman and Marc Kai.  
Many people neglect their vision, even those with insurance and access to providers, and many others feel intimidated by large health care systems. The UK COM Salvation Army's new ophthalmology clinic aims to improve the health of the people seen there and serve as a bridge to other providers who can help those in need.