UK's Barnstable Brown Diabetes Center Celebrates Expansion of Clinical Services at Turfland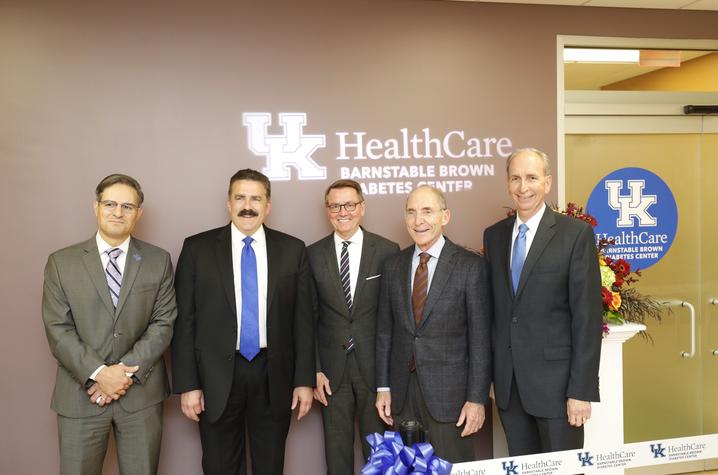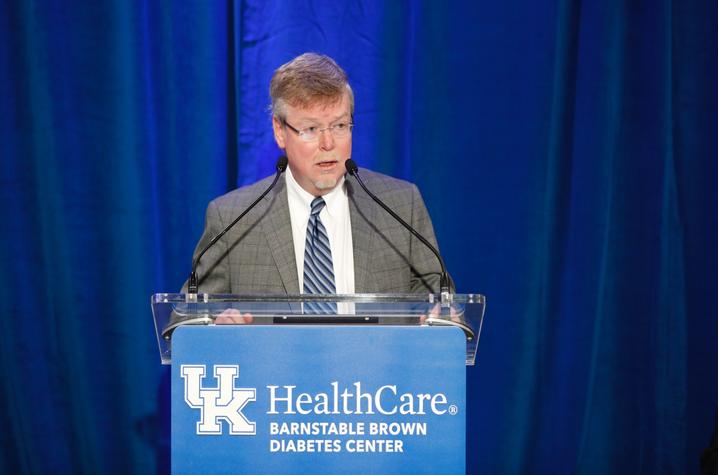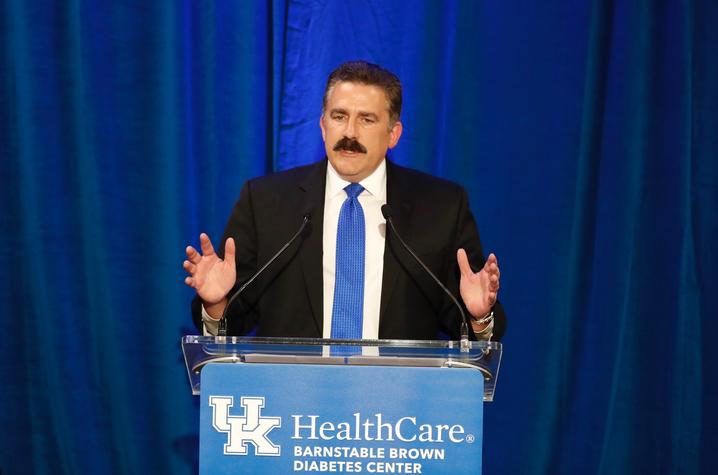 LEXINGTON, Ky. (Oct. 13, 2017) – UK HealthCare's Barnstable Brown Diabetes Center celebrated a significant milestone in its 10-year history with a ribbon-cutting ceremony for the new clinic expansion at Turfland and recognition of a recent top 50 ranking in U.S. News and World Report for patient care in endocrinology and diabetes.
Since its inception in 2008, the Barnstable Brown Diabetes Center – has been a leader in prevention, education, research and comprehensive care. The new clinic space at UK HealthCare at Turfland enables the center to provide services for even more patients as well as provide space for an education center.
The Center was first established when twins Patricia Barnstable Brown and Priscilla Barnstable along with their mother Wilma, pledged the initial funding to support the center in memory of Patricia Barnstable Brown's husband, David, who passed away from complications of diabetes in 2003. Proceeds from the family's annual Derby Eve Gala, which attracts celebrities from across the world to the Barnstable Brown family home in Louisville, has gone to further research and patient care at the diabetes center at the University of Kentucky. To date, more than $13 million has been donated.
"Thanks to the generosity and vision of the Barnstable Brown family, patients with diabetes in Kentucky are receiving the highest level of patient care and benefiting from innovative research that impacts treatment and understanding of the disease," said UK President Eli Capilouto.
Currently, the center treats more than 7,500 adult patients and 2,500 pediatric patients each year in the management and treatment of diabetes and related diseases.
"The support from the Barnstable Brown Family has enabled us to recruit talented physicians, physician-scientists and specialized staff dedicated to the care of patients and their families," said Dr. Mark F. Newman, UK vice president for health affairs. "Having a center where clinical care, research and education come together for the benefit of patients now and in the future, is a tremendous asset and resource for everyone in Kentucky and beyond.
Overall, it is estimated that more than 600,000 Kentuckians have diabetes and that as many as one in three adults in Kentucky may have pre-diabetes, either diagnosed or undiagnosed.
"As the burden of diabetes in Kentucky continues to grow, the UK Barnstable Brown Diabetes Center is pushing forward to improve diabetes prevention, quality of life and increase better health outcomes," said Dr. John Fowlkes, director of the center and a pediatric endocrinologist. "The newly expanded clinic marks a monumental step towards that goal."
The expansion will allow care for more patients with diabetes and related disorders across the lifespan – from infants to seniors – at one consolidated location. The Barnstable Brown Diabetes Center at Turfland also will house on-site access to pharmacy and supplies, ophthalmology and optometry services, laboratory testing, ultrasound and radiology. Services offered include consultation with expert diabetes specialists; coordination of care for diabetes complications screening and management; and comprehensive patient education plans.
Clinical resources include:
11 physicians and 4 advanced practice providers at the adult clinic
5 physicians, 2 advanced practice providers, a certified social worker and nursing resources for the pediatric clinic
6 outpatient clinic-based diabetes educators
5 outpatient diabetes educators
"This is a very emotional and heartfelt time for me to witness the recognition of the center as it continues to expand and flourish in helping patients throughout the Kentucky," said Patricia Barnstable Brown. "The expansion of space and resources means the center can touch even more lives across the Commonwealth and beyond."
Touching lives is at the heart of what the Center is all about, she said. Lives impacted include those of the Middleton family of Lexington – James (JC) and Lisa, along with their children Kara and Max. J.C., along with both children, have type 1 diabetes and receive care at UK HealthCare's Barnstable Brown Diabetes Center for management of the disease.
"Diabetes has touched our entire family," said JC Middleton. "It's a different challenge every day but we are learning to live a full and healthy life with diabetes with the help of the Barnstable Brown Diabetes Center."
UK is the University for Kentucky. At UK, we are educating more students, treating more patients with complex illnesses and conducting more research and service than at any time in our 150-year history. To read more about the UK story and how you can support continued investment in your university and the Commonwealth, go to: uky.edu/uk4ky. #uk4ky #seeblue