UK, U of L face off in annual organ donor registration challenge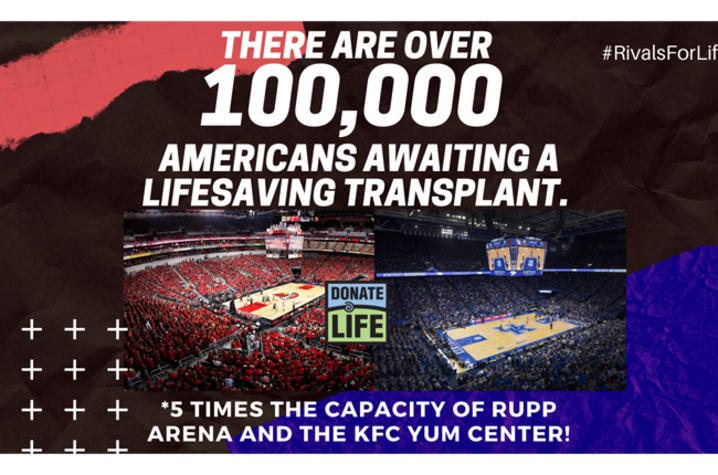 LEXINGTON, Ky. (Nov. 1, 2023) — The University of Kentucky and the University of Louisville are keeping their rivalry and competitive spirit alive while inspiring thousands of people to join the Kentucky Organ Donor Registry with the 22nd year of the Gift of Life College Challenge.
"This is one competition in which everyone wins, especially the thousands of Kentuckians who are waiting for a life-saving organ," said Melinda Fox, administrator for the UK Transplant Center. "Whether cheer for the Cats or the Cardinals, you have the power to give someone a second chance at life."
The monthlong challenge begins Nov. 1, with both universities competing to see which school's fan base can register the most people as organ donors. Since the Gift of Life Challenge began in 2001, college students, faculty, coaches and staff have encouraged thousands to join the organ donor registry through campus events, social media posts, newsletter articles and donor registry sign-up stations on campus.
"It is our mission to save lives through organ and tissue donation and transplantation, and as the number of registered organ donors grows, so will the number of lives saved," says Shelley Snyder, executive director for Donate Life Kentucky. "For that reason, this is really a competition with no losers – every name added to the Donor Registry gives hope to the 1,000 Kentuckians in need of an organ transplant."
Both universities receive a unique link to the donor registry to help with sign-ups. At the end of the challenge, a trophy will be awarded to the top school during the Battle of the Bluegrass men's basketball game on Dec. 21.
Donors who have already joined the state registry can join the national organ donor registry and still have their registration count in the challenge. Learn more about the Gift of Life Challenge or register to become an organ donor here. 
About Donate Life KY
Kentucky Organ Donor Affiliates (KODA) is an organ procurement organization whose mission is to provide organs and tissues to those in need while maintaining a profound respect for those who gave. The mission of Trust For Life (TFL) is to educate and encourage Kentuckians to register as organ and tissue donors while obtaining a driver's license and beyond. These organizations partner in education and outreach and use the combined national Donate Life brand; learn more here.
UK HealthCare is the hospitals and clinics of the University of Kentucky. But it is so much more. It is more than 10,000 dedicated health care professionals committed to providing advanced subspecialty care for the most critically injured and ill patients from the Commonwealth and beyond. It also is the home of the state's only National Cancer Institute (NCI)-designated cancer center, a Level IV Neonatal Intensive Care Unit that cares for the tiniest and sickest newborns, the region's only Level 1 trauma center and Kentucky's top hospital ranked by U.S. News & World Report.  
As an academic research institution, we are continuously pursuing the next generation of cures, treatments, protocols and policies. Our discoveries have the potential to change what's medically possible within our lifetimes. Our educators and thought leaders are transforming the health care landscape as our six health professions colleges teach the next generation of doctors, nurses, pharmacists and other health care professionals, spreading the highest standards of care. UK HealthCare is the power of advanced medicine committed to creating a healthier Kentucky, now and for generations to come.