UK, UnitedHealthcare honor Community Health Worker program grads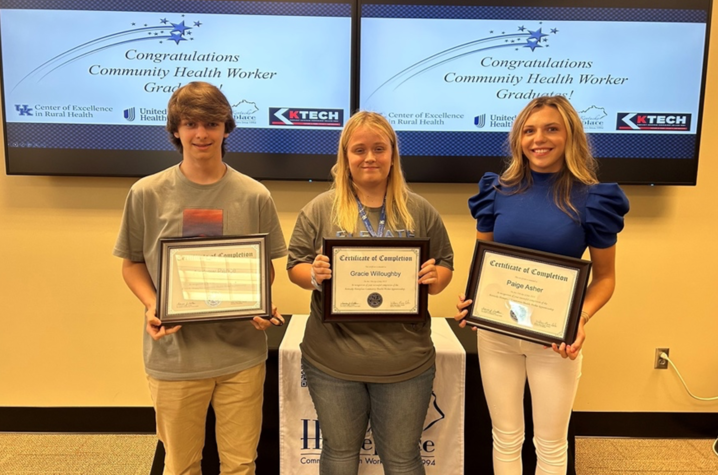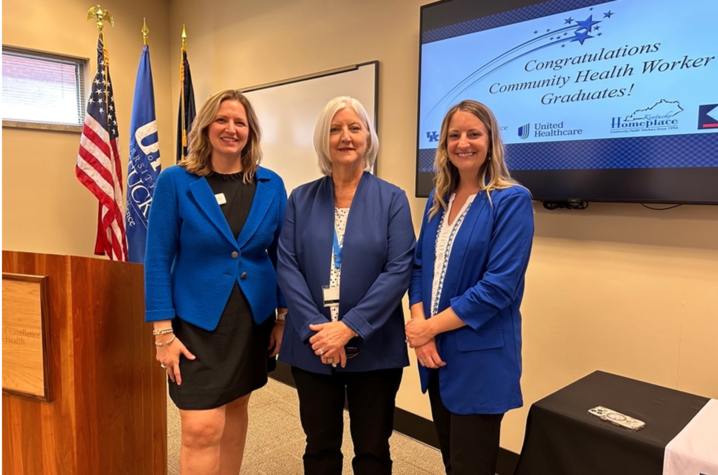 Hazard, Ky. (Aug. 14, 2023) — The University of Kentucky Center of Excellence in Rural Health (UK CERH) and UnitedHealthcare Community Plan of Kentucky honored the latest cohort of graduates of UK CERH's Community Health Workers (CHW) Program, named Kentucky Homeplace, in a ceremony held at the Bailey-Stumbo Building in Hazard. 
Through this initiative, funded with $35,000 from UnitedHealthcare Community Plan of Kentucky, 11 students from Hazard Independent and Perry County high schools have completed the training with Kentucky Homeplace and can now apply for CHW certification. Once completed, they will be able to serve as healthcare advocates providing education and guidance to help Eastern Kentuckians connect with healthcare resources.  
CHWs serve in their own communities, which helps ensure cultural sensitivity to their client's health disparities and special needs. In 2024, UK CERH and UnitedHealthcare Community Plan of Kentucky plan to honor 10 more graduates of the program.
Kentucky Homeplace addresses a shortage of trained healthcare workers in the Commonwealth, focusing on rural Kentucky. The students received apprenticeship training in areas including Mental Health First Aid, certification as a CPR provider, participation in virtual chronic disease self-management classes, HIPAA compliance and data security, and shadowing experienced Kentucky Homeplace CHWs.
About University of Kentucky Center of Excellence in Rural Health
The University of Kentucky Center of Excellence in Rural Health was established by state legislation in 1990 to address health disparities in rural Kentucky and the unique challenges faced by our communities. The mission was and still is today to improve the health and wellbeing of rural Kentuckians. For more than two decades, the Center has partnered with communities, providers, students and individuals to provide health professions education, health policy research, health care service and community engagement toward reaching this mission. For more information visit www.kyruralhealth.org.
About Kentucky Homeplace
Kentucky Homeplace is a Community Health Worker program developed by the University of Kentucky Center of Excellence in Rural Health in 1994. Kentucky Homeplace employs 31 community health workers and serves a 30-county region of eastern Kentucky. In their 25-year history, this community health worker initiative has linked tens of thousands of underserved Kentuckians with medical, social and environmental services they otherwise might have gone without. All services are offered at no charge to the clients. Funding for the program is a joint collaboration of the Kentucky Cabinet for Health and Family Services, the University of Kentucky and the Center of Excellence in Rural Health.
About UnitedHealthcare
UnitedHealthcare is dedicated to helping people live healthier lives and making the health system work better for everyone by simplifying the health care experience, meeting consumer health and wellness needs, and sustaining trusted relationships with care providers. In the United States, UnitedHealthcare offers the full spectrum of health benefit programs for individuals, employers, and Medicare and Medicaid beneficiaries, and contracts directly with more than 1.5 million physicians and care professionals, and 7,000 hospitals and other care facilities nationwide. The company also provides health benefits and delivers care to people through owned and operated health care facilities in South America. UnitedHealthcare is one of the businesses of UnitedHealth Group (NYSE: UNH), a diversified health care company. For more information, visit UnitedHealthcare at www.uhc.com or follow @UHC on Twitter.
UK HealthCare is the hospitals and clinics of the University of Kentucky. But it is so much more. It is more than 10,000 dedicated health care professionals committed to providing advanced subspecialty care for the most critically injured and ill patients from the Commonwealth and beyond. It also is the home of the state's only National Cancer Institute (NCI)-designated cancer center, a Level IV Neonatal Intensive Care Unit that cares for the tiniest and sickest newborns, the region's only Level 1 trauma center and Kentucky's top hospital ranked by U.S. News & World Report.  
As an academic research institution, we are continuously pursuing the next generation of cures, treatments, protocols and policies. Our discoveries have the potential to change what's medically possible within our lifetimes. Our educators and thought leaders are transforming the health care landscape as our six health professions colleges teach the next generation of doctors, nurses, pharmacists and other health care professionals, spreading the highest standards of care. UK HealthCare is the power of advanced medicine committed to creating a healthier Kentucky, now and for generations to come.