Lexington's Little Legend Makes His Debut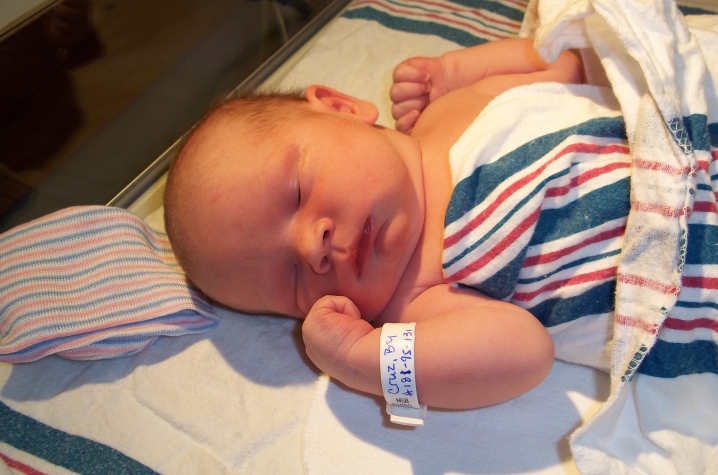 LEXINGTON, Ky. (April 13, 2011) − UK HealthCare is teaming up with the Lexington Legends for the fourth consecutive year to provide diaper-changing stations at Applebee's Park for the 2011 baseball season. The UK HealthCare-Lexington Legends match-up also includes a promotion known as "Lexington's Little Legend." 
This year's participant is Charlie Brice Cruz, born at UK Chandler Hospital on the Legends' opening day, April 7. Baby Charlie came into the world at 4:36 p.m. last Thursday, weighing 7 pounds, 8.5 ounces. He was 20 inches long.
Charlie and his parents, Hector and Kelley Cruz, of Winchester, will be introduced at an upcoming game, where they will be presented with gifts from the Legends organization including a lifetime membership to the Jif Kid's Club. The Legends will also feature pictures of Charlie on Applebee's Park's large-screen video monitor throughout the season.
"The Little Legend promotion is a perfect example of the creativity and community support we provide with our partners," said Andy Shea, general manager for the Legends organization. "It will be fun watching Charlie grow up through this partnership. This has truly turned into a very fun and innovative way to connect UK HealthCare, the Legends and our fans."
UK Women's Health: Obstetrics and Gynecology's partnership with the Lexington Legends is part of an effort to get the message out about the services the department provides.
UK offers women's health services for obstetrics and gynecology, infertility, high-risk obstetrics and cancers of the reproductive tract at a single location on the Good Samaritan campus. For more information and to make an appointment, call UK HealthCare at (859) 257-1000 or 1-800-333-8874 toll-free.