VIDEO: Meet the Man Behind UK's New Home for LGBTQ* Community.
Video produced by UK Public Relations and Marketing. To view captions for this video, push play and click on the CC icon in the bottom right hand corner of the screen. If using a mobile device, click on the "thought bubble" in the same area.
LEXINGTON, Ky. (Dec. 13, 2018) — When Jim Dinkle ('82 communications) discovered the University of Kentucky's LGBTQ* Resource Center on Facebook a few years ago, it had been more than three decades since he had visited the UK campus. Nothing like the services provided by the UK Office of LGBTQ* Resources had been in place when he was a student here. In fact, it was such a different world in the early '80s that Dinkle was not "out" until several years after he graduated as the UK Student Government Association president and a voting member of the university's Board of Trustees.
Finding himself a proud UK alumnus for unexpected reasons, Dinkle visited campus in December 2017 to learn more about the contemporary University of Kentucky and its services for the LGBTQ* community. He met with Lance Poston, director of LGBTQ* resources; Sonja Feist-Price, vice president for institutional diversity; and President Eli Capilouto. He says he was "shaken to the core" by Capilouto's first words as they shook hands: "Welcome home!"
"I felt as though I had walked across a time bridge," Dinkle said. "I found Dr. Capilouto, (Feist-Price and Poston) to be intensely committed to diversity and the LGBTQ* Resource Center."
That acceptance did not jibe with Dinkle's experience three decades earlier as a closeted gay college student. "It was a lonely feeling knowing that I was gay," Dinkle said about his young adult years at UK. "I never want to know of a young person today at the University of Kentucky who feels as conflicted, torn or alone as I once felt when I was a (university) student 35 years ago."
He and his partner were determined to do something to assure the university remained a welcoming home for a diverse community. After carefully considering their options, Dinkle and his partner of 18 years, Carlos Mas Rivera, stepped up to support the work Poston, the university and other UK alumni were dedicating to LGBTQ* students. Dinkle had found his purpose.
"When I was at the University of Kentucky in the late '70s and early '80s there was not a campus home for the LGBT community. There wasn't even really a student organization dedicated to the LGBT community," Dinkle said. "And that was very important to me, and Carlos, in talking about creating an endowment fund at UK that there be a center that serves as a home for the LGBT community on campus and its allies. So, it's very meaningful. It's a leap across time for me to be able to be here. … To come back today and see the changes for the better — it's quite heartening. And I am just thrilled to be part of this center's future. So, to tell you that it's meaningful doesn't even begin to approach how heartened, happy and thrilled we are to be part of this."
Thanks to Dinkle and Rivera's generous gift of $250,000, the Dinkle-Mas Suite was dedicated in the Gatton Student Center in October of this year. Situated at the heart of the new Gatton Student Center, the space serves as a home base and a one-stop information shop where the entire community can celebrate, learn about and support the diversity of gender and sexual identities on campus.
The Dinkle-Mas Suite serves specifically as a hub for accessing the services of the Office of LGBTQ* Resources. These supports include community building, education and advocacy initiatives that support students, faculty and staff in succeeding as their open and authentic selves. Individuals can come into the suite to access direct or referral services related to on-campus housing, holistic health and inclusive institutional identifiers. Additionally, multiple formal and informal student groups and classes utilize the space as a regular meeting site or comfortable space to study, network and develop a deeper sense of belonging as parts of a beautifully diverse university.
It was exactly the space Dinkle and Rivera envisioned.
"It wasn't about putting our names on (the space), although I'm flattered. One reason we did put our names on the suite (is) because I want my name to be out as a gay man. That's very important to me at the University of Kentucky because, again, in the early '80's when I was here it would have been much more difficult. It probably wouldn't have been attainable being Student Government president if I'd been an out student," Dinkle said.
"That's not who I could be in the late '70s and early '80s," he added. "But this space will help other young people to become who they are … now and throughout their lives."
Dinkle's oral history can be found in the Office of LGBTQ* Resources and Louie B. Nunn Center for Oral History's OutSouth collection at http://nunncenter.net/outsouth/items/show/2.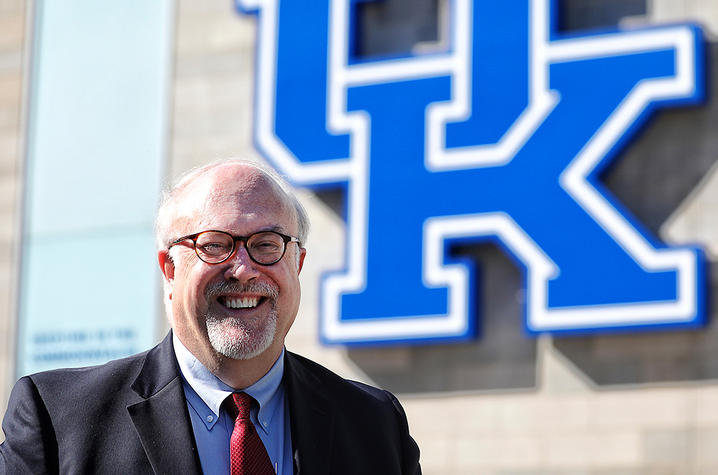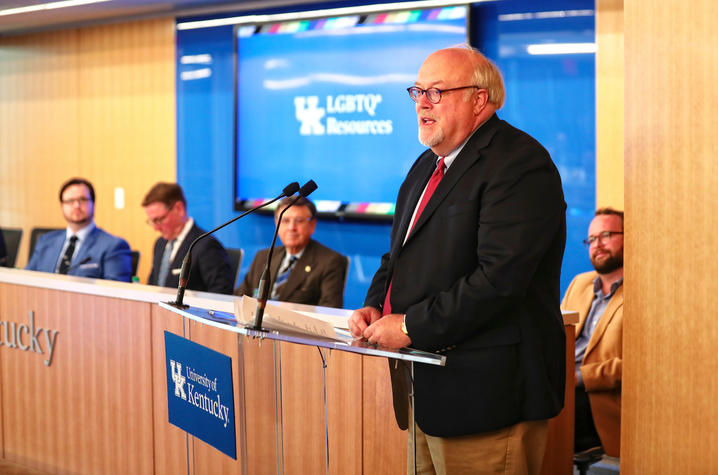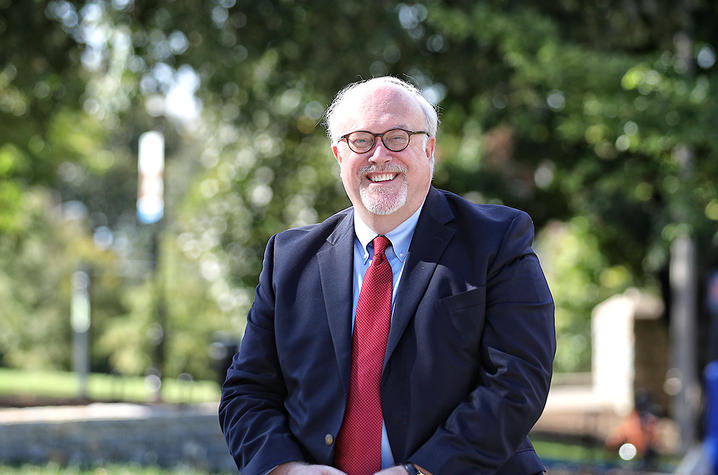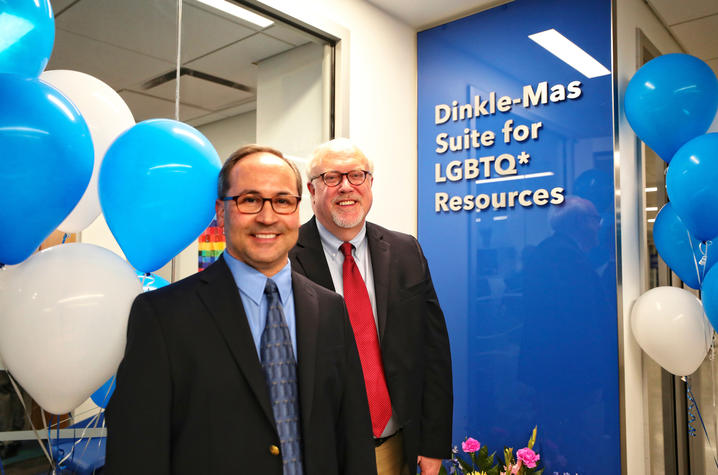 UK is the University for Kentucky. At UK, we are educating more students, treating more patients with complex illnesses and conducting more research and service than at any time in our 150-year history. To read more about the UK story and how you can support continued investment in your university and the Commonwealth, go to: uky.edu/uk4ky. #uk4ky #seeblue