UK College of Medicine Graduates Leave Legacy of Service with Wellness Garden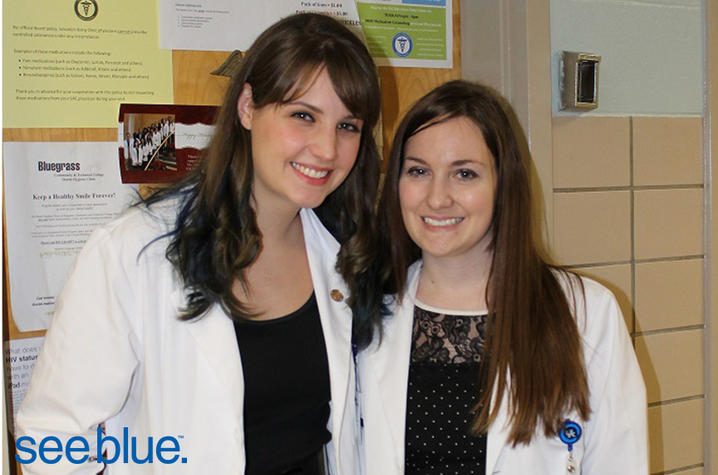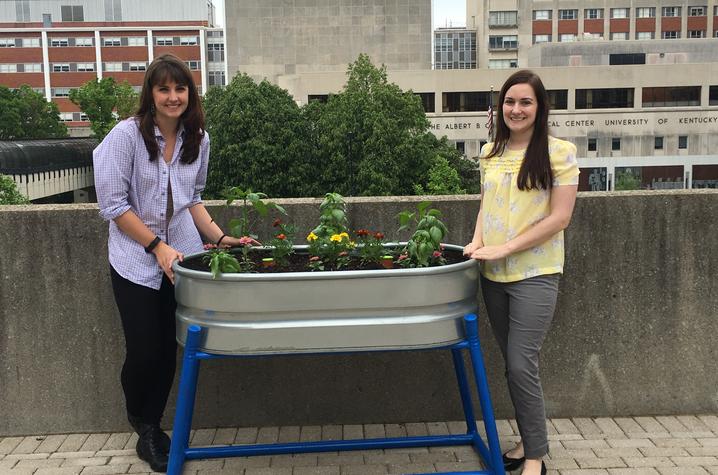 LEXINGTON, Ky. (May 13, 2016) – Although they will be graduating Saturday, during the University of Kentucky's College of Medicine Commencement Ceremonies, Lauren Falvo and Marissa Luoma have worked to leave behind a legacy of service and a space for patients and staff in a dedicated Wellness Garden located at the Kentucky Clinic.
In 2012, Lauren and Marissa both began their journey at UK. They developed their love for medicine and discovered the fields in which they were most interested. Though Marissa didn't always want to be a doctor. Then, during her third year of undergraduate work, she developed a chronic illness and learned firsthand about the health care field. Not only did the experience show her what it was like to be a patient, she saw how doctors could help those in need.
Marissa is pursuing Med-Peds, a combined internal medicine and pediatrics residency program, in hopes of addressing the shortage of primary care physicians in Kentucky and for the opportunity to work in inpatient and outpatient facilities. Lauren, who was an emergency medical technician during her undergraduate studies, always knew she wanted to be a doctor. She chose emergency medicine to help patients who use emergency rooms for their primary care needs. Improving patient care is the most important part of practicing medicine for both women.
The pair's passion to help those most in need was something that drew them to UK for medical school. More specifically, they were attracted by the College of Medicine's Salvation Army Clinic. In 2013, Marissa and Lauren registered for an elective that enabled them to work in the clinic and learn how it operated. That wasn't enough for either of them, they both applied for the manager position and, after being selected, began to run the clinic.
For two years, Lauren and Marissa served as co-managers and learned what it takes to keep a clinic running. Their responsibilities ranged from scheduling residents, attendings and volunteers to establishing new programs and public relations. Clinical care expanded while Lauren and Marissa were co-managers; they helped establish a nutrition clinic and worked on expanding the women's health clinic by providing more educational materials and information. One of their fondest memories in the clinic was the implementation of KYNECT. They trained KYnectors and were able to assist patients in signing up for health insurance. This process enabled them to provide much needed care to more patients in the community, they said.
Marissa and Lauren said one of the benefits of working in the clinic is "you remember why you're studying so hard all of the time." For their work, the students were nominated by their peers and selected for induction into the Gold Humanism Honor Society. The society recognizes individuals who are exemplars of humanistic patient care and who can serve as role models, mentors, and leaders in medicine. It is an honor for third-year medical students who display the most service and kindness to the community, for the school and to their class.
After completing their tenure as co-managers of the Salvation Army Clinic, the pair set out to leave a long-term mark on UK. To help address burnout among health care providers, they sought to create a space where providers and patients, could relax and unwind. They applied for, and were awarded, a grant from the Gold Humanism Honor Society and chose to use their funds to create a community garden on the third floor of Kentucky Clinic. Marissa and Lauren were happy to find that UK was more than willing to work with them to make their dream a reality. With the Gold Humanism Honor Society's grant made possible from the Arnold P. Gold Foundation, as well as assistance from liaisons such as Kristen Goble-Brown at UK and Ryan Koch at Seedleaf, the Wellness Garden, located outside on the third floor patio at  the Kentucky Clinic, opened May 9.
After Saturday's commencement ceremony, Marissa will begin a residency in Med-Peds at UK and Lauren will continue her emergency medicine education at Indiana University. "The rest of our lives start after graduation," Marissa said. Both women hope "the rest of their lives" include establishing medical practices in Lexington and teaching at UK.
UK is the University for Kentucky. At UK, we are educating more students, treating more patients with complex illnesses and conducting more research and service than at any time in our 150-year history. To read more about the UK story and how you can support continued investment in your university and the Commonwealth, go to: uky.edu/uk4ky. #uk4ky #seeblue
Media Contact: Olivia McCoy, olivia.mccoy1@uky.edu, 859-257-1076