Assistant Secretary for Department of Health and Human Services to Speak at UK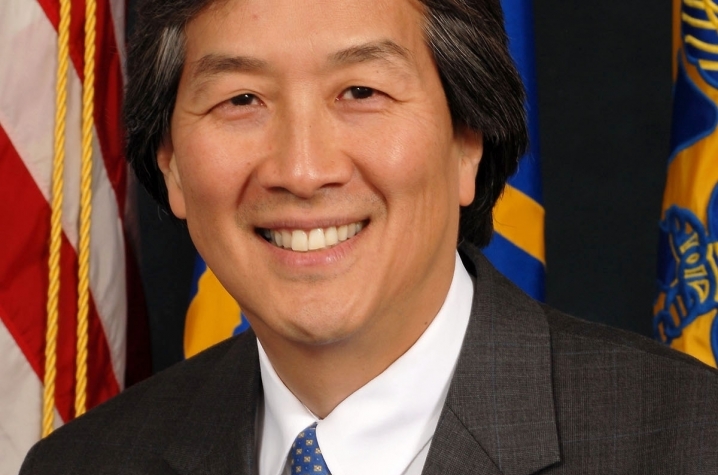 LEXINGTON, Ky. (Jan. 4, 2012) -- UK HealthCare and the University of Kentucky College of Public Health will host, "The Future of the U.S. Healthcare System," a seminar featuring Dr. Howard Koh, assistant secretary for health for the U.S. Department of Health and Human Services, at 10 a.m. to noon Jan. 10, at the UK Albert B. Chandler Hospital Pavilion A auditorium.
 
The seminar is free but registration is required. Please contact Amit Arbune at amitarbune@uky.edu for seat reservations.
 
Koh was nominated by President Barack Obama and confirmed by the U.S. Senate in 2009. He oversees 14 core public health offices, including the Office of the Surgeon General and the U.S. Public Health Service Commissioned Corps, 10 regional health offices across the nation, and 10 presidential and secretarial advisory committees. He also serves as senior public health advisor to the Secretary.
 
"We are elated to be able to welcome Dr. Koh to UK and to provide the opportunity for faculty, staff and students to address the changing future of health care," said Dr. Stephen W. Wyatt, dean of the University of Kentucky College of Public Health.
 
The Office of Assistant Secretary for Health implements an array of interdisciplinary programs relating to disease prevention, health promotion, the reduction of health disparities, women's and minority health, adolescent health, HIV/AIDS and chronic infectious diseases, vaccine programs, fitness, sports and nutrition, bioethics, population affairs, blood supply, research integrity and human research protections.
 
Koh previously served as the Harvey V. Fineberg Professor of the Practice of Public Health and Associate Dean for Public Health Practice at the Harvard School of Public Health. He was also director of the Harvard School of Public Health Center for Public Health Preparedness. He has published more than 200 articles in the medical and public health literature in areas such as disparities, cancer control, melanoma and skin oncology, tobacco control, public health preparedness, disease prevention and health promotion, and public health leadership.  
 
Koh graduated from Yale College, where he was president of the Yale Glee Club, and the Yale University School of Medicine. He completed postgraduate training at Boston City Hospital and Massachusetts General Hospital, serving as chief resident in both hospitals. He has earned board certification in four medical fields:  internal medicine, hematology, medical oncology, and dermatology, as well as a Master of Public Health degree from Boston University.  At Boston University Schools of Medicine and Public Health, he was Professor of Dermatology, Medicine and Public Health, as well as Director of Cancer Prevention and Control.
 
He has earned numerous awards and honors for interdisciplinary accomplishments in medicine and public health, including the Dr. Martin Luther King Jr. Legacy Award for National Service, the Distinguished Service Award from the American Cancer Society, and the Drs. Jack E. White/LaSalle D. Leffall Cancer Prevention Award from the American Association for Cancer Research and the Intercultural Cancer Council. 
Media Contact:  Kristi Lopez, (859) 323-6363 or kristi.lopez@uky.edu