College of Medicine Hosts Free Community Health Fair on Sept. 8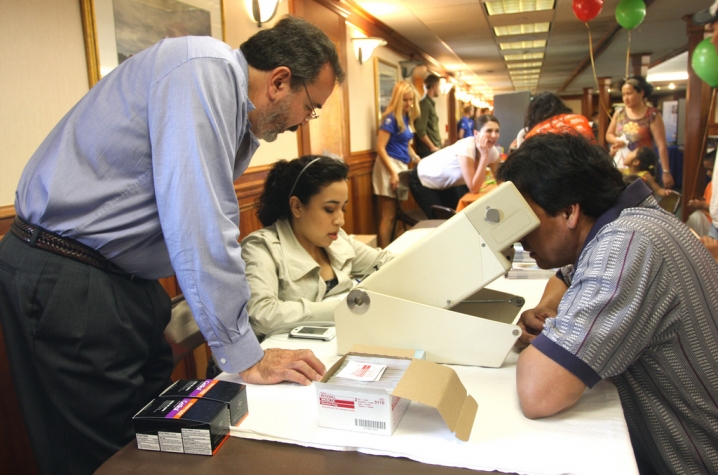 LEXINGTON, Ky. (Sept. 3, 2013) – The University of Kentucky College of Medicine, in collaboration with the colleges of pharmacy, dentistry, nursing and public health, will host the annual free Community Health Fair from 1 to 6 p.m., Sunday, Sept. 8, at the BioPharm Building (College of Pharmacy), located at 789 South Limestone St. on UK's campus.
The annual event, organized by UK College of Medicine students, targets all underrepresented, uninsured, low-income and no-income persons interested in access to free health care.  Among its many services, the health fair will offer blood pressure checks, women's health care, nutritional assessments, hearing and vision screenings, blood glucose and HbA1c testing, and HIV testing. 
For foreign language speakers attending the health fair, Spanish, Russian, Arabic and Mandarin interpreters will be available on-site.  Children are welcome and a play area, including an inflatable moon bounce, will be available during the fair. 
Free parking is available in the UK Chandler Hospital Parking Garage located at South Limestone at Transcript Avenue and in the UK "E" Lot on the corner of Press Avenue and Virginia Avenue.  In addition, Lextran Route #5 stops at the fair site.
The Community Health Fair has been a tradition at the UK College of Medicine for almost 13 years and is entirely run by first-year medical students allowing them to be involved in making a contribution to the health of the community by providing access to free health services.
About 80 UK College of Medicine students volunteered to become committee members or committee chairs last fall and are instrumental in preparations for the annual health fair which occurs in the fall semester during their second-year of medical school. 
On the day of the event, in addition to the students who have been organizing the event, members of the new first-year college of medicine class get involved in setting up booths, directing patients and ensuring that all equipment and supplies are available. Overall, more than 200 medical students are involved on the day of the event.
For more information, go to www.ukhealthfair.org or visit the UK Community Health Fair Facebook page, or send email to Info@ukhealthfair.org.
###
Media Contact: Kristi Lopez, 859-323-6363