Functional family therapy can change families for the better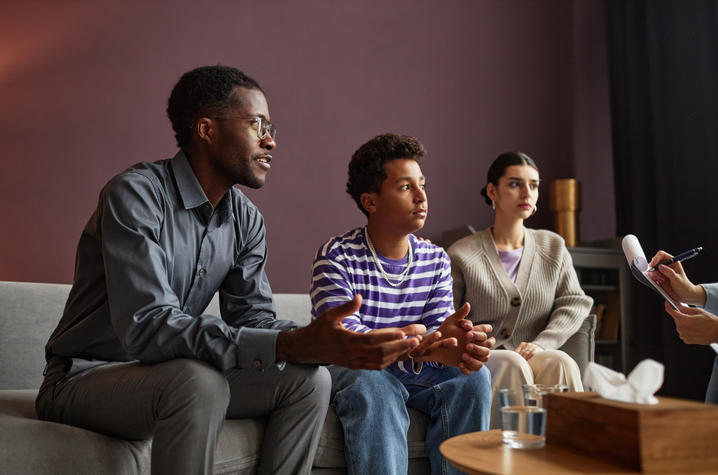 The University of Kentucky Public Relations and Strategic Communications Office provides a weekly health column available for use and reprint by news media. This week's column is by Jennifer Connor Godbey, licensed clinical social worker and assistant professor of psychiatry at the UK College of Medicine.
LEXINGTON, Ky. (Sept. 20, 2023) — Functional family therapy, or FFT, has been used in residential programs with at-risk juveniles who struggle to live at home or are dealing with abusive situations. It's a form of therapy where all members of a family are involved in the treatment. This way, the burden of resolving issues in the group does not fall to the one person who has received therapy; the responsibility belongs to the whole family.
If you ask someone what is most important to them, family is often at the top of the list. Sometimes we as providers don't focus much on this level of intervention in mental health treatment, but it can be the most effective way of helping motivate and move people towards sobriety or recovery. It also can help them get motivated to deal with other issues around anxiety, depression, eating disorders and other things that affect families. Providers sometimes overlook that familial relationships are the foundation for an individual's brain development and life experiences. By bringing the whole family in, we can address where there's been generational trauma and have a better chance of resolving it.
Certain family members, like adolescents, can have a difficult time engaging in therapy. Making the appointment about the whole family keeps the blame and negativity low and allows all family members to be more willing and engaging.
Imagine your family like a computer system, and a recurring issue you are presented with as a virus. Fixing just one device in the system will not eradicate the virus, because they all are connected and interacting. Without the right kind of maintenance, the system will keep getting the virus. Parents tend to keep trying to do their best to do what they know when their kid is struggling. But when the family is the target of the intervention, they have an opportunity to directly see the impact they're having on the system and possibly be more aware of what the alternatives are.
The hope for everyone who participates in FFT is that they don't feel stuck anymore. Generally, folks who have participated have told us that this has given them hope, that each family member knows what to do, and not just one person has the burden of trying to make things better. Going forward, participants know how to get unstuck when they feel really overwhelmed or emotionally dysregulated and have in the past turned to substance abuse or other more destructive behaviors. Now, they have an alternative and know what to do instead.
For more information on FFT, or to speak with a SMART Clinic specialist, call 859-323-6021.
UK HealthCare is the hospitals and clinics of the University of Kentucky. But it is so much more. It is more than 10,000 dedicated health care professionals committed to providing advanced subspecialty care for the most critically injured and ill patients from the Commonwealth and beyond. It also is the home of the state's only National Cancer Institute (NCI)-designated cancer center, a Level IV Neonatal Intensive Care Unit that cares for the tiniest and sickest newborns, the region's only Level 1 trauma center and Kentucky's top hospital ranked by U.S. News & World Report.  
As an academic research institution, we are continuously pursuing the next generation of cures, treatments, protocols and policies. Our discoveries have the potential to change what's medically possible within our lifetimes. Our educators and thought leaders are transforming the health care landscape as our six health professions colleges teach the next generation of doctors, nurses, pharmacists and other health care professionals, spreading the highest standards of care. UK HealthCare is the power of advanced medicine committed to creating a healthier Kentucky, now and for generations to come.