UK HealthCare Transplants Record Number of New Hearts in Kentucky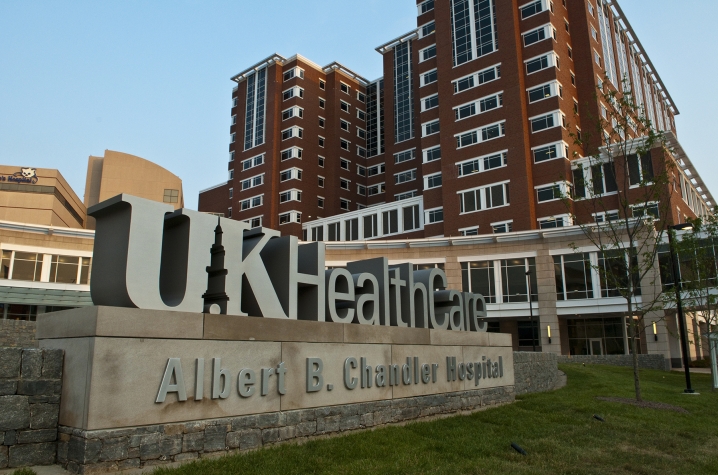 LEXINGTON, Ky. (Dec. 1, 2015) – The University of Kentucky Transplant Center recently performed its 38th adult heart transplant for 2015, setting a record for the most heart transplants performed by a Kentucky medical center in a single year and easily eclipsing the previous state record of 27 heart transplants performed in a single year.
With roughly one month to go in the calendar year, that number may increase as appropriate organs become available for transplant.
The 2015 numbers place the UK Transplant Center in elite company – historically, only 20-25 medical centers in the country perform more than 30 heart transplants in a single year. With a heart transplant team comprised of multiple cardiothoracic surgeons, cardiologists and nursing staff working together, UK has adeptly managed to handle the ever-increasing demand of patients who require transplantation.
"This has truly been a banner year for the UK Transplant Center and the UK Gill Heart Institute," said Dr. Navin Rajagopalan, medical director of heart transplantation at UK HealthCare. "Never before has a transplant center in Kentucky performed more than 30 heart transplants in one year.  Our outcomes remain good, a testament to the strong team we have assembled at the University of Kentucky."
Additionally, more heart transplants could not be performed without a corresponding increase in the number of organ donors. Kentucky Organ Donor Affiliates (KODA) have worked tirelessly in recent years to encourage more Kentuckians to sign up for the organ donor registry, enabling more patients to receive the gift of life.
The surgical transplant team works in conjunction with UK Gill Heart Institute's Advanced Heart Failure Program, offering a comprehensive and multidisciplinary approach to treating heart disease. While some patients will receive a left ventricular assist device (LVAD) as a destination treatment, some patients with advanced heart failure will receive a ventricular assist support device to serve as a "bridge" to transplant, enabling them to be more mobile – and thus healthier and stronger – by the time a matching donor heart becomes available. UK has implanted 29 durable LVADs this calendar year, maintaining a balanced program between circulatory assist devices and transplants.
"At UK, we're able to offer a wide range of services for heart problems, from the very common heart bypass procedures for blockages to the more difficult, intricate procedures like VADs or transplants for advanced heart failure," said Dr. Michael Sekela, surgical director of the UK Gill Heart Institute. "But our focus has always been to provide the most complex care for the most acutely ill citizens of the state, and our increased VAD and transplant numbers reflect that."
UK HealthCare's ability to provide these complex, specialized services for patients reinforces the medical center's mission of ensuring no Kentuckian will have to leave the state to get access to top-of-the-line health care.
"Our program fulfills a need in Kentucky for many patients who otherwise may not have had the opportunity to receive a life-saving transplant," said Dr. Michael Karpf, UK executive vice president for health affairs. "The commitment UK HealthCare has made to the program over the years has made a difference in the lives of many patients and their families and exemplifies the complex advanced subspecialty care it is important for our academic medical center to provide."
MEDIA CONTACT: Allison Perry, (859) 323-2399 or allison.perry@uky.edu