Awesome Future Art Teachers Exhibit Opens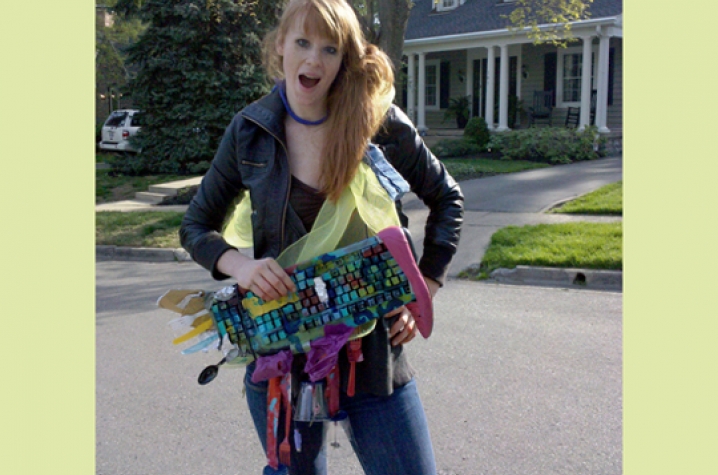 LEXINGTON, Ky. (April 16, 2010) − Throughout the month of April, Awesome Gallery is celebrating the work of future art teachers. The exhibition, "Salon de Recyclage," opened April 9 and presents the art of University of Kentucky art education students. The exhibit is free and open to the public at Awesome Gallery, located at Awesome Inc., at 348 East Main Street, in downtown Lexington.
The UK Art Education Program maintains a firm belief that art teachers need to make art and be educated as artist-teachers. This local exhibit of art, many in its original form and media, represents the innovative spirit of future art teachers, ready to make their mark and contributions to teaching and the art world.
The future art teachers have a fresh and exciting approach to art making, questioning old art forms and techniques and presenting new ways of displaying art. In a society that seeks innovation and respects new ideas, the role of artist/teacher in the schools is crucial. 
"Art teachers often stand alone in a school to turn the tide of conformity, uniformity; that bends children into robots and test takers," says George Szekely, professor of art education at UK Department of Art. "This exhibit stands for raising an awareness of the importance of creativity in the community, in the home, and especially in the schools. For children who can no longer play in school or after school, but are hooked on media and days framed and organized by adults, the future art teacher is the important agent of change."
He adds, "If the art in the exhibit portrays a sense of freedom and independence, and makes you think and smile, imagine the power that creative individuals--artist/teachers can contribute to every student."
UK art education students featured in the exhibition at Awesome Gallery are: Rachel Allen, Katie Avra, Amy Barnfield, Katie Blair, Mary Busswell, Ann Christianson, Jaquline Connelly, James Cox, Spring Masterson, Grace Milner, Taylor Ray, Ashley Smith, Katie Stanton, Nicole Terry and Abigail Thompson.
For more information about the exhibit, becoming a future art teacher at the University of Kentucky, or how to help support quality art education in the schools, contact George Szekely via e-mail to gszek01@uky.edu.