Planes, Trains and Submarines, Oh My!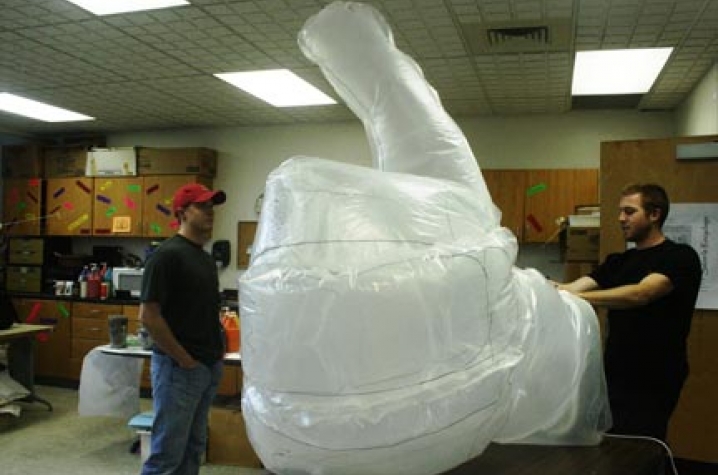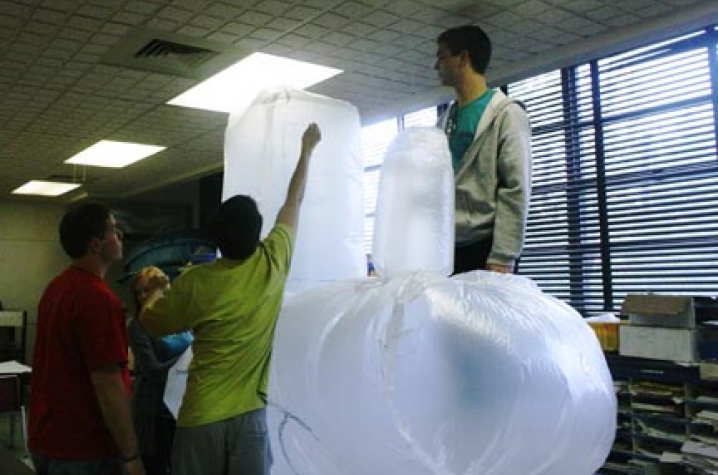 LEXINGTON, Ky. (April 28, 2010) − Don't question your eyesight Thursday afternoon if you see an alternate universe come to life as a plane, train, submarine and hand pop up in the sculpture garden at the Art Museum at the University of Kentucky. This inflatable public art happening is courtesy of students in a pilot course for the proposed new general education course titled "Pathways to Creativity in the Visual Arts." "INFLATE IT" will come to life (weather permitting) beginning at 3:15 p.m. Thursday, April 29.
"INFLATE IT" is the product of the minds of 19 UK students from a variety of disciplines who have explored various approaches to creativity this semester. The exhibit of inflatables is the students' answer to their last project, a 'thinking outside of the box' activity that has four teams of students working collaboratively to design and construct a large inflatable object erected of plastic and inflated with a box fan. 
Students teamed up to design, test, revise and execute their inflatable sculptures to prepare the works for exhibition in a large public setting.  
"That's a critical part of this artistic process - brainstorming, working collaboratively in teams, and problem solving," said UK Art Education Area Head Marty Henton. "It's been fascinating to watch and also to hear the students' comments as they worked on this project."
The "Pathways to Creativity in the Visual Arts" course was designed to provide students working toward degrees in everything from nursing and pharmacy to communications and computer science with various tools for understanding creativity through actively engaging in the process of making art, talking about art, and looking at personal learning styles that connect the student to creative expression and visual literacy.
"This course is one example of how the creativity component in the proposed general education curriculum has the potential to reshape UK's campus, encouraging greater and more diverse student participation in creative activities and literally enlivening campus spaces," says Benjamin C. Withers, chair of the UK Department of Art. "It is thrilling to see art faculty leading the way, working with students from other colleges to make this happen."
Through examining new ways to create and problem solve, the course hopes to not only open students eyes to another field of study, but to also give them additional tools they can utilize in problem solving in their own program's coursework. Leading up to the problem-solving inflatables project, students in the course have also discussed and took a "multiple intelligences" test to analyze their learning style; created partner portraits of a classmate; looked at the evolution of repeated work on a particular image through transformation drawing; and learned about mind-mapping, where one uses a diagram to represent words, ideas and tasks.
For more information on "INFLATE IT," contact Marty Henton at marty.henton@uky.edu or (859) 257-2252.