Sandoval Featured in KY Artisan Center Exhibit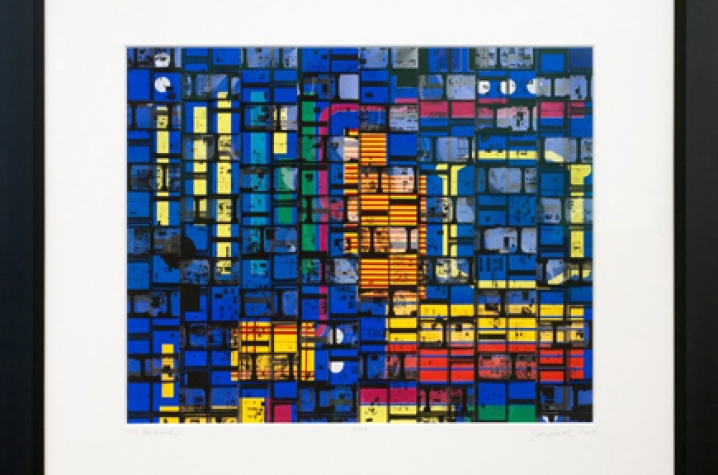 LEXINGTON, Ky. (March 23, 2011) − One of the University of Kentucky's own has been selected to participate in the exhibit "Kentucky Guild of Artists and Craftsmen: Works by Juried Members." University of Kentucky's Alumni Endowed Professor of Art, Arturo Alonzo Sandoval, will be featured in the new exhibition running through Aug. 20, at the Kentucky Artisan Center, located in Berea, Ky.
"Kentucky Guild of Artists and Craftsmen," which opened March 5, showcases a wide range of works from 70 juried members of the Kentucky Guild of Artists and Craftsmen (KGAC) including a variety of paintings; photographs; jewelry; fiber; functional and sculptural clay; prints; drawings; mixed media; metal sculpture; and carved and turned wood.
An internationally recognized fiber artist and an American Craft Council Fellow, Sandoval's artwork references international and domestic politics, terrorism, nuclear threat, cosmic realms and personal spiritual beliefs. His research recycles 20th century industrial materials that were primarily designed as tapes or films and manipulates the fibers to create what he describes as a visual vocabulary of the sky, water and landscape.
Sandoval's art has been displayed extensively regionally and nationally including exhibitions at New York's Museum of Modern Art; the Smithsonian Museum of American Art; Indianapolis Museum of Art; National Vietnam Veteran's Museum; Speed Art Museum; and Columbus Museum of Art.  His work has also been juried into several international exhibitions, including the 8th and 14th Biennial of Tapestry in Lausanne, Switzerland; the Textile Triennial in Lodz, Poland; and the International Textile Competition in Kyoto, Japan.
In addition to extensive exhibition credits, Sandoval has been awarded two National Endowment for the Arts (NEA) Visual Arts Fellowships; NEA supported Visiting Artists Grants; two Kentucky Arts Council Al Smith Visual Arts Fellowship awards; two Al Smith Professional Service Awards; the Kentucky Craft Marketing Honorary Award; the Kentucky Craft Marketing and Kentucky Art and Craft Foundation Inc. Rude Osolnik Craftsman Award; the 2003 Governor's Award in the Arts Artist Award; and the Kentucky Star Award. Last fall, he was featured in "Makers: A History of American Studio Craft," a new craft anthology published by the University of North Carolina Press.
Sandoval came to UK in 1974, where he joined the faculty at the UK Department of Art in the UK College of Fine Arts.
KGAC is the oldest organization in Kentucky working to preserve and promote the rich heritage and exciting future of art and craft. Since 1961, the KGAC has been an integral component of Kentucky gaining a national and international reputation for its rich heritage of visual art and fine craft.
The Kentucky Artisan Center is a state authority attached to the Tourism, Arts & Heritage Cabinet of the Commonwealth of Kentucky. The center was established to celebrate Kentucky's artisan heritage and to encourage Kentuckians and those traveling in the state to enjoy artisan products and activities.
In addition to being featured in the Kentucky Artisan Center's KGAC exhibition, Sandoval participated earlier this week in a runway fashion show presented by the Lexington Fashion Collaborative, a nonprofit organization focused on supporting and inspiring the love of wearable art. Sandoval served as an adjudicator at the show, helping select a new designer to join the collaborative, at the organization's Designer Casting held March 22, at Land of Tomorrow (LOT), located at 527 E. Third St. in downtown Lexington.
MEDIA CONTACT: Whitney Hale, (859) 257-1754 ext. 229; Whitney.Hale@uky.edu