UK Choristers, Alums Present Tribute to Sara Holroyd on 35th Anniversary of 'A Shaker Worship Service'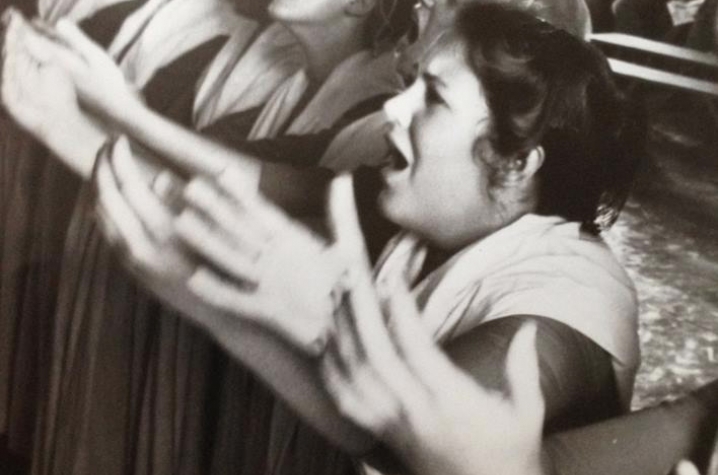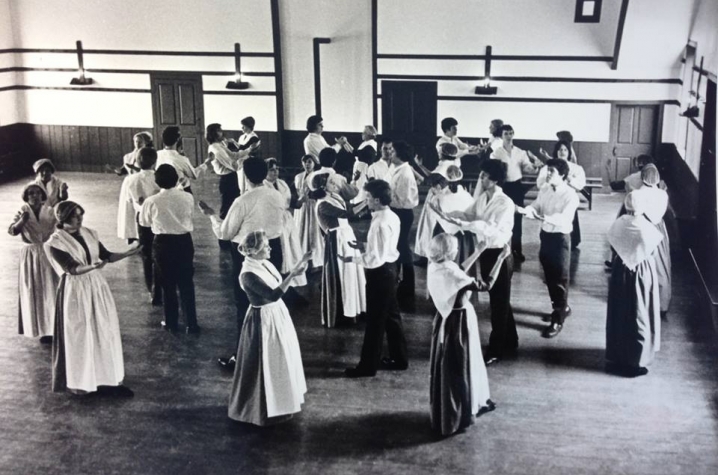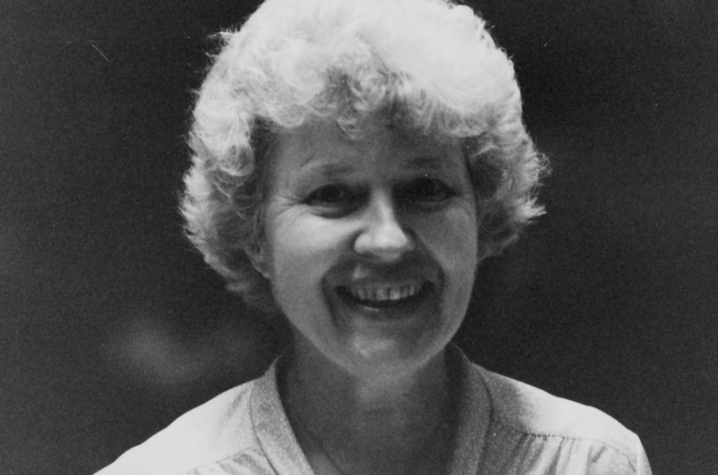 LEXINGTON, Ky. (Sept. 24, 2015) — The University of Kentucky Choristers will welcome home many of their talented alumni for a reunion concert focused on Shaker music and celebrating the 90th birthday of former director Sara Holroyd. The tribute concert marks the 35th anniversary of "A Shaker Worship Service" film and the "Music of the Shakers" LP. The free public concert will begin 4 p.m. Saturday, Sept. 26, at the Singletary Center for the Arts.
In 1979, a historical landmark re-enactment of an original Shaker Worship Service was performed at Shaker Village of Pleasant Hill, Kentucky, by the UK Choristers. The original re-enactment was performed under the direction of UK Professor Sara Holroyd, and featured the work of renowned recording artist and choral composer Salli Terri. "A Shaker Worship Service" continued to be performed every year at Pleasant Hill until Holroyd's retirement.
This re-enactment was rehearsed and fleshed out in Room 17 in the Fine Arts Building, a room Holroyd's students have since lovingly described as being holy and a sanctuary, so much so that they titled a song, written by alumnus Warren Cobb, in its honor.
In addition to staging the re-enactment at Pleasant Hill, the original performance was filmed for KET (Kentucky Educational Television) to air in 1980 and repeatedly ran throughout the early 1980s. A grant from the Kentucky Humanities Council provided funding for the film and taping. These uplifting services were seen by thousands of people from all over the globe who came to visit Shaker Village for its historical significance, including then newly appointed Supreme Court Justice Sandra Day O'Connor.
The impact of the film was felt across the Bluegrass and appreciated by many worldwide. When asked about the film's influence and effect on others, Terri's daughter, Jennifer Biggs Walton said, "The first thing I thought after recently seeing this film was how wholeheartedly exuberant the men and women seemed to be. They are so removed from mainstream life but so free of the world's focus on negativity. 'Tis the gift to be simple.'"
Beyond audiences around the world, the performers themselves were deeply touched by the experiences. The project helped foster relationships that have sustained long past the classroom. A Facebook group page, "UK Chorister Shakertown Memories," has more than 250 members who share a bond in bringing this story to life in the re-enactment. The performers and others associated with the concert in the group share memories and accounts of their experiences and have posted the film, pictures, music and programs from the event. Many still maintain relationships and feel they were "fueled to succeed in life by the very essence of the Shakertown performances and the powerful life altering inspirational guidance of Holroyd."
Holroyd taught at the UK School of Music for 26 years. A cornet player with no formal conducting training, she went on to become director of UK Choral Activities and conducted the Choristers, Chorus, Chorale, Madrigal Singers and the women's and men's glee clubs. She even prepared choruses four times for the Grammy Award-winning composer Robert Shaw, who noted that he had never worked with such a well prepared college choral group. Upon retiring in 1987, Holroyd left a collection of papers, photographs, letters and memories from her two decades at UK. It can be viewed in the UK Special Collections Research Center located at the Margaret I King Library Building.
Holroyd, who turned 90 this year, will be in attendance at this year's tribute and will get to see many of her former students perform again for her.
UK Choristers is the oldest performing organization at UK. Filled with underclassmen and representing a wide variety of majors, the group frequently performs on and off campus. This 55-voice mixed choir specializes in choral repertoire of all periods and styles, both a cappella and accompanied, and also performs a major work each year with the UK Symphony Orchestra, as well as hosts a successful music theater cabaret, "Night on Broadway." The Choristers tour frequently throughout the region.
The UK Choristers are housed at the UK School of Music at UK College of Fine Arts. The school has garnered a national reputation for high-caliber education in opera, choral and instrumental music performance, as well as music education, composition, and theory and music history. 
Contributions to this story were made by alumni Warren Cobb and Renee Collins. 
MEDIA CONTACT: Whitney Hale, 859-257-8716; whitney.hale@uky.edu