Boulden Named a KMEA Teacher of the Year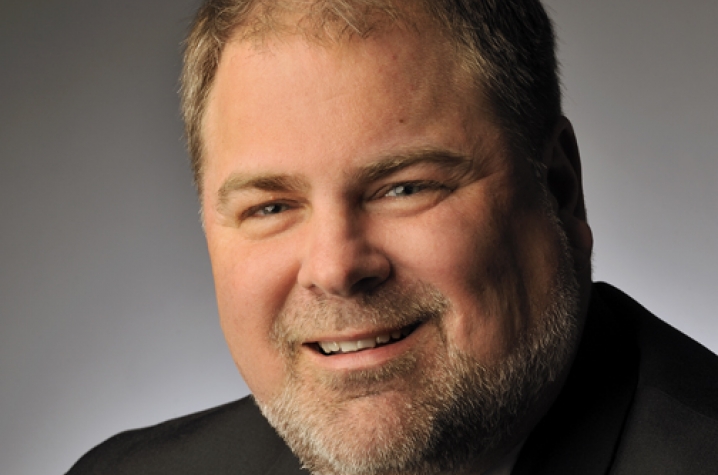 LEXINGTON, Ky. (Feb. 10, 2011) − George Boulden, associate professor of music and associate director of University of Kentucky Bands, has been named the 2011 Kentucky Music Educators Association (KMEA) College/University Teacher of the Year. The award recognizes Boulden's service and contributions to music education in Kentucky at the university level.
"We are proud and delighted that George Boulden has been recognized for the KMEA College Teaching Award," says Ben Arnold, director of UK School of Music in the UK College of Fine Arts. "He joins a growing list of outstanding faculty members in the UK School of Music who have been recognized for their commitment, excellence, and dedication to providing students the best education we can possibly give them. Day in and day out Professor Boulden has nurtured and guided our students to learn their craft and to prepare them for their roles as future music educators."
Boulden will be recognized with the College/University Teacher of the Year Award at the KMEA General Assembly and State Awards presentation ceremony held as part of the group's conference on Friday, Feb. 11, at the Kentucky International Convention Center, in Louisville.
"While I am extremely honored to receive this award, going through the application process reaffirmed my belief that Kentucky has many outstanding collegiate music educators serving our students across the state," notes Boulden.
At UK School of Music, Boulden serves as the conductor of the UK Symphony Band, teaches conducting, and instructs in applications of music technology. Previously, he served as the director of the Wildcat Marching Band and Basketball Pep Band from 1995-2008. During that time, the UK Athletic Bands served as musical ambassadors through performances at the Outback Bowl, three Music City Bowl games, a Bands of America Regional Championship, and three NCAA Final Four Basketball Championship games.
Under Boulden's direction, the UK Symphony Band was a featured ensemble at the 2003 and 2008 KMEA In-Service Conference, and the 2005 FMEA (Florida Music Educators Association)/MENC  (National Association for Music Education) Southern Division Conference in Tampa, Fla. UK Symphony Band also presented a clinic performance at the 2010 KMEA In-Service Conference. In addition, Boulden has served as an adjudicator, clinician and guest conductor throughout the United States and Canada. He currently serves as editor of the KMEA state music education journal, the Bluegrass Music News.
Boulden holds a bachelor's degree in music education from UK and a master's degree in music education from the University of South Carolina. He has also completed coursework at the University of Illinois Urbana-Champaign for a doctorate in music education. Boulden resides in Richmond, Ky., with his wife, Shelly, and their children, Jenna and Julianna. Their son, Bob, is a member of the U.S. Marine Corps. Before joining the UK School of Music faculty, Boulden taught public school for nine years in South Carolina and Florida.
KMEA is professional music educators' organization consisting of more than 2,000 members at all levels from kindergarten to the university level that is dedicated to the cause of music education in Kentucky.
MEDIA CONTACT: Whitney Hale, (859) 257-1754 ext. 229; whitney.hale@uky.edu