Enjoy 'Die Fledermaus' on the Go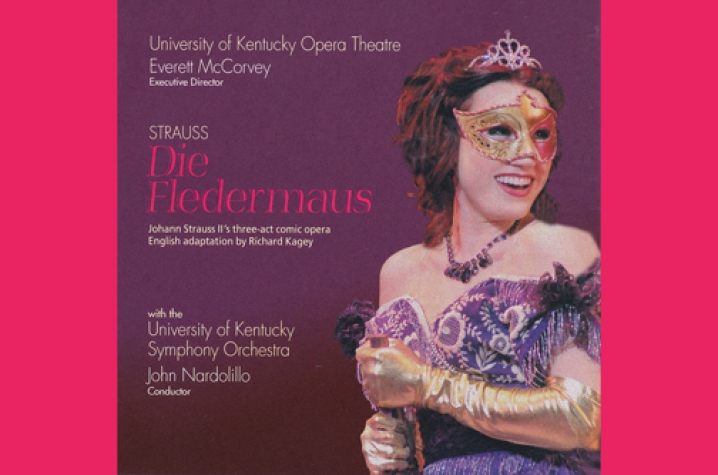 LEXINGTON, Ky. (June 24, 2010) − A new CD of "Die Fledermaus" from University of Kentucky Opera Theatre and UK Symphony Orchestra capitalizes on the success of this spring's performances of the comedic opera. The two-disc CD of the entire production is the only complete English version available.
Albany Records recorded the three-act operetta showcasing a new English adaptation by Richard Kagey, stage director of the UK production. The cast on the recording is comprised of UK Opera Theatre students and the music was performed by UK Symphony Orchestra under the direction of maestro John Nardolillo.
Written in 1874 by the "Waltz King," Johann Strauss II, the story of "Die Fledermaus" centers around playboy Gabriel von Eisenstein, who has been sentenced to a jail term after a run-in with a public official. Von Eisenstein pushes off serving his sentence a night for one last hurrah after he is invited to Prince Orlofsky's masked ball, a party not to be missed. But unbeknownst to Von Eisenstein, his wife, Rosalinde, has also made plans to take advantage of his absence and decides to attend.
This two-CD recording was produced by John Ostendorf and engineered by David Henderson.  It can be purchased locally at the UK Opera Cottage, located at 319 Rose Lane, and at Joseph-Beth Booksellers, in the Mall at Lexington Green. The price for the CD set is $30 with mail orders available through the UK Opera Cottage for an extra $2.50 handling fee. Additionally, the "Die Fledermaus" CDs can be purchased online at Amazon.com starting July 1 for $35. For more information on this CD set, contact UK Opera Theatre at (859) 257-9331.