Jamison Family to Open Appalachian Concert Series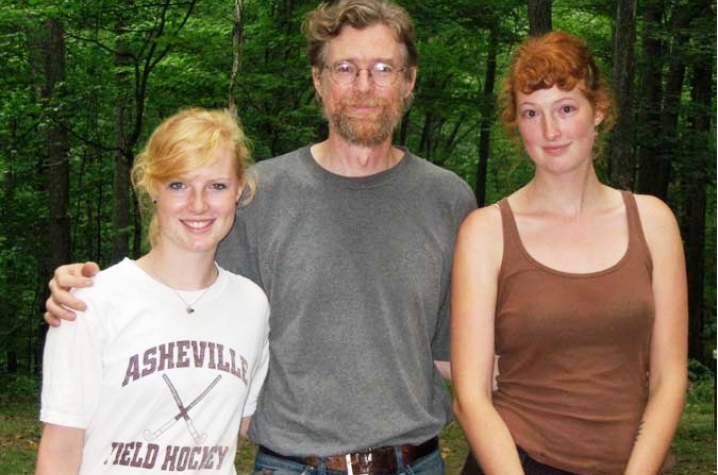 LEXINGTON, Ky. (Sept. 1, 2011) − The Jamison family's traditional music talents will be on display in this year's opening concert of "Appalachia in the Bluegrass," a concert series showcasing artists known for their Appalachian mountain music styles  and traditions. The free public concert featuring Phil, Alice and Sarah Jamison will begin at noon, Friday, Sept. 2, at the Niles Gallery, located in the University of Kentucky Lucille C. Little Fine Arts Library and Learning Center.
Phil Jamison, a nationally-known as a dance caller, musician and flatfoot dancer, has called at dances and music festivals throughout the country and overseas since 1975. A longtime member of the Green Grass Cloggers, his flatfoot dancing was featured in the film, "Songcatcher," for which he also served as traditional dance consultant. Phil is an active dance historian who has written many articles about traditional dancing for the Old-Time Herald magazine. He is currently completing a book about the history of southern Appalachian dance. Phil lives in Asheville, N. C., where he teaches mathematics, Appalachian music, and Appalachian studies at Warren Wilson College.
Alice Jamison plays guitar and sings traditional ballads and folksongs. She performs Cape Breton step dance and has won blue ribbons in both dancing and folksong at the Mt. Airy Fiddlers' Convention and the Appalachian Stringband Festival. Alice is currently a senior at Asheville High School.
Sarah Jamison plays banjo and guitar and sings early country music. Currently a student at Warren Wilson College, she is majoring in environmental studies.
The "Appalachia in the Bluegrass" concert series celebrates the old time roots of American Folk music by featuring a diverse range of traditional musical expression.  The concert series will showcase many artists in the Kentucky area such as composer Dan Dutton and award-winning old time banjo players John Wezley Haywood and Lee Sexton. The series is made possible with the support from the Office of the Provost, the John Niles Center for American Music, and the Appalachian Studies Program.
This year's other participating artists and their performance dates are:
The John Jacob Niles Center for American Music, host of the concert series, is a collaborative research and performance center maintained by the UK College of Fine Arts, UK School of Music and UK Libraries.
For more information on the Jamison family concert or the "Appalachia in the Bluegrass" concert series, contact Ron Pen, director of the Niles Center, by e-mail to Ron.Pen@uky.edu or visit online at www.uky.edu/FineArts/Music/Niles.
MEDIA CONTACT: Whitney Hale, (859) 257-8716 or whitney.hale@uky.edu