Lute Legend to Play UK for Cause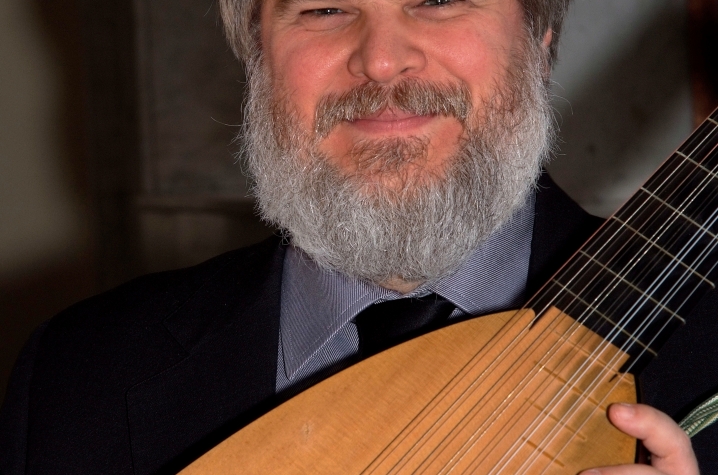 LEXINGTON, Ky. (May 2, 2011) − Grammy Award-winning lutenist Paul O'Dette will present a guest recital at the university to raise money for the University of Kentucky School of Music Guitar Program Scholarship Fund. The concert featuring one of the world's leading early music artists will take to the stage 7:30 p.m. Wednesday, May 11, at the Singletary Center for the Arts Recital Hall.
"For the UK Guitar Program, to have Paul O'Dette as a guest artist is not only a great honor but an event that happens once in a lifetime," says Dieter Hennings, assistant professor of guitar at UK. "In classical music today, Paul O'Dette is unanimously considered the towering figure over the art of playing the lute. He has accomplished this by decades of a tireless passion to share his music through concerts, more than 130 recordings and countless musicological publications. The Lexington community should expect a concert worthy of the best music stages in the world."
Described as "the clearest case of genius ever to touch his instrument" by the Toronto Globe and Mail, Paul O'Dette is one of the most influential figures in his field. He has helped define the technical and stylistic standards to which 21st century performers of early music aspire. In doing so, O'Dette helped infuse the performance practice movement with a combination of historical awareness, idiomatic accuracy and ambitious self-expression. His performances at the major international festivals in Europe, Asia, North America, South America and Australia have often been singled out as the highlight of those events. Best known for his recitals and recordings of virtuoso solo lute music, O'Dette maintains an active international career as an ensemble musician as well, performing with many of the leading early music soloists and ensembles. In addition, he is a member of the acclaimed continuo ensemble Tragicomedia.   
With his more than 130 recordings, O'Dette has received one Grammy award, five Grammy nominations and numerous other international record awards. O'Dette won a Grammy award for "The Echoing Air," CD of Henry Purcell songs he recorded with Sylvia McNair in 1996. "The Complete Lute Music of John Dowland" was awarded the Diapason D'or de l'année, while "The Royal Lewters" received the Diapason D'or, a Choc du Monde de la Musique, a 5-star rating in BBC Music Magazine, 5-star rating in Goldberg and a perfect score of 10 from ClassicsToday.com. "Bacheler: The Bachelar's Delight" was nominated for a Grammy in 2006 as "Best Solo Instrumental Recording." O'Dette has performed in broadcasts for the Radio Argentina, BBC, CBC, Radio France, RAI, Westdeutscher Rundfunk, Bayerischer Rundfunk, SFB,  NOS, Austrian Radio, Spanish Radio and Television, TV Ankara, Hungarian Television, Norwegian Radio, Danish Radio and Television, Swedish Television, Swiss Radio and Television, National Public Radio and CBS.
O'Dette is also active conducting Baroque operas. In 1997, he led performances of Luigi Rossi's "L'Orfeo" at Tanglewood, the Boston Early Music Festival and the Drottningholm Court Theatre in Sweden with Stephen Stubbs. Since 1999, O'Dette and Stubbs have co-directed performances of Francesco Cavalli's "Ercole Amante" at the Boston Early Music Festival, Tanglewood and the Utrecht Early Music Festival; Francesco Provenzale's "La Stellidaura Vendicata" at the Vadstena Academy in Sweden; Claudio Monteverdi's "Orfeo" and "L'Incoronazione di Poppea" for Festival Vancouver; Jean-Baptiste Lully's "Thésée," Johann Georg Conradi's "Ariadne," Johann Mattheson's "Boris Goudenow," Lully's "Psyché" and Monteverdi's "L'Incoronazione di Poppea" for the Boston Early Music Festival. The recording of "Ariadne" was nominated for a Grammy as "Best Opera Recording" of 2005, "Thésée" was nominated in the same category in 2007 and "Psyché" was nominated in 2008. The two Lully recordings were also nominated for Gramophone awards. O'Dette has guest directed numerous Baroque orchestras on both sides of the Atlantic including the Portland Baroque Orchestra, Tafelmusik, Apollo's Fire, Ensemble Arion, Chatham Baroque and Corona Artis.
In addition to his activities as a performer, O'Dette is an avid researcher on performance and sources of 17th century Italian and English solo song, continuo practices and lute music. He has published numerous articles on issues of historical performance practice and co-authored the Dowland entry in the New Grove Dictionary of Music and Musicians. O'Dette was awarded the "Guerriero di Capestrano" for his work on the music of Marco dall'Aquila, including an edition of Marco's complete works. 
Besides serving as a teacher and mentor to UK's own Dieter Hennings, O'Dette serves as a professor of lute and director of early music at the Eastman School of Music, and artistic director of the Boston Early Music Festival.
To watch video of O'Dette performing Alessandro Piccinini's "Chiaccona" on a chitarrone at the Lute Society of America's summer festival in 2010, visit YouTube at http://youtu.be/YVIeaYFB6LI. 
Tickets for the Paul O'Dette concert are $15 for general admission and $10 for students. A processing fee will be added upon transaction. Tickets can be purchased through the Singletary Center Ticket Office at (859) 257-4929, online at www.singletarytickets.com, or in person at the ticket office. 
MEDIA CONTACT: Whitney Hale, (859) 257-1754 ext. 229; Whitney.Hale@uky.edu