March Madness Hits UK Trumpet Studio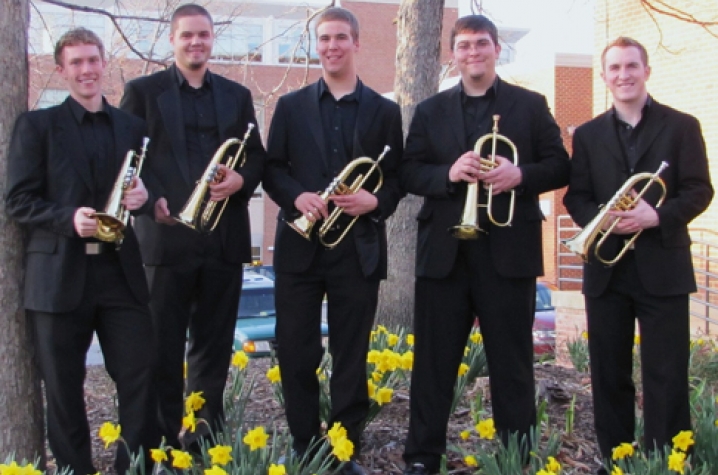 LEXINGTON, Ky. (March 25, 2011) − What does the University of Kentucky basketball team have in common with the UK Trumpet Quintet besides the university? A line-up of five "starters" competing at the highest national level on a road that ends with making it to the final four.
Last weekend the UK Trumpet Quintet took the fourth place ensemble award at the National Trumpet Competition. This is the ensemble's fourth appearance in the final four of the competition. UK also scored a second place finish by doctoral candidate Phillip Chase Hawkins, of Moore, S.C., in the Graduate Solo Division. The ensemble and UK soloist study under Mark Clodfelter, associate professor of trumpet, in the UK Trumpet Studio.
The National Trumpet Competition, held in Washington, D.C., is the largest and most prestigious forum of its type in the world. The panel of judges and guest artists at the event represent performers and educators from across the globe. Final results were announced at the event's closing ceremony held March 20.
The UK Trumpet Quintet, comprised of five of the 21 members of the UK Trumpet Ensemble, participated in a preliminary taped audition round. From a field of more than 60 ensembles, the quintet was among approximately 30 ensembles selected from across the country to compete in the semifinal round of the trumpet competition and the "elite seven" selected to compete in the final round. Members of the award-winning ensemble are Hawkins; senior Michael Holland, of Gastonia, N.C.; senior Korey Hunt, of Vine Grove, Ky.; sophomore Eric Millard, of Mechanicsburg, Pa.; and junior Nick Ramsey, of Richmond, Ky.
UK's White Ensemble and soloists Rui Li, Clint McClendon, Millard and Patrick VanArsdale also competed at the semifinals of the national competition having advanced to that round by highly selective audition.
Since Clodfelter's arrival at UK in 2002, the UK Trumpet Ensemble has participated in the National Trumpet Competition five times, each time advancing to the semifinals with four trips to the final four, one of which resulted in claiming first place.
When asked about this extraordinary winning record, Clodfelter said, "We are fortunate to have serious students here at the UK School of Music. We have an aggressive approach to self-improvement and a passion for the art of music. This, fortified by an outstanding team of faculty members really postures us for our greatest success. Thanks to everyone who has touched the lives of these students, we are in your debt."
In addition to UK's finalists and semifinalists, Clodfelter also instructs Luke Schawlbach, who took first place in the Junior Solo Division of this year's competition. Schawlbach is a 13-year-old from Lexington, who takes lessons at the UK Trumpet Studio at the UK College of Fine Arts.
For more information about the UK Trumpet Studio and Associate Professor Clodfelter, visit www.markclodfelter.com.
MEDIA CONTACT: Whitney Hale, (859) 257-1754 ext. 229; Whitney.Hale@uky.edu