Sales of Calipari Bourbon Bottle to Make Music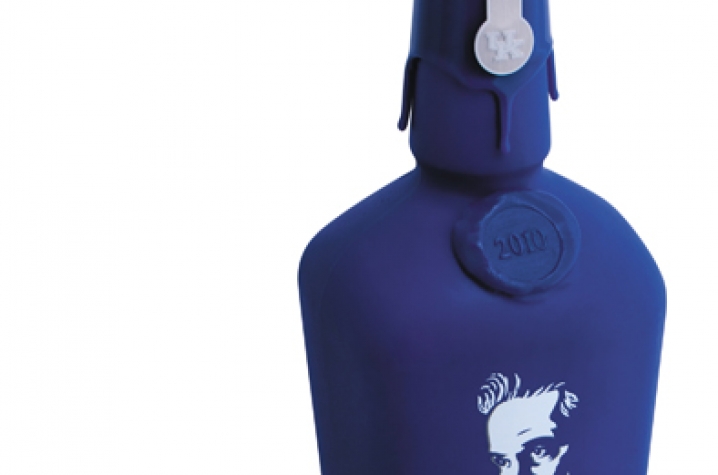 LEXINGTON, Ky. (March 31, 2010) − The next installment of the popular Maker's Mark/Keeneland charitable bottle series that supports projects at the University of Kentucky will go on sale this Friday, April 2. This year's bottle celebrates the success of UK basketball coach John Calipari, whose likeness is featured on the bottle.
Proceeds from the bottle featuring Calipari will raise money for a unique extension program from UK Symphony Orchestra that brings the orchestra and students from the UK School of Music into public schools and communities throughout Kentucky.   
"It's an honor to team with Maker's Mark and the university in this unique fundraising opportunity to help benefit the UK Symphony Orchestra Outreach Program," said Coach Calipari. "I'm not sure the world is ready for my face on a bottle, but if it helps the university, I'm all for it. I hope all our great fans will support this worthy effort."
Maker's Mark will donate proceeds from the sales – estimated to be about $300,000 from 24,000 bottles – to the UK Symphony Orchestra extension program. UK is in the process of securing matching grants that, if sales of the bottles are successful, may create funding for this unique program in excess of $1.2 million.
In a time when budgets do not allow for extensive arts programs in public schools, this partnership is beginning its second year of a possible three years of support for music education outreach for third and fourth grade students throughout Kentucky.
"The performances around Kentucky funded by this program will be tremendous for our students in the UK Orchestra, the children who will participate in the programs, and the communities who will hear the concerts," said John Nardolillo, conductor of UK Symphony Orchestra. "Maker's Mark and Keeneland are doing something which will have a lasting impact at the university and around the Commonwealth."
To see video on the bottle series program, visit the university's YouTube channel at www.youtube.com/watch?v=ru01qGLBTpQ.
Maker's Mark has produced 24,000 numbered, limited edition bottles honoring Coach Calipari, which should be available in liquor stores statewide Friday, April 2, opening day of Keeneland's Spring 2010 meet. The bottle should retail for about $49, if retailers take their normal markup.
Interest has continued to grow for the bottle's April 9 John Calipari bottle signing at Keeneland. As a result, Keeneland officials have announced a new ticket distribution process to maximize the limited amount of time Calipari has for the April 9 signing, while also mitigating traffic, safety and security issues.
Now, rather than a live lottery drawing prior to the bottle signing, Keeneland is working with Ticketmaster to conduct an online distribution beginning at 10 a.m. Saturday, April 3, for 1,200 tickets—allowing one ticket per customer. Fans should go online to www.ticketmaster.com on April 3 (type "Keeneland" in the search box to find the direct link). The April 9 signing is limited to one 2010 commemorative bottle per person, with no other memorabilia or souvenir items allowed.
The face value of the ticket is free; however, there will be a $1 handling fee through Ticketmaster. Keeneland will, in turn, make a $1,200 contribution to Galilean Children's Home in Liberty, Ky.—the charity of choice for this year's Maker's Mark Ambassadors. 
Patrons can claim their tickets in person beginning Tuesday, April 6, at Keeneland's drive-thru wagering booths between 8 a.m. and 6 p.m. In order to claim the ticket, fans must bring a copy of their online receipt as confirmation and a photo ID. Participants also may be able to pick up their tickets inside of Keeneland's South Gate beginning at 6 p.m. Thursday, April 8.
Ticket holders must be in line no later than 7 a.m. Friday, April 9. The commemorative ticket will designate the specific place in line for each participant. The signing – with Coach Calipari, Keeneland President and CEO Nick Nicholson, and Maker's Mark President Bill Samuels Jr. – will start at 8 a.m.
To hear officials from Keeneland and Maker's Mark talk about the signing, visit www.youtube.com/watch?v=DRHC96WtjgM.
For more information on the tickets and bottle signing, visit http://Keeneland.com.