Soprano's Voice Takes Her on Musical Journey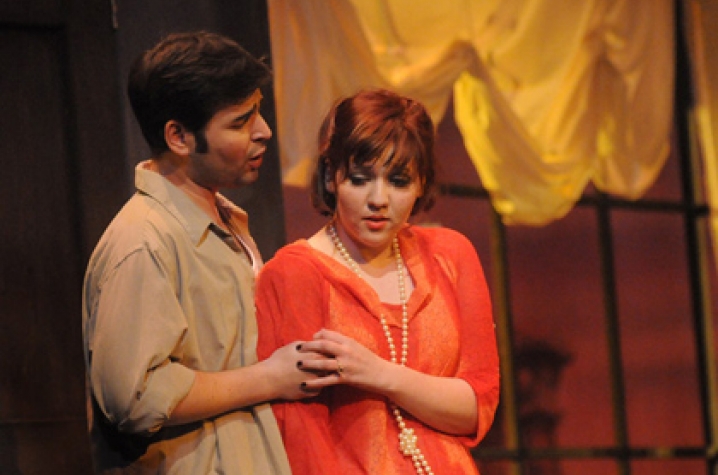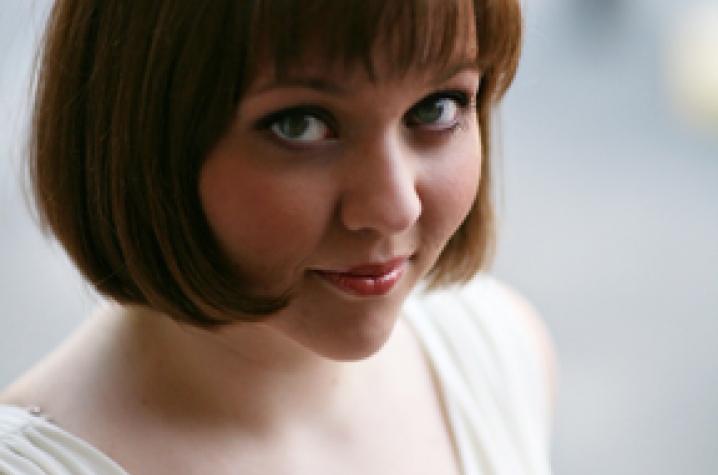 LEXINGTON, Ky. (Aug. 20, 2009) − On the strength of her award-winning voice, soprano Amanda Balltrip is on a musical journey to Montreal, Canada, this month where she is studying with one of the world's best training programs for opera vocalists, the International Vocal Arts Institute (IVAI). The graduate student in vocal performance from University of Kentucky Opera Theatre is one of a select group of vocalists worldwide chosen for the prestigious three-week program dedicated to excellence in operatic interpretation.
[IMAGE2]
IVAI offers a wide range of intensive studies in vocal technique, style and interpretation, languages and diction, movement and acting, role preparation and career development. The institute, founded by Metropolitan Opera Assistant Conductor Joan Dornemann and Metropolitan Opera Conductor Paul Nadler in 1986, presents three summer programs annually in Montreal; Caguas, Puerto Rico; and Tel Aviv, Israel.
Balltrip, who previously worked with Dornemann to prepare for regional competition at the Metropolitan National Council Audition, is excited for the opportunity to work with the institute's esteemed list of faculty.
"IVAI has a wonderful, experienced faculty," said Balltrip. "Ms. Dornemann, Diana Soviero, and Paul Nadler are all affiliated with the Metropolitan Opera, and that's just the short list."
The intensive training program will culminate with a showcase gala highlighting the work the students did at the institute, but the experience will continue to give back as Balltrip returns to UK this fall. She is using this unique experience to coach the role of Anne Rutledge in "River of Time" and to polish a selection of arias she plans to perform in upcoming auditions and competitions. Balltrip will play Rutledge in an opera based on the life of President Abraham Lincoln set to have its world premiere with UK Opera Theatre this October.
Balltrip found her love for opera while working on her bachelor's degree in vocal performance at UK.
"I grew up doing musical theatre," said the vocalist from Hazard, Ky. "When I came to UK as a freshman, my only aim was to work on my voice; I didn't have a definite idea of what I wanted to do. I began studying with Gail Robinson who opened my ears and my heart to classical voice. I've been in love with it ever since."
Local opera audiences will recognize Balltrip from her numerous roles with UK Opera Theatre, including turns as Musetta in "La Bohème," Gretel in "Hansel and Gretel," Tallulah in "The Hotel Casablanca," Frasquita in "Carmen," Papagena in "The Magic Flute," and Genovieffa in "Suor Angelica." A district winner of the Metropolitan Council National Auditions and second place graduate winner of the Alltech Opera Scholarship Competition in 2008, Balltrip has also performed in a classical voice recital in Dublin, Ireland, and a contemporary electro-acoustical voice recital in Bogota, Colombia, presented as part of the festival En Tiempo Real.
Balltrip credits her studies with Angelique Clay, assistant professor of voice at UK School of Music, and the entire UK Opera Theatre faculty and its family of supporters for presenting her with several opportunities to grow as a vocalist.
"My voice instructors, coaches and professors have all contributed so much to my musical education," noted Balltrip. "Not to mention, the Lexington Opera Society and Alltech have made funding for my education in and outside of UK possible. It takes support and encouragement from many outside sources for one person to be successful. For these I'm grateful."
The daughter of Ewell and Kathy Balltrip of Somerset, Ky., Amanda hopes to train with a professional opera company and begin a career as a classical vocal artist upon completion of her master's degree in 2010.