UK Men's Chorus to Sing at National Convention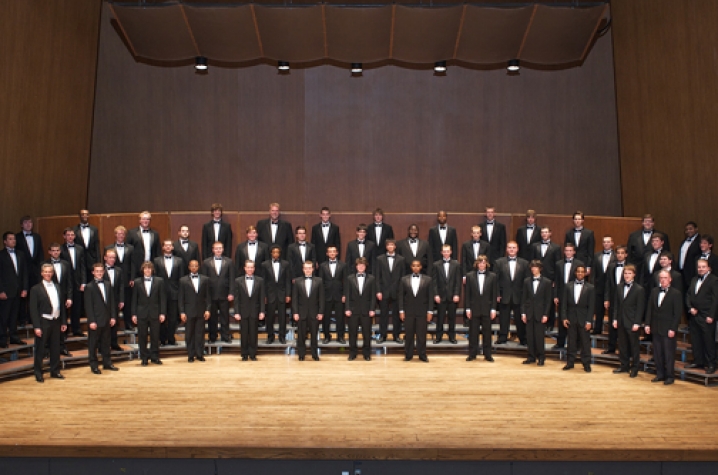 LEXINGTON, Ky. (March 11, 2011) — The University of Kentucky Men's Chorus has been invited to perform at the American Choral Directors Association (ACDA) national convention this weekend, March 12, at Orchestra Hall, in Chicago.
The Men's Chorus is conducted by Jefferson Johnson, professor of music and director of choral activities in the UK School of Music in the UK College of Fine Arts. The chorus will perform at the ACDA national convention alongside exceptional choirs from all over the country who were chosen based on an extremely selective audition process. Held every two years, the ACDA national convention is the most prestigious conference in the United States for which a choral group can be selected to perform.  
An 80-voice ensemble, UK Men's Chorus is composed of students who range from freshmen to graduate students from a variety of musical backgrounds and academic disciplines. The Men's Chorus has grown in popularity and size each semester and achieved several distinguished honors in recent years such as appearing as featured performers at the Kentucky Music Educators Association conference in Louisville in 2004.
In 2006, the UK Men's Chorus was the only Men's Chorus in the country to be selected to perform at the Music Educators National Conference national convention in Salt Lake City and at the inaugural convention of the National Collegiate Choral Organization in San Antonio, TX.
The American Choral Directors Association is a nonprofit music education organization founded in 1959 with the purpose of promoting excellence in choral music through performance, composition, publication, research and teaching. The organization is divided into seven geographic regions and also has 50 state chapters. Conferences are offered at each of the state and division levels and also at the national level.
MEDIA CONTACT: Whitney Hale, (859) 257-1754 ext. 229, Whitney.Hale@uky.edu