UK Opera Students Take to the Stage in Rome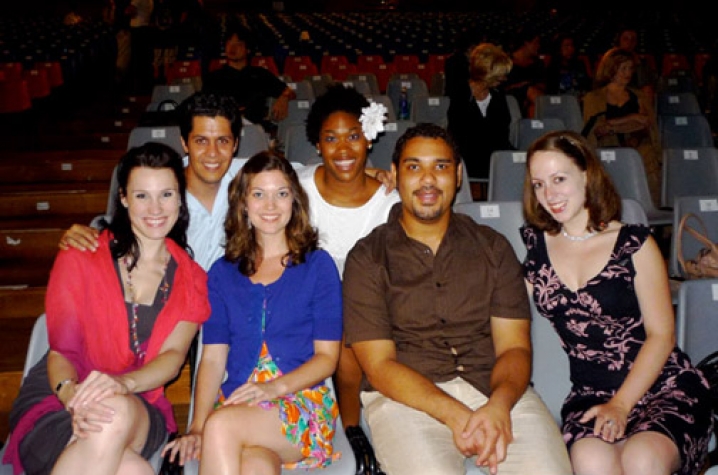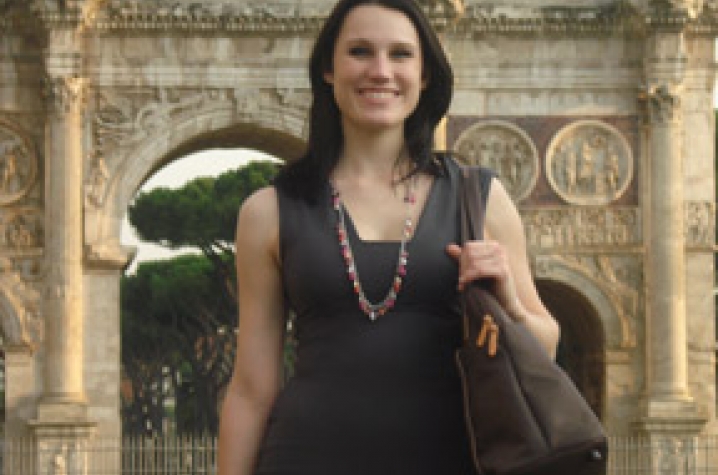 LEXINGTON, Ky. (July 21, 2010)− Traveling abroad is common for many students during the summer months, but for a group of University of Kentucky Opera Theatre students the trip to Italy is about one thing: performing in the country of opera's birth. Manuel Castillo, Holly Flack, Stephanie Granade, Mark Kano and Julie LaDouceur and alumna Karmesha Peake have ventured to Europe to participate in Operafestival di Roma, where they are studying their art while soaking up a little of the local culture.
Operafestival di Roma is an opera training program in Rome, Italy, that provides students with master classes, coaching, and lessons in diction, voice and conversational Italian over a four-week period. The program, which began in early July and runs through July 26, concludes in a weeklong series of opera performances by the students.
"I heard a lot of wonderful things about the program and I thought it would be a great opportunity to work and perform with artists from around the world," says graduate student Stephanie Granade.
In a typical day, students in the training program rehearse for more than five hours, and for those that are selected, it's well worth it.
"It's very exciting to work with international musicians, you always learn more by performing in different venues under unique circumstances," notes UK student Manuel Castillo.
On top of learning more about opera from some of the most noted professionals in the world, students explore and engage in a new culture. "Having the chance to live in Rome is incredible. The city is beautiful and spellbinding, and its cultural and historical elements are fantastic to see every day," adds graduate student Holly Flack.
All the UK opera students will perform in Operafesitval di Roma's German production of "Die Fledermaus," an opera by Johann Strauss II that they performed in English at UK last March. Julie LaDouceur was featured singing the role of Rosalinde in a recent CD recording released by Albany Records of "Die Fledermaus" performed by a UK Opera Theatre cast. 
All of the Operafestival di Roma's major productions will be accompanied by Orchestra sinfonica dell'International Chamber Ensemble and conducted by Maestro Francesco Carotenuto. Each opera is fully staged with period costumes, props and lighting, with the majority performed in the heart of Rome in the courtyard of Palazzo della Sapienza.
Manuel Castillo, a doctoral student from Guadalajara, Mexico, will sing the role of Alfredo in "Die Fledermaus." The tenor has previously performed in the UK Opera Theatre production of "Lucia di Lammermoor" and he will sing Rodolfo in Puccini's "La Boheme" later this year.
Tenor Mark Kano, from Murfreesboro, Tenn., will perform Eisenstein. Kano is currently pursuing a doctorate in music at UK.
Stephanie Granade, from Conyers, Ga., will sing the role of Adele. She is expected to receive her master's degree in music performance this August. Granade, a soprano, premiered the role of Margaret Rutledge in UK Opera Theatre's world premiere of the Lincoln opera "River of Time."
Holly Flack, of Portland, Ore., will play the role of Ida in "Die Fledermaus," and will perform in the opening scene from Mozart's "Die Zauberflöte." A soprano, Flack is pursuing a master's degree in music performance.
Soprano Julie LaDouceur, from Port Orange, Fla., will reprise her role as Rosalinde in "Die Fledermaus" this summer. She also is pursuing a master's degree in music performance.
Alumna Karmesha Peake, who holds bachelor's and master's degrees in music performance from UK School of Music, was also selected for Operafestival di Roma. She performed in Giacomo Puccini's "Suor Angelica" as La Badessa at the beginning of the program and also sings in the chorus for "Die Fledermaus." Peake is a mezzo-soprano from Louisville, Ky.
Formed in 1994, the Operafestival di Roma selects 50 U.S. students each summer to participate in the nonprofit training program.