UK Orchestra, Arlo Guthrie Reunite at Carnegie Hall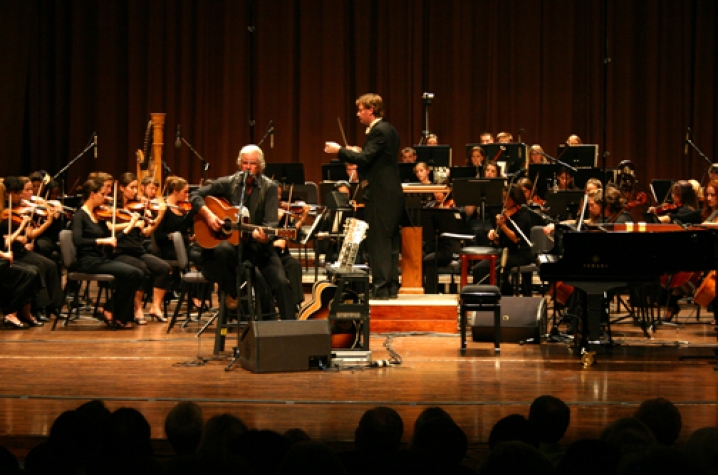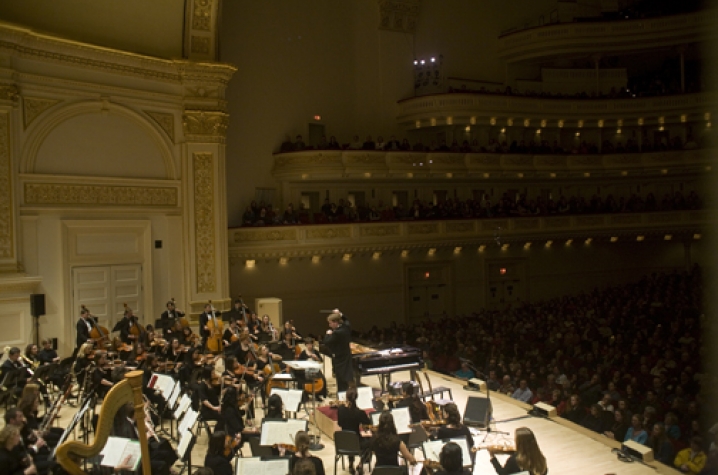 LEXINGTON, Ky. (Nov. 22, 2010) — In a concert season that includes playing the opening of the World Equestrian Games and sharing the stage with noted musicians Marvin Hamlisch, Itzhak Perlman and the National Symphony Orchestra, the University of Kentucky Symphony Orchestra will return to the now familiar stage at Carnegie Hall with folk icon Arlo Guthrie this Thanksgiving weekend. The orchestra, under Music Director John Nardolillo, will reunite with Guthrie in New York for a concert at 8 p.m. Saturday, Nov. 27, on the Stern Auditorium/Perelman Stage.
Guthrie is no stranger to UK Symphony Orchestra. He first teamed up with the orchestra in March 2006. Nardolillo had worked with Guthrie prior to that, conducting numerous concerts of his music in orchestral arrangements conducting with professional orchestras. At the end of a week in residence at the school and in rehearsals a sold-out live concert was given and recorded. The CD "In Times Like These," released in summer 2007, is almost entirely the performance at the UK Singletary Center for the Arts concert. It has received positive feedback and reviews from audiences and critics far and wide.
Then in November 2007, the UK Symphony Orchestra joined Guthrie for his annual Thanksgiving Carnegie Hall concert. The program featured work from the original concert at Singletary Center, as well as a performance of "Appalachian Spring" by composer Aaron Copland.  
This year's Carnegie Hall concert program with Guthrie and the UK Symphony Orchestra will also feature Abe Guthrie, Sarah Lee Guthrie and the Burns Sisters.
Since John Nardolillo took the conductor's podium of the UK Symphony Orchestra, it has enjoyed great success racking up recording credits and sharing the stage with such acclaimed international artists as Lynn Harrell, Gil Shaham, Mark O'Connor, Sarah Chang and Marvin Hamlisch. The orchestra will join the National Symphony Orchestra in February and Itzhak Perlman in March 2011 on the Singletary Center for the Arts stage.
 
The UK Symphony Orchestra's other recording credits include: the premiere cast recording of Thomas Pasatieri's "The Hotel Casablanca" with UK Opera Theatre; "Music of the Horse," a collection of equestrian-inspired music sponsored by UK School of Music and the Keeneland Foundation; and more recently a critically acclaimed recording of composer George Frederick McKay's "Epoch: An American Dance Symphony" with the UK Women's Choir. UK Symphony Orchestra is one of a very select group of university orchestras under contract with Naxos, the world's largest classical recording label.
 
It won't take years for UK talent to return to Carnegie Hall for its next performance. Less than a week later, doctoral candidate Seunghee Lee will play the prestigious venue's Weill Recital Hall at 7 p.m. Wednesday, Dec. 1. This Carnegie Hall concert is presented as part of MidAmerica's Chamber and Solo Music Series. Lee is a piano performance student at UK School of Music under the tutelage of Irina Voro.
To see more on UK Symphony Orchestra's first visit to Carnegie Hall with Arlo Guthrie, play the video below.

To view a transcript of the video, click on the transcript link just below the photo gallery.