UK Percussion Alumni Create 'Blue Book' for Fellow Musicians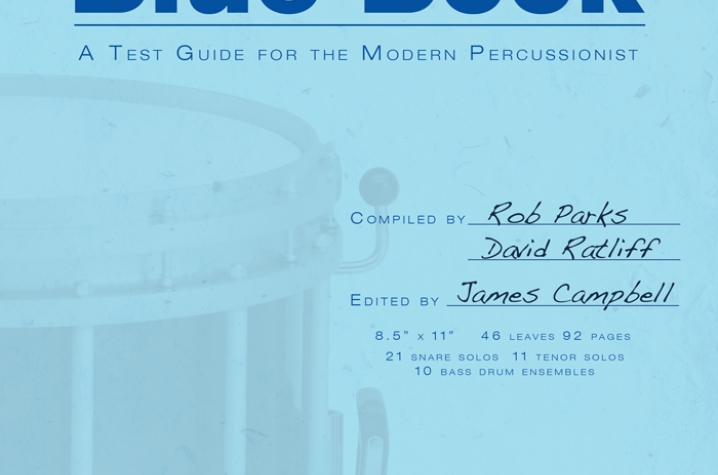 LEXINGTON, Ky. (July 20, 2011) − Thanks to University of Kentucky alumni, percussionists have another set of tools at their fingertips. Two dozen alumni of UK Percussion Studies, all past members of UK's Drumline, Percussion Ensemble and/or Steel Band, have compiled a new publication for the modern percussionist. "The Blue Book: A Test Guide for the Modern Percussionist" is designed to provide percussionists with music suitable for contest, audition and technique development, as well as pieces for enjoyment drumming.
"Dave Ratliff and Rob Parks, both UK alumni, brought the idea [to create a book] to me," said James Campbell, director of percussion studies at UK and editor of "The Blue Book." "And then the alumni suggested the title - both as a reference to a 'drumming exam' and for the obvious UK connection to 'blue.'"
"The Blue Book" includes more than 40 solos in a wide variety of rudimental styles ranging from beginning to extremely advanced. The collection contains snare solos, tenor solos and bass drum ensemble pieces that will provide musically enriching material while developing technical proficiency.
"The Blue Book" can be purchased on the TapSpace website. TapSpace is the publishing company of "The Blue Book," however the book can be stocked by any sheet music retail outlet.
All royalties from the sales of "The Blue Book" will go to a percussion endowment fund at the award-winning UK School of Music in the UK College of Fine Arts.
MEDIA CONTACT: Whitney Hale, (859) 257-8716 or whitney.hale@uky.edu