UK Percussion Group Carries Big Stick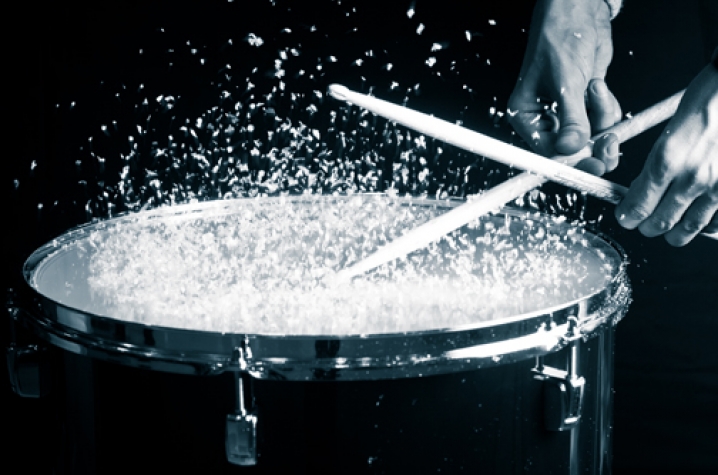 LEXINGTON, Ky. (March 8, 2011) − This University of Kentucky Percussion Group may be small, but they carry a big stick.
The critically acclaimed UK Percussion Ensemble will downsize for a rare concert experience and perform as the UK Percussion Group (UKPG). This concert, which is free and open to the public, will be presented at 7:30 p.m. Thursday, March 10, at the Singletary Center For the Arts Recital Hall.
UKPG, a smaller chamber group, performs demanding percussion literature written for economic forces.
"The music UKPG plays demands an unwavering intensity of concentration, coordinated athleticism and, at times, the stealth of martial arts," says James Campbell, director of UK Percussion Studies at UK School of Music in the UK College of Fine Arts.
A UKPG concert is visually and sonically dramatic; it is not so much theater as it is ritual — performers in search of a shared experience.
"Chamber percussion performance is a specialized field, and requires a number of skills not normally required for the performance of symphonic or solo music," notes Campbell. "These percussionists develop a close intimacy of shared musical experience, they move into a zone that is not often experienced when a conductor is leading them. They make on the spot musical decisions and perform spontaneous gestures, which turns the music into a conversation between the performers."
The members of UKPG are drawn from the UK Percussion Ensemble, nationally recognized for its excellence and innovative programming.
Although the upcoming UKPG concert will consist of just five works, two of them feature students as soloists. The program begins with the enduring works of legendary ragtime xylophone virtuoso George Hamilton Green, as performed by sophomore Stewart Stevens, and backed up by a quartet of mallet instruments. And Brad Meyer, a doctoral candidate, will answer the question: "What kind of piece do you write for a percussionist who plays everything?"
Also included on the program is Pulitzer Prize winner Steve Reich's pivotal work "Music for Pieces of Wood," "Xati" by Payton McDonald, and "José/beFORe JOHN5" by Hungarian composer Aurél Holló.
For more information on the UK Percussion Group concert, contact James Campbell director of Percussion Studies at UK School of Music, at (859) 257-8187.
MEDIA CONTACT: Whitney Hale, (859) 257-1754 ext. 229, Whitney.Hale@uky.edu