Longyear Lecture Brings Jewish Music Expert to UK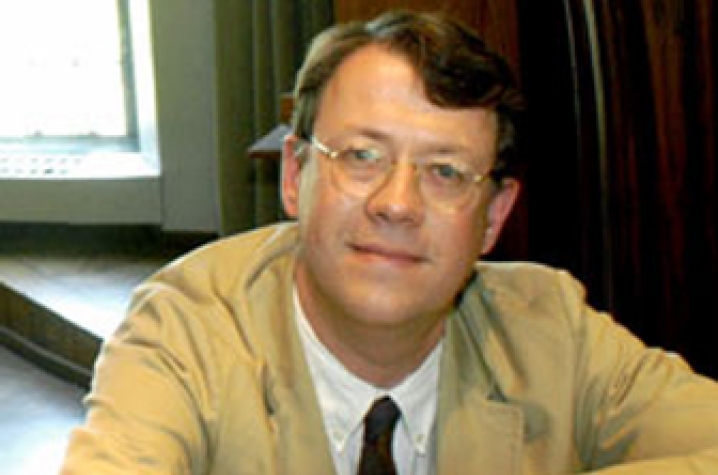 LEXINGTON, Ky. (March 29, 2011) − Noted scholar of Jewish music and University of Chicago professor, Philip Bohlman, will present three lectures and a performance at University of Kentucky as part of the UK Division of Musicology and Ethnomusicology's Rey M. Longyear Lecture Series. The events will be presented March 30-April 1, at the Niles Gallery, located in the Lucille C. Little Fine Arts Library and Learning Center. All lectures and the performance are free and open to the public. 
"Philip Bohlman is one of the preeminent scholars of Jewish music in America today," said Provost's Distinguished Service Professor Jonathan Glixon, who is currently teaching a doctoral seminar on Jewish music at UK School of Music. "We are delighted to welcome him to campus for the Longyear Lecture Series."
Bohlman's visit to Lexington will begin with an informal guest lecture at 3:30 p.m. Wednesday, March 30, at Niles Gallery. His talk, "Postmodern Diaspora: Jewish Music beyond Israel," will look at three sites of "modern" Jewish music that reconfigure Diaspora as globalization: sacred music in the Jewish community of Pune, India; reconstruction of synagogues in Poland; and Israeli entries in the Eurovision Song Contest.
The following day, Bohlman will present another lecture and a performance with Christine Wilkie Bohlman on piano at 8 p.m. Thursday, March 31, at Niles Gallery. This is a presentation of Viktor Ullmann's "Die Weise von Liebe und Tod des Cornets Christoph Rilke" (''The Ballad of the Love and Death of the Standard Bearer Christoph Rilke''), a melodrama for speaker and piano composed and performed in 1944 at the Theresienstadt concentration camp.
Bohlman's Longyear Lecture will round out the scholar's visit at 3:30 p.m. Friday, April 1. His talk for the ethnomusicology lecture is "Jewish noir –– Utopia and Dystopia in Jewish Film Music, before and after the Holocaust."
The Mary Werkman Distinguished Service Professor of Music and the Humanities at the University of Chicago, Bohlman's teaching and research combines ethnographic and historical approaches to understand how music shapes human identity: cultural and national, political and aesthetic, ethnic and racial, sacred and secular, gender and sexuality. Jewish music has been central to his scholarship, particularly the presence of music in the shaping of European Jewish communities and Israel.
[IMAGE1]
Religious interests extend from Bohlman's concern for Jewish music to studies of sacred music in North America and Islam in Europe, and to forms of sacred music-making, such as pilgrimage and prayer. His ethnomusicological fieldwork ranges from the Eurovision Song Contest to the study of Jewish communities in India, and he is currently translating and preparing an edition of Johann Gottfried Herder's writings on music and nationalism.
An accomplished pianist, Bohlman is also the artistic director of the University of Chicago ensemble-in-residence, the New Budapest Orpheum Society, a seven-member cabaret that has released three CDs of Jewish popular and political music, including the double-CD "Dancing on the Edge of the Volcano" and "Jewish Music in Exile." The ensemble is preparing concerts and a CD of music from Jewish film traditions in Germany and Poland during the 1920s and 1930s.
A faculty member of the Chicago Center for Jewish Studies, Bohlman has published extensively, including such recent publications as "The Folk Songs of Ashkenaz," "World Music: A Very Short Introduction," "The Music of European Nationalism," "Jüdische Volksmusik – Eine mitteleuropäische Geistesgeschichte," and "Jewish Music and Modernity."
The Rey M. Longyear Lecture Series is funded by a gift from Katherine Longyear, in memory of her husband, who was a professor of musicology at UK for several decades from the 1960s until his retirement and death in 1995. As part of the series, UK School of Music's Division of Musicology and Ethnomusicology invites four distinguished musicologists each year to speak at the university. The final speaker of this year's Longyear Lecture Series is Richard Taruskin, a professor of musicology at University of California at Berkeley. Considered one of the best known musicologists in America today, Taruskin is a contributor to the New York Times.
The Musicology and Ethnomusicology Division of UK School of Music at UK College of Fine Arts is comprised of six full-time faculty members and one part-time instructor, whose specialties range from the Medieval period to contemporary music, from chant and opera to fiddle tunes, folk songs and Korean drumming, employing a wide variety of methodological approaches. The expertise of several faculty members reinforces the School of Music's designated strengths in opera/vocal music and American music.
Bohlman's "Die Weise von Liebe und Tod des Cornets Christoph Rilke" presentation is made possible with the support of a co-sponsor, the UK Judaic Studies Program. The interdisciplinary minor in Judaic studies at UK provides students with the opportunity to become acquainted with the culture, language, literature, religion, history and philosophy of the Jewish people from antiquity to the present.
For more information on any of Philip Bohlman's presentations or the Longyear Lecture Series, contact Jonathan Glixon, at (859) 257-1694 or Jonathan.Glixon@uky.edu.