'Porgy and Bess' From A to Z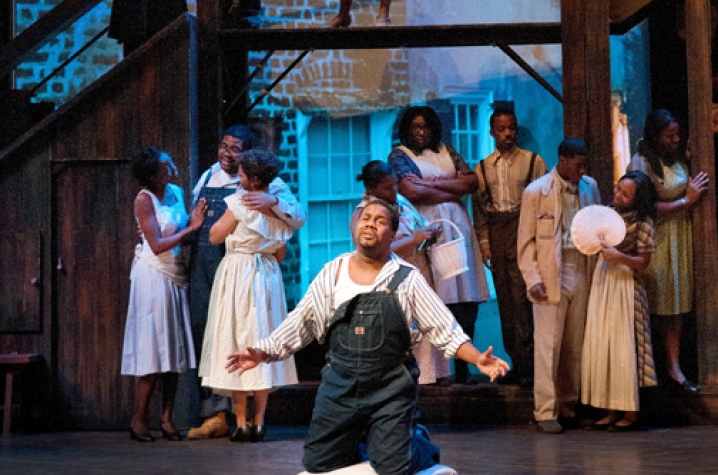 LEXINGTON, Ky. (Feb. 1, 2011) − Want to know more about the great American opera "Porgy and Bess" currently being presented on campus by University of Kentucky Opera Theatre? Here is your chance to dive into the details behind the George Gershwin classic. UK's John Jacob Niles Center for American Music and the Musicology/Ethnomusicology Division in the School of Music present a free public symposium relating to the opera from 2 to 5 p.m. Friday, Feb. 4, at the Niles Gallery, located in the Lucille C. Little Fine Arts Library and Learning Center.
The "Symposium on Gershwin's 'Porgy and Bess'" will feature the keynote address "'Porgy and Bess': Some Principal Controversies" by Howard Pollack, the John and Rebecca Moores Professor of Music at the University of Houston; "'Porgy and Bess': Opera or Musical?" examining the work's history on both Broadway and opera stages by Tedrin Blair Lindsay, lecturer and vocal coach at UK; the roundtable discussion "'Porgy and Bess' in Performance" moderated by Diana Hallman, associate professor of musicology at UK, and featuring singers who have performed widely in "Porgy and Bess" productions as well as cast members from the UK production; and "'Porgy and Bess' and the Gullah Tradition" by Ron Pen, director of the Niles Center and associate professor of musicology at UK. Lindsay's talk will kick off the symposium at 2 p.m., Pollack will present at 2:30 p.m., the Round Table will begin at 3:45 p.m., and Pen's talk will close the event starting at 4:30 p.m.
Howard Pollack is the author of five books, including "George Gershwin: His Life and Work," which received a Deems Taylor Award and an Award for Excellence in Historical Recorded Sound Research from the Association for Recorded Sound Collections. This book has been called "a watershed event in scholarship on the composer" and "a monument to all that we presently know about Gershwin as both man and musician" by the Journal of the Society for American Music. Other than Gershwin, Pollack's research and publications have centered on American music composers Walter Piston, John Alden Carpenter and Aaron Copland, and he is currently writing a critical biography of Marc Blitzstein.
Tedrin Blair Lindsay is a pianist and musicologist on the faculty of the UK Opera Theatre, where he works as vocal coach and musical director; he also performs frequently as recitalist and accompanist for the American Spiritual Ensemble. Lindsay completed his doctoral degree in musicology at UK in 2009 with a dissertation on the development of a core repertoire of American opera at New York City Opera.
The round table discussion "'Porgy and Bess' in Performance" will be led by symposium organizer and moderator Diana Hallman, an opera specialist and author of a book on the French grand opera "La Juive" (Cambridge University Press, 2002, 2007), articles and chapter contributions to "Music, Theater, and Cultural Transfer: Paris, 1830-1914" (University of Chicago Press, 2009) and "Cambridge Companion to Grand Opera" (Cambridge University Press, 2003), and essays for program books of international opera houses, including the Paris Opéra, Metropolitan Opera, Covent Garden, Zürich Opernhaus and De Nederlandse Opera.
The panel Hallman will lead includes: 
- Everett McCorvey, director of UK Opera Theatre and the American Spiritual Ensemble who previously appeared in "Porgy and Bess" on Broadway and at the Metropolitan Opera;  - Angelique Clay, member of UK Opera Theatre's cast of "Porgy and Bess" and assistant professor of voice at UK;
- Andrew Smith, associate professor of music at Kentucky State University, who previously performed the role of Porgy from "Porgy and Bess" in a Hungarian concert sponsored by the U.S. State Department and the role of Crown in the well-known Houston Grand Opera production and in many other productions of the opera;
- Wilhelmenia Fernandez-Smith, a soprano who studied at Philadelphia Academy of Vocal Arts and the Juilliard School of Music in New York, known for performances as Bess in "Porgy and Bess" throughout the U.S. and Europe and for other leading soprano roles in international opera houses;
- Shawn-Allyce White, visiting assistant professor of music and director of choral activities at Johnson C. Smith University, who received her doctoral degree from UK and who previously appeared in two European tours of "Porgy and Bess"; and 
- vocalists Jonathan Green, Larry Hylton, Michael Preacely and Whit Whitaker from the UK Opera Theatre cast.
"Porgy and Bess" was first performed in 1935 with music by George Gershwin, libretto by Dubose Heyward, and lyrics by Ira Gershwin and DuBose Heyward. Set in fictitious Catfish Row in Charleston, S.C., in the early 1920s, the opera follows Porgy, a disabled black beggar living in the slums, in his attempts to rescue Bess from Crown, a violent and possessive lover, and Sportin' Life, a local drug dealer. Popular songs from the opera include "Summertime," "It Ain't Necessarily So" and "I Loves You Porgy."
UK Opera Theatre's production of "Porgy and Bess," featuring new scenic projection technology developed by the UK Center for Visualization and Virtual Environments, continues this week with four more performances at 7:30 p.m., Feb. 3-5, and 2 p.m., Feb. 6, at Singletary Center for the Arts Concert Hall.
Ron Pen's research is in the area of American vernacular music with an emphasis on the music and culture of the Southern Appalachian region. He has recently published his "life's work," the biography "I Wonder as I Wander: The Life of John Jacob Niles" (University Press of Kentucky, 2010); other publications include book reviews, articles, forewords, book chapters, encyclopedia entries and documentary films focusing on topics such as shape note hymnody, early folk music collections, fiddle tunes, and traditional, country and bluegrass musical styles. Pen was elected to the board of the Society for American Music and served as vice president, as well as book editor of the society's journal.