UK Artist/Professor Ebony G. Patterson Wins Coveted United States Artists Fellowship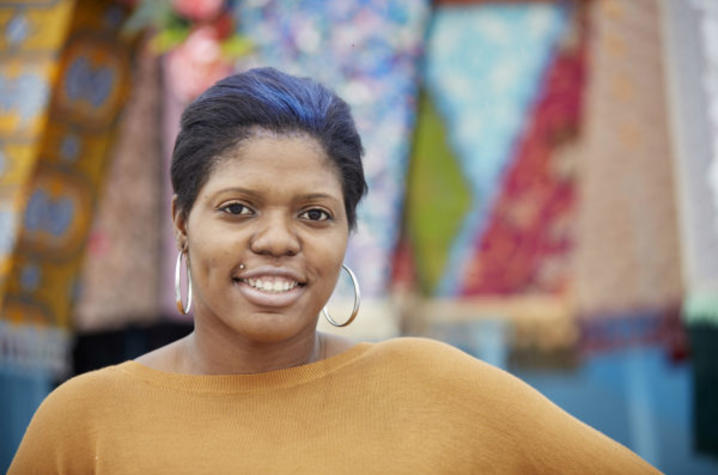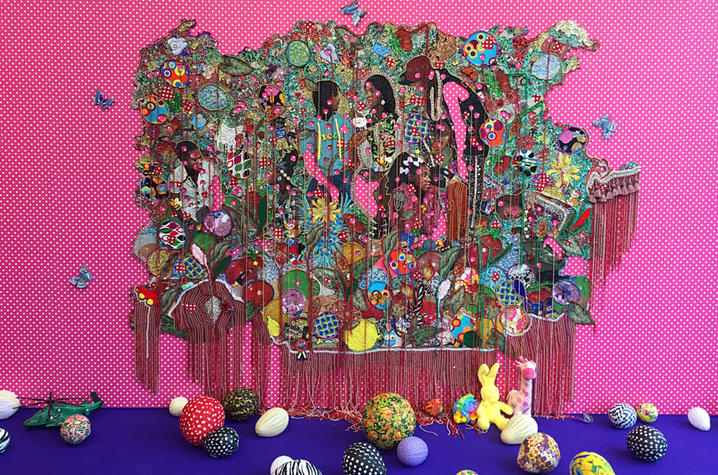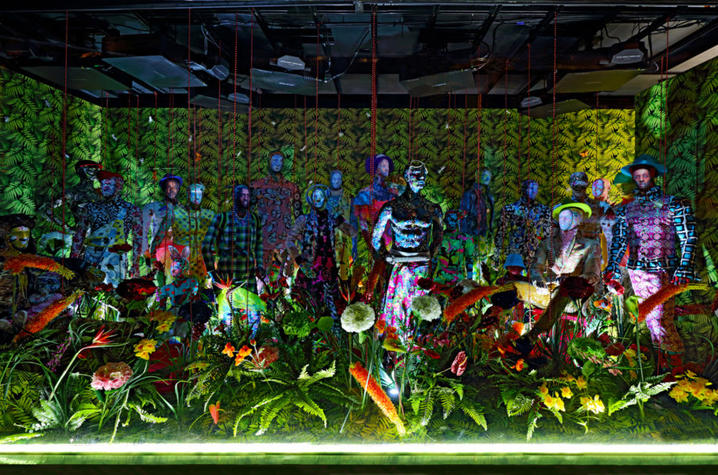 LEXINGTON, Ky. (Jan. 19, 2018) — Ebony G. Patterson, associate professor of painting at the University of Kentucky School of Art and Visual Studies, has been named a recipient of a 2018 United States Artists (USA) Fellowship Award in Visual Arts. The $50,000 unrestricted cash prize recognizes the artist's creative accomplishments and supports ongoing artistic and professional development.
Forty-five artists and collectives across nine creative disciplines were given the unrestricted $50,000 cash awards in 2018. USA Fellowships are awarded to artists at all career stages and across the United States, through a rigorous nomination and panel selection process. Fellows represent a broad cross-section of the best of American arts and letters with awards presented in Architecture & Design, Craft, Dance, Media, Music, Theater & Performance, Traditional Arts, Visual Art and Writing. Patterson is one of only seven visual artists to receive the fellowship this year.
"I could not be more thrilled with the 2018 USA Fellows, or with the tremendous artistic output, and potential, they represent," said United States Artists President and CEO Deana Haggag. "They produce some of the most moving, incisive and powerful artistic work in this country, and it is our privilege to honor them. Collectively, they are a reminder of the beauty produced by hardworking artists on a daily basis, too much of which is often overlooked."
The USA 2018 Fellows were selected by a panel of experts in each discipline and approved by the organization's board. This year's winners were drawn from a peer-nominated pool of more than 500 applicants. For a full list of the 2018 fellows, visit www.unitedstatesartists.org/award/.
With the unrestricted nature of the USA Fellowship, artists may use award funds for whatever they need, such as medical expenses, housing or their artistic practice. This flexibility gives the fellows financial freedom to take risks and push their careers forward in ways that might not otherwise have been possible. Past winners are film director and writer Miranda July, composer David Lang, novelist Annie Proulx, playwright David Henry Hwang, choreographer Bill T. Jones and visual artist Kara Walker.
Ebony G. Patterson, born in Kingston, Jamaica, is a painter and mixed media artist. She has presented solo exhibitions and projects at several institutions in the United States including The Studio Museum in Harlem, New York (2016); the Atlanta Center for Contemporary Art (2016); and SCAD Museum of Art, Savannah (2016). Her large-scale solo show "Dead Treez" originated at the Kohler Arts Center in Sheboygan, Wisconsin (2015), and traveled to Museum of Arts and Design, New York (2015), Boston University Art Galleries (2016), and UB Art Galleries, University at Buffalo, New York (2017). She was a 2017 Artist in Residence at the Rauschenberg Foundation and a recipient of the 2015 Joan Mitchell Foundation Art Grant.
Patterson's work was included in the 32nd São Paulo Bienal (2016); the 12th Havana Biennial (2015); "Prospect.3" (2014) in New Orleans; and the Jamaica Biennial 2014 at the National Gallery of Jamaica, Kingston. Her work can be found in a number of public collections, including The Studio Museum in Harlem; Museum of Arts and Design; Nasher Museum of Art, Duke University, Durham, North Carolina; Speed Art Museum, Louisville, Kentucky; and the National Gallery of Jamaica.
Patterson has been teaching painting and mixed media at UK since 2007. She received her bachelor's degree from Edna Manley College in Kingston, Jamaica, and her master's degree from the Sam Fox School of Design & Visual Arts at Washington University in St. Louis. She is represented by Monique Meloche Gallery in Chicago.
Founded in 2006 by the Ford, Rockefeller, Rasmuson and Prudential Foundations, USA is among the largest providers of unrestricted support to artists working and living in the United States. To date, USA has provided more than $22 million to more than 500 artists working in all disciplines and at every career stage. For more information on USA, visit www.unitedstatesartists.org.
The UK School of Art and Visual Studies, at the UK College of Fine Arts, is an accredited member of the National Association of Schools of Art and Design and offers undergraduate and graduate degrees in the fields of art studio, art history and visual studies, art education, and digital media and design.