UK Symposium to Explore Entrepreneurship in Chamber Music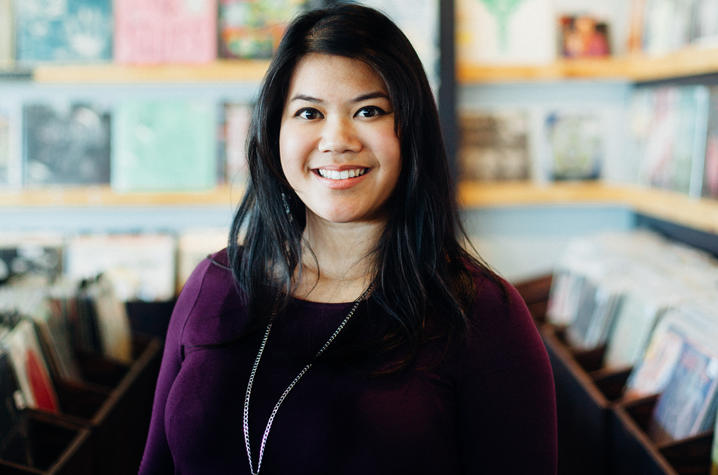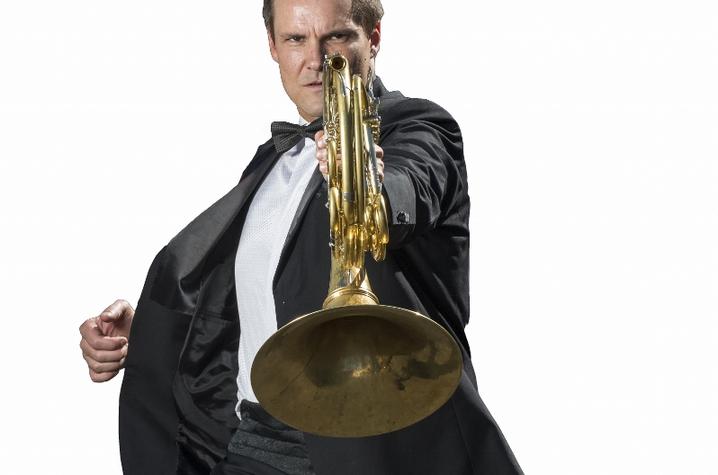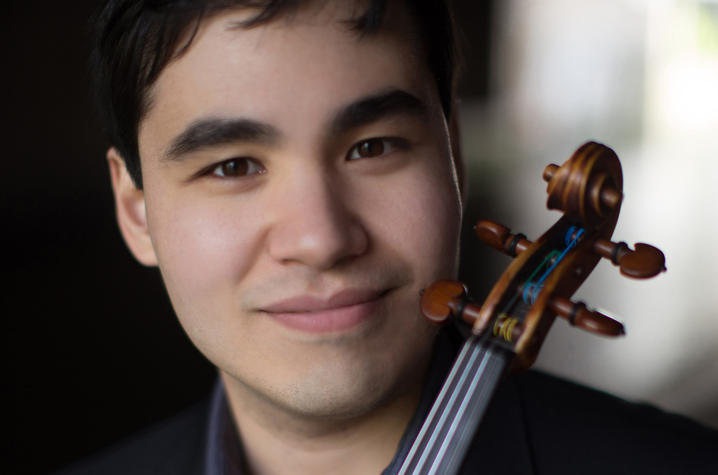 With a wide-ranging career as an acclaimed hornist, pedagogue, entrepreneur and professional advisor, Jeff Nelsen presents his "Fearless Performance Top Ten List" as Project Jumpstart's Entrepreneur of the Month. 
LEXINGTON, Ky. (Jan. 12, 2017) — An upcoming symposium on chamber music and entrepreneurship will be presented by the University of Kentucky School of Music. "The Innovative Artist: 2017 Music Entrepreneurship Symposium," running Jan. 18-21, will include lectures, workshops, masterclasses and concerts featuring guest artists clarinetist Derek Bermel, pianist Alexandria Le, French horn player Jeffrey Nelsen and violinist Eric Silberger. The concerts on Jan. 18 and 20, as well as many of the symposium events being presented at the Singletary Center for the Arts, are free and open to the public.
The idea for this symposium came from School of Music Director John Scheib, who wanted to develop programming that demonstrated to students and performers the importance of entrepreneurship in the music profession.
"There is no doubt that artistic careers of the 21st century look different than 20 or 30 years ago. Musicians must be creative, innovative and savvy in many aspects of life and business outside of their art form to be successful," said ToniMarie Marchioni, assistant professor of oboe and symposium organizer.
The first day of the symposium will begin 9 a.m. Wednesday, Jan. 18, and will include rehearsals and various other presentations, as well as possible programming with Alexandria Le. That day will end with The Innovative Artist Symposium Kick-Off Concert at 7:30 p.m., at the Singletary Center Recital Hall, which will include a Q&A moderated by Marchioni with the four guest artists. This concert is free and open to the public.
Alexandria Le enjoys a multi-faceted musical career which has brought her from Carnegie Hall to Riker's Island as a concertizing pianist to a wine and music festival creator. She has been touted as a community "musical leader" by the Las Vegas Review-Journal and as "a warm, animated, outgoing, confident, hypertalented pianist whose greatest asset is her ability to communicate" by the Boston Musical Intelligencer. Le is driven to cultivate the arts in new and interesting ways by engaging all audiences. She is the founding artistic director of the Las Vegas Wine and Music Festival, which pairs wine to classical music in untraditional spaces, and is the founding executive and artistic director for Notes with a Purpose, which provides creative music programming throughout Las Vegas. A native of Las Vegas, she garnered 16 first-prize awards, performed live broadcast performances on KNPR-Las Vegas, and played with all of Las Vegas' regional orchestras — all before graduating high school.
The second day of the symposium will run from 8 a.m. to 9 p.m. Thursday, Jan. 19, and will include presentations on such topics as programming, community engagement, education, musicianship, mental preparation, networking and professional etiquette.
The symposium's third day of programming will begin at 9 a.m. Friday, Jan. 21, and will include a talk on social media and an artist's online presence, as well as presentations by guest artists Derek Bermel and Jeff Nelsen. Bermel will give two talks that day, the opening session "Who Are You?/The Anti-Entrepreneur" and "Performing Like a Pro." Nelsen will lead a life coaching small group that morning. The day will end with the symposium's feature concert showcasing chamber music by Béla Bartók, guest artist Derek Bermel and Johannes Brahms beginning at 7:30 p.m., in the Singletary Center Recital Hall. This concert is free and open to the public.
Grammy-nominated composer and clarinetist Derek Bermel has been widely hailed for his creativity, theatricality and virtuosity. His engagement with other musical cultures has become part of the fabric and force of his compositional language. Bermel is artistic director of the American Composers Orchestra at Carnegie Hall, director of Copland House's CULTIVATE emerging composers institute and curator of the Gamper Festival of Contemporary Music, part of the Bowdoin International Music Festival. He's recognized as a dynamic and unconventional curator of concert series spotlighting the composer as performer and has received commissions from the Pittsburgh, National, Saint Louis, New Jersey and Pacific Symphonies; Los Angeles Philharmonic; Saint Paul and Los Angeles Chamber Orchestras; Chamber Music Society of Lincoln Center; WNYC Radio; Eighth Blackbird; the Guarneri and JACK String Quartets; Music from Copland House; Music from China; De Ereprijs; ASKO/Schoenberg Ensemble; Veenfabriek; and violinist Midori.
Jeff Nelsen is probably best known for the eight years he spent as the solo hornist with Canadian Brass. Together they performed a hundred concerts a year and released at least two recordings a year, including the Juno-nominated recording "Magic Horn." He has performed in the horn sections of dozens of orchestras including the New York and Los Angeles Philharmonics, and the Boston, Chicago, Cincinnati, Montreal, Porto, St. Louis and Vancouver Symphonies. Nelsen is a full tenured professor of horn at Indiana University Jacobs School of Music. His curious pig-farm-raised international horn soloist life path saw him become founder of Fearless Performance LLC, a company that focuses on training people of all walks of life to transcend their limited self-worth illusions and discover how to consistently perform their absolute best in order to reach their own "unreasonable" goals. Since giving his celebrated 2011 TEDx Talk "Fearless Performance," Nelsen has been training fellow TED Talkers into giving their own "fearless performances" as well.
The final day of the symposium, Saturday, Jan. 21, will include a violin masterclass with guest artist Eric Silberger and a composition seminar related to publishing and scoring.
Eric Silberger has performed as soloist, recitalist and chamber musician throughout the United States and around the world, including solo performances with the St. Petersburg Philharmonia, Mariinsky Orchestra, Konzerthausorchester Berlin, Chamber Orchestra of the Mariinsky Theatre, London Philharmonia, Danish National Symphony, Orquesta Sinfónica de México, Munich Chamber Orchestra, Indianapolis Symphony Orchestra and the Cincinnati Symphony Orchestra, among others. Silberger has collaborated with many celebrated conductors including Lorin Maazel, Valery Gergiev, Dimitri Kitajenko, Vladimir Ashkenazy, Donald Runnicles and Robin Ticciati.
Much of the symposium is free and open to the public, except for some seminars that are invite only. To see a detailed list of the symposium events, including times and locations for programs, visit: http://finearts.uky.edu/music/events/innovative-artist-2017-music-entrepreneurship-symposium.
Marchioni is excited with the symposium's line-up, especially the programming with guest artists Bermel, Le, Nelsen and Silberger.
"For this project, it was important to us to find artists of varied instrumentation who also have expertise in different entrepreneurial areas so that we can expose our students to as many topics and ideas as possible. We could not have a better team for this inaugural symposium, which will be filled with engaging lectures, workshops and performances. We are thrilled to welcome these four fantastic artists to UK, to introduce them to our students, and to have their impeccable musicianship and entrepreneurial spirit resonate through our halls," Marchioni said.
As part of the symposium, the guest artists will also work directly with many of UK's arts administration students as part of two courses and in the creation of video interviews for a new arts entrepreneurship class, "Managing Your Artistic Career," which will be available to all UK College of Fine Arts students in the fall of 2017.
Rachel Shane, chair of the UK Department of Arts Administration, is happy her students will have an opportunity to learn from these noted music professionals too. "We are always looking for ways to highlight for our students the myriad of ways to have successful creative careers in the arts. The artists visiting as part of 'The Innovative Artist' symposium are perfect examples of how artists are utilizing their creativity to build community, solve problems and live as an artist."
For more information about "The Innovative Artist: 2017 Music Entrepreneurship Symposium," contact ToniMarie Marchioni at marchioni.oboe@uky.edu or visit the College of Fine Arts calendar online.