UK Theatre Sets Out for a Far-Away Place in 'Shrek The Musical'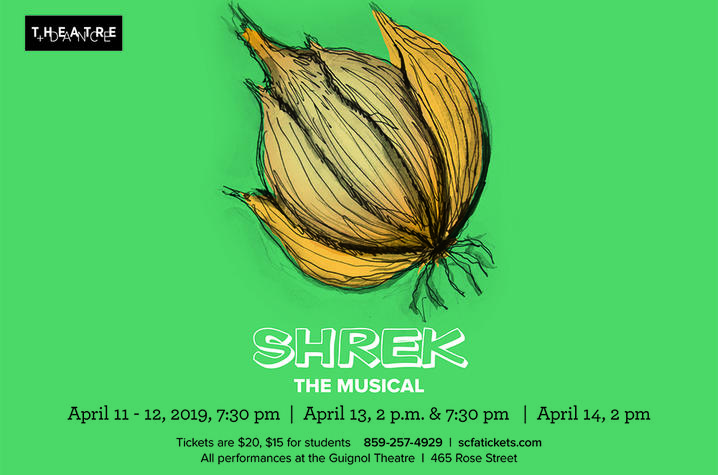 LEXINGTON, Ky. (April 1, 2019) — The University of Kentucky Department of Theatre and Dance brings to the stage a tale of a spiteful ogre with a heart of gold with performances of "Shrek The Musical." The production will run April 11-14, at the Guignol Theatre, located in the Fine Arts Building.
Shrek had always preferred a life of solitude, staying to himself in the swamp he called home. Thanks to the stumbling ruler of the land, Lord Farquaad, the ogre finds himself on a mission to rescue Princess Fiona from a far-away place. As Shrek sets out to save the princess, he is surprised to come across someone very similar to himself.
Audiences can set out on this UK Theatre adventure 7:30 p.m. Thursday and Friday, April 11 and 12; 2 p.m. and 7:30 p.m. Saturday, April 13; and 2 p.m. Sunday, April 14, in the Guignol Theatre. Tickets are $20 for general admission and $15 for students with a valid student ID at the ticket office. Processing fees and sales tax will be applied to the ticket purchase. Tickets can be purchased at the Singletary Center for the Arts box office, by phone at 859-257-4929 or online at www.scfatickets.com.
The UK Department of Theatre and Dance at UK College of Fine Arts has played an active role in the performance scene in Central Kentucky for more than 100 years. Students in the program get hands-on training and one-on-one mentorship from the renowned professional theatre faculty. The liberal arts focus of their bachelor's degree program is coupled with ongoing career counseling to ensure a successful transition from campus to professional life.