BluPass An Example of Commitment to Service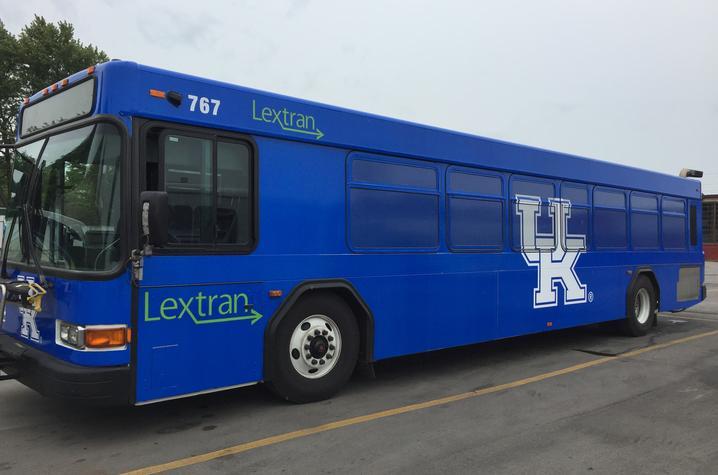 Monday, Jan. 22, 2018
When we think about all that we've accomplished over the past several years -- from our campus transformation, to our public-private partnerships, and from our increasingly collaborative relationship with the city of Lexington, to our progress on sustainability -- we have been guided by a simple principle:
We are here to serve our community.
To that end, we are finding creative and collaborative ways every day to enhance the lives of our students, faculty, staff, alumni, patients, visitors and fans. 
You can see an important example of that principle in some of the changes and improvements we've made in campus transportation programs and practices.
In 2015, the University of Kentucky and Lextran formed the BluPass program, a partnership which allows all UK students, faculty and staff to ride any Lextran bus route free of charge when they show their Wildcard ID. 
In 2016, the BluPass program reached a landmark of 1.1 million rides.
In 2017, we nearly doubled that.
As of this month, the BluPass program has provided more than 2.1 million rides in Lexington. The partnership has been so successful, we renewed it through June of 2019.
Lextran travels throughout 31 different city routes extending throughout and beyond the UK campus into the Lexington community. BluPass includes all Lextran routes, both on- and off-campus, allowing UK students, faculty and staff to travel to, from and around campus while also accessing the city. View a map of routes.
BluPass represents another step in UK Transportation Services' goal to offer more choices in transportation options and to reduce campus parking demand.
The program also provides a variety of benefits to the UK community. It offers our students and employees an avenue for personal savings, associated with reduced vehicular and parking costs. It also contributes to reduced road congestion and a positive environmental impact by reducing individuals' carbon footprints.
We also encourage members of the campus community to combine mass transit with biking. All Lextran buses are equipped with a bike rack, to help with a smooth transition between the two forms of transportation.
BluPass is just one initiative of UK's Transportation Master Plan (TMP), which is aimed at improving access and mobility, to, from, and around campus for all members of the UK community.
It's another way we can better serve this special community.
Have a great week.
Eric N. Monday
@UKYMonday
#seeblue