Campus Transportation Continues to Meet Needs of Students, Community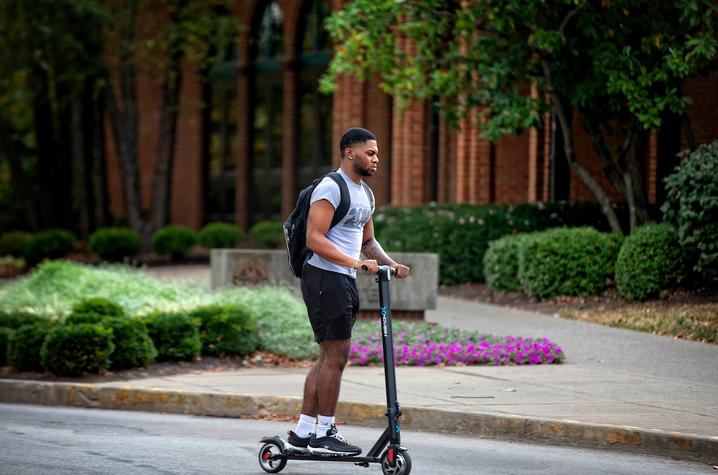 The city of Lexington recently approved permits for companies that operate shared use bicycles and e-scooters. This move follows the successful, joint city-university one-year pilot program that provided dockless bikes to share among the campus and broader community.
With the city's recent move, e-scooters are also being utilized on campus. I'm sure you've seen them being operated on our sidewalks and in bike lanes. As long as a company is in good standing with the university, its scooters are allowed on campus.
Of course, safety is always our top priority. With that in mind, here are some tips for operating e-scooters on campus:
E-scooters on campus must be parked at bike racks or in designated parking areas.
E-scooters are permitted to ride on sidewalks on campus, but they are not permitted on sidewalks off campus. When riding on sidewalks, yield to pedestrians and be courteous.
E-scooters are permitted in bike lanes and must follow the rules of the road like any other vehicle.
When there is not a bike lane, e-scooters should ride in the right one-third of the right-most lane.
Helmets are highly recommended while riding an e-scooter, but they are not required under state law.
E-scooter riders are asked to be courteous and considerate of others. This could include dismounting during class changes or other periods of high congestion. In fact, the university will have several designated areas where e-scooter riders must dismount and walk their wheels.
A good general rule is to operate and park e-scooters as you would a bicycle.
The UK policy governing the use of e-scooters (and other motorized personal mobility vehicles) on campus was developed by a joint committee of the UK Bicycle and Pedestrian advisory committees, and included representatives from UKPD, Risk Management, Campus Planning and Design, Health & Wellness, Sustainability, Occupational Health & Safety, Transportsartion Services, and the Office of the EVPFA.
Further safety tips and the UK policy can be found here: www.uky.edu/transportatrion/bikeresources
Additionally, UK expects to finalize an agreement with a preferred e-scooter vendor in the coming weeks. The preferred partner will have special privileges on campus, including designated scooter and bike drop-off zones and university marketing support. The company is also being encouraged to provide special discounts to students and employees who use their vehicles; and, will be an option on the menu of benefits available to UK Commute Club members.
Selecting a preferred partner for e-scooters is consistent with our strategy to cultivate partnerships that enhance the overall mission of the University for Kentucky. This decision will also allow us to continue to seek ways to improve safety, accessibility, sustainability, and health and wellbeing.
At the time we initiated conversations surrounding our Transportation Master Plan, we recognized that increased accessibility would allow us to become a national model for a thriving, public residential research campus. That priority meant adapting to alternative transportation options for our students, employees, and the entire UK community. 
Not long ago in December 2018, the University was named the most bike-friendly campus in America by Bicycling Magazine.
Behind this achievement is a multitude of steps we've taken to put our campus community first, including increasing the number of bike racks and designated parking areas, educational efforts surrounding bike lanes and safety, and permitting scooters both in bike lanes and on sidewalks.
We have a dedicated Alternative Transportation Manager, Sandra Broadus, to guide and coordinate bicycle and pedestrian programs and infrastructure on campus.
The direction we're taking as a University to develop and embrace alternative forms of transportation underscores our commitment to reduce our carbon footprint, provide our students and employees with numerous methods of commuting, and to ensure the safety and well-being of everyone in our community.
Our hope with this initiative is to expand the ways we serve our campus community – whether it be on foot, in a bus, in a car, on a bike, or on a scooter.
Have a great week.
Eric N. Monday
@UKYMonday​
#UK4KY