Commitment to Student Success Drives Housing Plan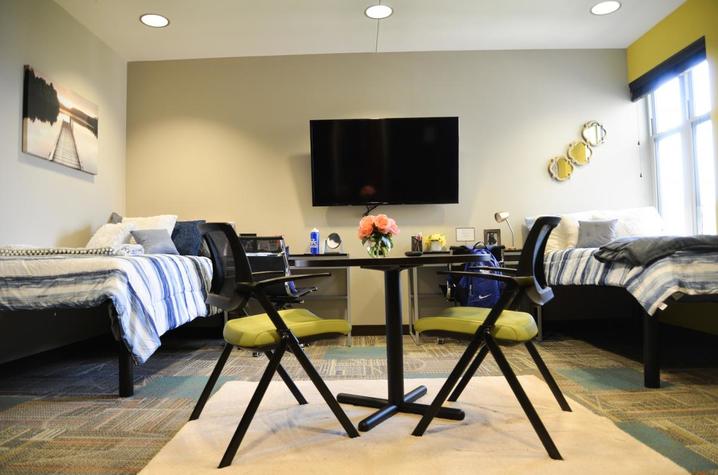 Over the past week, we have been engaging with our community – and particularly student leaders –  regarding the demand for on campus housing.
When we think about the value of a University of Kentucky degree, we see it reflected in our record first-year enrollment. Currently, we are expecting our first-year class to total approximately 5,400 students—the most in our history. More students than ever recognize the transformational education we provide at UK.
At the same time, more returning UK students than ever before want to live in our on-campus housing, because they know that decision results in higher grade point averages, greater academic success, and a stronger support system for belonging and engagement.
These are all very good things—for the success of our students and for our impact as an institution building a brighter future for Kentucky.
However, this growth and success has resulted in a temporary capacity issue – with initially 400 more eligible applicants for on-campus housing than available room spaces. That number is being reduced through the implementation of a capacity plan in conjunction with Residence Life and our Resident Advisors, who serve as key student leaders and mentors.
When we began developing this plan, we started with our core principle: student success. We want every student who joins us this fall to walk across the Commencement stage four years from now with a degree that will change the trajectory of their lives.
At the same time, we want our returning students to continue their academic journeys at UK in a thriving environment that will prepare them for lives of meaning and purpose. We will honor our obligations and ensure that eligible UK students who have a fall 2019 housing application to live on campus receive an assignment before the start of the fall term.  
So, how do we accomplish those objectives with regard to this capacity issue?
With student success as our core value, our residence life and housing staff are developing solutions in partnership. We communicated with RAs and impacted students and parents this past week.
To address this issue, we are in the process of implementing the following:
In several residence halls, RAs will reside in converted RA rooms (in the same unit they are already assigned). An incoming student will also reside in the converted RA room with the RA.
RAs who are assigned a roommate will receive additional compensation.
We converted active learning spaces in Woodland Glen IV and Lewis Hall into living spaces. When we built these residence halls, it was envisioned that these spaces could be utilized as rooms, depending upon demand from year to year. For example, the bathrooms in the converted rooms are equipped with showers, toilets, and vanities similar to standard rooms.
As spaces become available throughout the year, priority in room changes will be granted to students who reside in converted active learning spaces, as well as to students who are assigned to converted RA rooms. You can view a slideshow of photos of these rooms here. 
The University is offering a limited number of returning students a $750 gift card, if they cancel their housing application by July 31st without a cancellation penalty.  Should a student cancel with UK, they make their own decision on where they choose to live off-campus.   
Separate from that offer, we have engaged with a local apartment complex, the Hub, to provide a special opportunity for returning students who cancel their housing applications by July 31st.
Any off-campus rental group can develop and market housing specials for interested students. 
The vacant University Inn at 109 Waller Avenue will undergo renovation to provide student residential housing.  
We are continuing to work in partnership with our campus leaders and students to develop the best possible solution for our campus. A commitment to student success is driving everything that we do.
After all, that's who we are at the University of Kentucky. It's why we are here. And we will continue to place students at the center of our decisions, as we expand what's possible for our campus and the community we serve.
Have a great week.
Eric N. Monday
@UKYMonday
#UK4KY