A Comprehensive Partnership to Benefit Our Community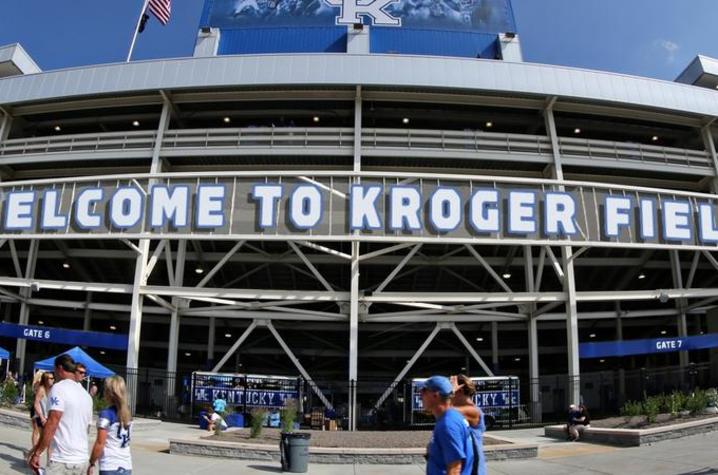 Tuesday, May 2, 2017
Over the past several years, we've gathered many times to celebrate the power of partnership
Partnership has fueled our momentum—allowing us to construct $2.2 billion worth of facilities that will empower learning, fuel research, and extend service and care throughout Kentucky. Partnership emboldens our researchers to collaborate in ways that heal lives and help communities. It allows teaching and learning to equip our students, who in turn leave our campus to lead businesses, communities and non-profits.
Yesterday afternoon our campus community joined, yet again, to celebrate a shining example of partnership.
Pending final board approval this afternoon, the football stadium will be renamed Kroger Field. The $1.85 million annual sponsorship extends up to 12 years and is a part of the $210M agreement between JMI Sports and UK that began in 2014.
Effective immediately, the new name will be reflected on interior, external and directional signage, as well as collateral materials related to the stadium. This unprecedented collaboration between two iconic brands, UK and Kroger, is designed to promote our shared goals of health and wellness, community engagement, enhanced experiences for shoppers and fans, and naming rights.
But since this is a comprehensive partnership, the relationship—and the benefits to our shared community—goes even deeper than that.
This partnership ensures a long-term commitment to the Commonwealth's university and Kentucky's children and communities. For example, Kroger will fund renovations to community fields across Kentucky as part of the Kroger Fields Community Program, and a community 5K race will finish at the 50-yard line.
Moreover, the partnership also establishes Kroger as the official grocery partner and nutrition partner of UK Athletics. The partnership also extends on campus, with Kroger becoming the official grocery partner of move-in and fuel partner of the University of Kentucky.
Reaching an agreement of this nature is an intricate, involved process.
I'd like to thank the many people whose work on behalf of this partnership allowed us to reach these results.
We are proud to have a partner in Kroger that shares our commitment to enriching the lives of the people of Kentucky.
Eric N. Monday
@UKYMonday
#seeblue