Expanding Dining in the Gatton Student Center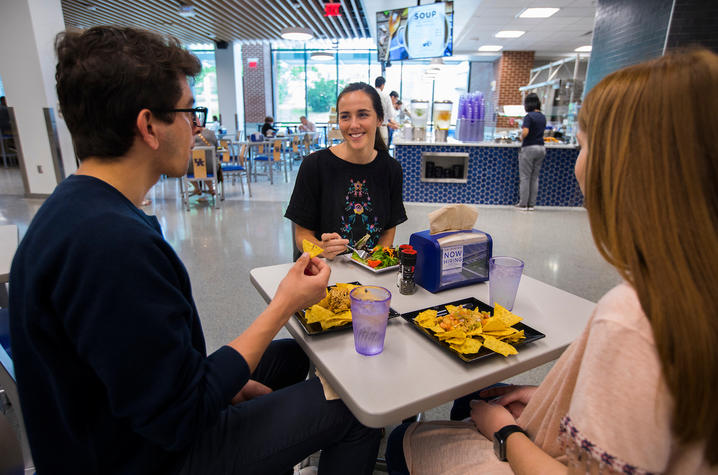 Last week, our community took another step forward to enhance the dining – and overall student – experience at the University of Kentucky. 
When we think about dining on our campus, we know it plays a vital role in student success. Students are gathering, building community, and nurturing relationships in our dining halls. They have access to local, nutritious food, in state-of-the-art facilities with vibrant space and student resources.
This past Friday, our Board of Trustees approved a proposal to expand dining and increase student support space in the Gatton Student Center.
We constructed the renovated Student Center with the capacity for expansion to meet the needs of students and our campus community as we grow. The Student Center has become the living room of our campus even more quickly than we anticipated. It's the heartbeat of our campus and has become the central gathering and dining space for much of the community.
Planning now for expansion demonstrates the power of our partnership with our dining partner, Aramark. It allows us to be nimble, to think strategically, and to act with the needs of our students and campus always first in our minds.
Reasons for the expansion:
High participation levels in UK meal plans that are used at the Student Center's multiple dining venues, particularly Champions Kitchen.
Plans to continue to strategically grow undergraduate enrollment as part of meeting the state's workforce needs. UK had record first-year enrollment this fall of nearly 5,400 with a total enrollment of more than 30,000.
Details of the expansion:
The renovated Gatton Student Center opened in 2018 with nearly 380,000 square feet. It includes student organization spaces, student support and lounge spaces, retail options, a state-of-the-art recreation facility, residential and retail dining spaces, and administrative offices among other uses.
A recently completed study commissioned by UK and conducted by Omni Architects examined expanding the current Champions Kitchen dining area east toward the parking lot and the Singletary Center for the Arts. That study also indicated that it would be most cost effective to construct additional floors above the expanded dining space that can be fitted out as needed to provide student support and other services.
Financing the expansion:
The full scope of the expansion approved by the UK Board of Trustees is $25 million. Partial funding will be provided by UK dining partner, Aramark. 
The project will also be submitted to the Council on Postsecondary Education for consideration as well as the state legislature's Capital Projects and Bond Oversight Committee, which reviews construction proposals in the interim between legislative sessions.
The expansion is a great next step for our campus, as we continue to grow and continually think in new ways about what's possible for our students and the broader community we serve.
Have a great week.
Eric N. Monday
@UKYMonday
#UK4KY