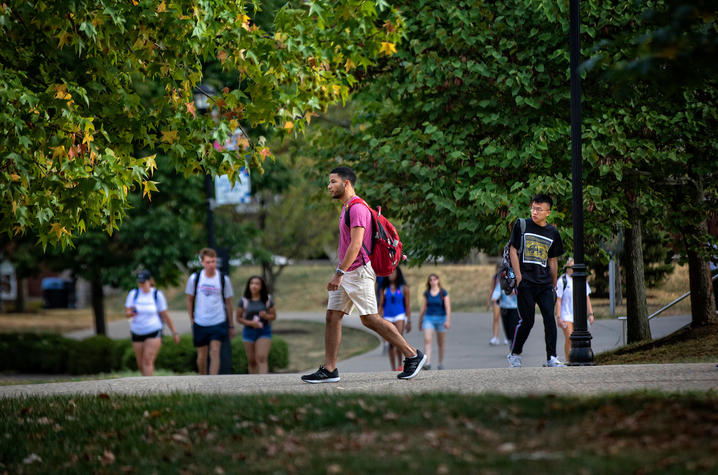 This year, we have continued our journey as a University to determine Our Path Forward (OPF). In short, we are thoughtfully developing plans to identify sources for nearly $200 million over five years to fund our vital and critical efforts in education, research, service, and care.
That's the amount, for example, necessary to our efforts to keep a UK education accessible and affordable, and to further invest in our students, people, and programs.
It's the resources we need to ensure we fulfill our mission as Kentucky's university.
Following our successes in Phase I of OPF this past year, we are moving forward – quickly and intentionally – with Phase II.
Teams of faculty, staff, and other campus leaders continue to examine creative initiatives and programs to attain success in this next phase.  These include:
Continued enrollment growth among a variety of student populations, including first-time freshmen, transfer students, international students, adult learners, and other non-traditional students. We know we can expand opportunities to earn a UK credential, while deepening our commitment to building Kentucky's workforce.
Continued online enrollment growth. Leveraging the talent of our faculty, we are developing new online certificates and programs that expand our institution's footprint and allow for innovative instruction.
Expanded program pipelines. We are reimagining our undergraduate-to-graduate pipelines, to encourage—and provide flexibility to—our undergraduate students considering UK for graduate studies.
Continued transformation of the procure-to-payment system. We are creating more efficient processes for procurement, purchasing, and payment activities across the campus. We will continue this work to become even more lean in our procedures.
Tuition Pricing. Increasing tuition and mandatory fees is always the last piece of our budgeting process.  Phase II teams are continuing to examine differential program and other pricing strategies to promote transparency and accessibility while remaining responsive to a changing market.
Growth in Business Engagement. We are exploring partnerships to grow employer tuition benefit programs that may enable more students to pursue a UK education.
Facilities Savings. We are evaluating how we can operate more efficiently and effectively by exploring cost savings in this area.
Our Path Forward is a collaborative undertaking that emphasizes the power of partnership.
To be successful, this collaborative work requires engagement, innovation and a collective energy across our campus to position the University for Kentucky to fulfill our mission to the Commonwealth and beyond. Updates on our progress and those responsible for leading this work can be found at uky.edu/sotu/ourpathforward.
I'm grateful for the work that has already been devoted to exploring Phase II initiatives. Of course, we will continue to communicate with the campus as the concepts develop. Together, through Our Path Forward, we are expanding what's wildly possible.
Eric N. Monday
@UKYMonday
#KentuckyCan