Robust Fiscal Health Positions UK to Answer: What's Possible?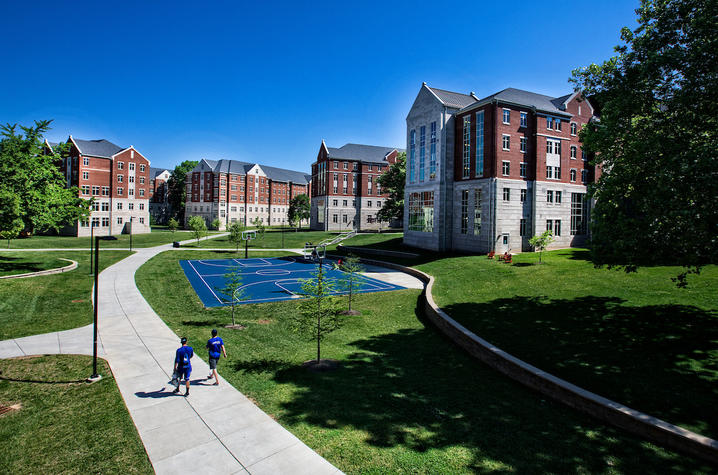 President Capilouto asked this campus to dream anew about how we revitalize an infrastructure in need of renewal – more than $1 billion in deferred maintenance needs and out-of-date residence halls, classrooms and laboratories that limited our student and faculty opportunities to compete and succeed.
He asked us to dream, "what is possible?"
Today, we are benefiting from a $2.4 billion transformation of the campus, aimed squarely at expanding UK's education, research, service, and health care missions. Specifically, through partnerships with the private sector, increased philanthropy, and effective financial management, UK is self-financing the vast majority of this aggressive development.
Over the last eight years, the record of what your work has made possible is remarkable. University has opened:
The $265 million Healthy Kentucky Research Building;
The $201 million Bill Gatton Student Center;
The $112 Jacobs Science Building (financed, in large part, through a $65 million partnership with UK Athletics);
The $65 million renovated and expanded Gatton College of Business and Economics building;
20 new dining facilities;
14 new residence halls, funded entirely with private equity;
A new $15 million home for the School of Art and Visual Studies;
A $126 million revitalized Kroger Field (funded solely by Athletics revenue);
Nearly $550 million since 2011 in the continued construction and fit-out of the new Chandler Hospital;
And a $56 million renovation and expansion of the College of Law, opening this fall.
We haven't made these investments for bricks and mortar alone, but to accelerate success in achieving our mission and vision as a modern flagship and land grant research university. This re-imagination and innovation of the campus has resulted in:
Enrolling more than 30,500 students, thanks to dramatic growth in first-year enrollment and record retention rates;
Conferring more than 7,000 undergraduate, graduate, and professional degrees in the last academic year, reflective of a record graduation rate;
Treating more than 40,000 patients annually at UK HealthCare;
Earning more than $417 million in research awards, including a historic $87 million grant this year to fight opioid abuse and death;
Being nationally recognized for efforts to be a diverse and welcoming community;
Remaining in a strong financial position, reflected by a strong and stable bond rating; and
Negotiating a transformative partnership with the city of Lexington that will strengthen economic development, improve career prospects for our graduates, and provide better pedestrian safety.
These accomplishments are the result of an entrepreneurial and fiscally responsible approach to all that we do. Amid this growth, for example, we've effectively managed our debt burden, or the amount of money set aside each year to pay the debt service on our capital improvements.
Nearly a decade ago, the University's debt service as a percentage of its budget was 3.5%. That number has declined to 2.6% in our FY2019-2020 budget, even while investing $2.4 billion into our campus infrastructure.
Without question, in our effort to rebuild our campus, the University has been an excellent steward of the funds with which we are entrusted. Maintaining a strong balance sheet ensures the necessary resources are available to advance our missions of teaching, research, health care, and service.
When we ask, "what is possible," we challenge ourselves to think anew about how we fulfill our responsibilities to those we serve. Robust fiscal health positions us to answer this question and to plan and prepare for the success of our students, faculty and staff who serve a Commonwealth and, increasingly, the world.
Eric N. Monday
@UKYMonday
#KYCan