Supporting Kentucky's Businesses and Farm Economy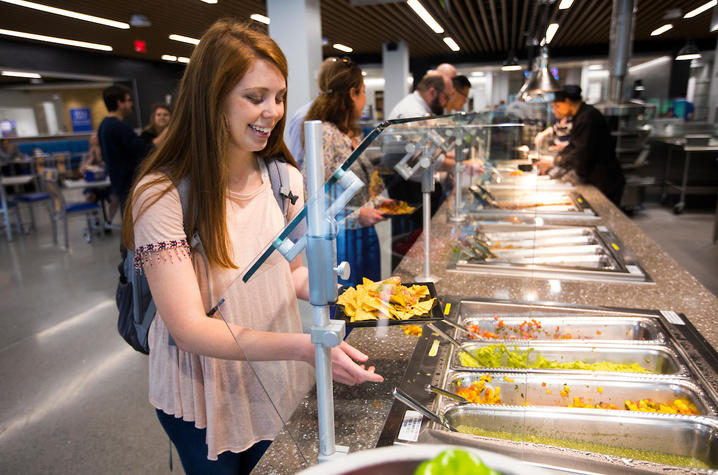 If you visit or dine in Champions Kitchen or The 90, you'll quickly see why we have invested in state-of-the-art dining facilities, as part of our campus transformation. In these spaces, students, faculty, and staff—every day—are gathering and building community. And they are choosing from balanced, nutritious food options.
And, through our dining facilities, we are strengthening our commitment to supporting the local food economy.
Last month, we released the UK Dining Sourcing Report for Fiscal Year 2019. 
When we began our UK Dining program partnership with Aramark in 2014, we emphasized the importance of increasing levels of local food sourcing and support for the state's businesses and farm economy. This report provides the fifth annual assessment of our local food procurement, illustrating our work to enhance the local food economy.
Consistent with our mission as the University for Kentucky, we are cultivating partnerships with farms and businesses in the Commonwealth. We are helping sustain these vital businesses, and we are helping them grow. That's good for UK; it allows us to provide healthier options in new facilities. That's good for our state. That's part of what it means to be Kentucky's flagship, land-grant university.
In the last fiscal year, we purchased more than $2.6 million in locally raised and manufactured foods— a record level of commitment to Kentucky businesses and to the Commonwealth's farm and food economy.
The farm and business impact numbers reflect a 5% increase over last year, or 146% of the KPI minimum in our contract with our dining partner — the third straight year of continued growth in purchases from Kentucky farms or businesses.  Specifically, UK Dining purchases had more than $1.3 million total farm impact this past year, meaning a portion or a majority of the ingredients were sourced from a Kentucky farm. That's up more than $280,000 from the previous year.
And more than $1.1 million in purchases came from Kentucky owned and operated businesses — more than double last year's total of about $540,000.
We view this commitment as a manifestation of our land grant mission.
Because of that mission, we will continue playing a leading role in growing a sustainable and resilient agro-food economy for Kentucky.  We do that by leveraging the institution as a committed buyer of locally sourced products.
It's another way we ask ourselves what's possible for our university and for our state. It's another way we serve as the University for Kentucky.
Have a great week. 
Eric N. Monday 
@UKYMonday 
#UK4KY