UK Named Most Bike Friendly Campus in America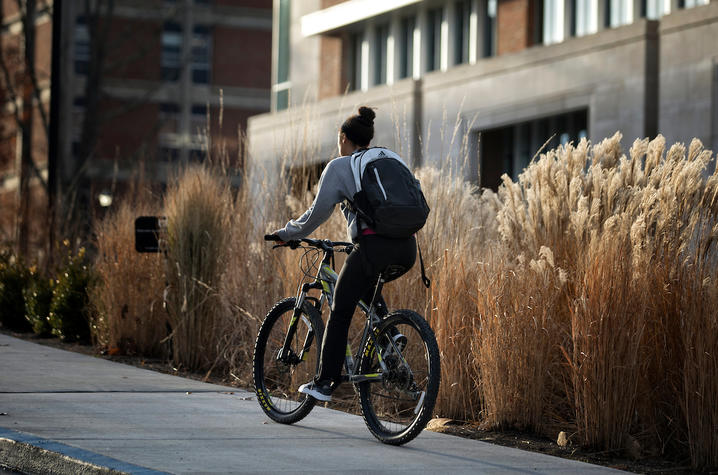 Last month, the University of Kentucky was named the most bike friendly campus in America.
Out of 45 universities, Bicycling Magazine placed UK at the top of its list for 2018 in recognition of our expanding efforts to make campus more bike-accessible. This is no doubt a product of the innovative ideas and programs across our campus that encourage faculty and students to consider the best ways for them commute to and around campus.
We have taken steps to offer a variety of mobility alternatives and incentives for individuals who commit to leaving their car behind when they come to campus.
The UK Commute Club is a free program that rewards campus community members who forego their vehicles. This program is sponsored by UK Transportation Services and is intended to reduce campus parking demands and traffic congestion.
UK's Alternative Transportation Manager, Sandra Broadus, helps coordinate bicycle, transit, and pedestrian programs and infrastructure on campus. She has a passion for how Transportation Services supports and strengthens our campus sustainability efforts.
In line with those objectives, the University and Lexington launched a pilot program for the bright orange Spin bikes you've likely seen around campus, in an effort to promote sustainable transportation.
The University's partnership with Spin offers UK community members a reduced rate for bike rentals. UK Students and employees can ride for $0.50 per half hour, or purchase unlimited monthly rides for $14, or unlimited annual rides for $49. This represents a 50% discount on standard fares.  UK students and employees may also qualify for a free annual membership through the UK Commute Club.
These initiatives supplement UK's overarching goal to reduce carbon emissions and promote efficient transportation methods. Our recognition as the most bike-friendly campus in America underscores the seriousness with which we are advancing that work.
We are not done yet. We will continue to improve our bike friendly infrastructure and provide our community with the flexibility to choose alternative transportation mobility options.
We are dedicated to making the university accessible and safe for all modes of transportation.  It's another way we commit to creating the best environment possible for our community's success.
Have a great finals week. Finish strong.
Eric N. Monday
@UKYMonday
#KYCan