Kentucky Can: UK's Campaign for the 21st Century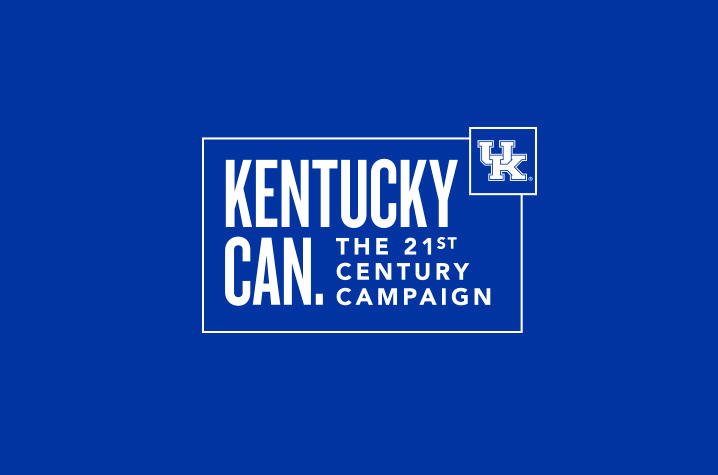 The University of Kentucky's history is marked by resilience and shaped by an unyielding and compassionate commitment to those we serve.
Today, informed by that past, we are focused on the future. We are asking ourselves a fundamental question:
What does it mean to be Kentucky's university in the 21st century?
We take seriously our role as the University for Kentucky. We are the heartbeat of our state's industry and the providers of leaders and innovators for its workforce. We heal lives and transform communities, equipping them to prosper and move forward.
For that reason, we are doubling down on doing more—on being more—for Kentucky, by launching the largest fund-raising campaign in the history of the institution and the Commonwealth it serves. 
Our initiative – "Kentucky Can: UK's Campaign for the 21st Century" – is a $2.1 billion comprehensive campaign focused on three areas critical to the University and the future of the Commonwealth:  
First, investing further in scholarships that cultivate the best and brightest minds on our campus and equip students to be productive contributors to the Commonwealth. This includes growing our nationally heralded UK LEADS program and other scholarships efforts by some $300 million to ensure affordable access and timely degree completion.
We've already reduced unmet financial need among our students by more than 10 percent in the last year and it's at the lowest levels since 2013.  But it's not enough. We can do more. What if we tried to eliminate debt and financial stress among our students all together?
Second, growing our endowment from $1.5 billion to more than $2 billion to attract and retain top faculty, create innovative programs, and address the complex questions of our day. 
Our dreams and ambitions will require us to recruit and retain leading scholars and faculty to further support student success and to work across and among disciplines. That intersection is what tomorrow's jobs will require and where discoveries and solutions are most likely to be found and promoted. 
Third, enhancing and expanding our research enterprise in which the UK family can forge new discoveries, making UK a destination for world-class outcomes. 
We believe we can eradicate opioid addiction and abuse in this state. We are committed to reducing cancer rates by half. We believe we can help develop a food supply to feed more people in an environmentally sustainable way. 
But those discoveries and interventions take two things – talent and infrastructure. And they both require resources to make them happen.
We are on our way to reaching this historic milestone.  We've already raised $1 billion toward our goal. Now, we are excited to accelerate our momentum as we build not for ourselves, but for the future of Kentucky.
This place has been – and continues to be – home to pioneers and providers, bold dreamers and strategic thinkers, who make our vision and work possible. 
Now, it is time to get to work: to follow in the footsteps of those who came before us—those who gave of themselves to change our campus and Commonwealth for the better. 
Now, we have the opportunity to harness our dogged determination and boundless compassion to write the next chapter for this University.
We can double down on our dreams for those we serve in the Commonwealth and beyond. 
Kentucky Can bring hope to those in need and in pain.
Kentucky Can equip the new leaders who'll show us the way.
Kentucky Can find answers to the biggest questions we face. 
Kentucky Can work harder, reach higher, and dream bigger for the future of our institution, our students, and our state.
It is time to show the world what Kentucky Can do.