Our Colleague: Sonja Feist-Price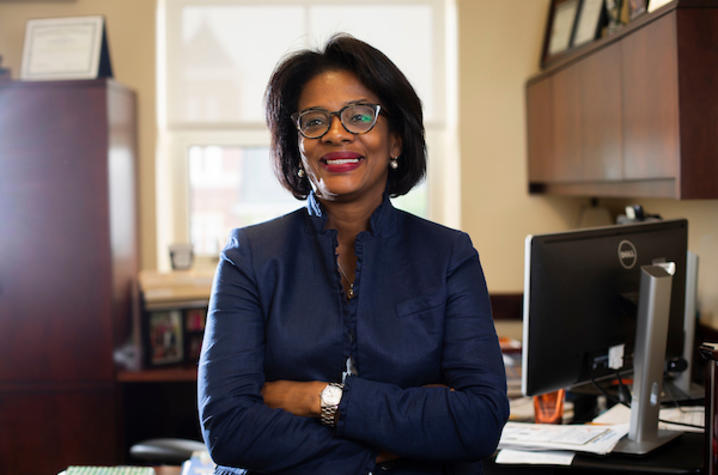 President Capilouto sent the following message to campus on June 10, 2020.
Dear Campus Community,
A hallmark of a great institution is people who are recognized by others for their skills and character. Of course, that also means you experience the bittersweet feeling, from time to time, of losing outstanding individuals to other institutions that recognize what you've known all along.
That's the case with Dr. Sonja Feist-Price.
It's with a mixture of great pride, and more than a little sadness, that I write to inform you that Sonja has accepted the position of Provost at the University of Michigan-Flint. The appointment is subject to approval later this month from that institution's Board of Regents. With that approval, she will begin her new leadership position on August 1.
This is a wonderful opportunity for a committed and compassionate colleague who has a heart for students and the tenacious drive to help them succeed in all they do. She is joining an institution that, of course, recognizes those qualities in her and shares them.
Sonja has been a member of our campus community for nearly 30 years. Since arriving here in 1992, she has been a leader — as an outstanding faculty member in her scholarly home in the College of Education, as a member of the Provost's leadership team advocating for students and faculty and, most recently, as our Vice President for Institutional Diversity.
In the Office for Institutional Diversity, Sonja has led a team that helped ensure UK is more diverse and inclusive, and that we are doing more to ensure the success of underrepresented student populations than at any time in our history. Indeed, in the most recent performance funding measurements calculated by the Commonwealth of Kentucky, we are leading the state in helping more students of color and from other underrepresented backgrounds succeed, at higher rates. It is a trajectory we've followed for several years now, thanks in no small measure to the passionate commitment and thoughtful leadership of Sonja and the team she has built.
Without question, we will miss Sonja. We send with her our warmest wishes as she takes this exciting next step in her professional journey.
I also am delighted that, during this time of transition, Dr. George Wright has agreed to serve as Interim Vice President for Institutional Diversity. George has deep connections across our institution and has had an outstanding career as a scholar, teacher and university administrator.
A Lexington native, George received his bachelor's and master's degrees from UK in history and his doctoral degree in history from Duke University. In 2004, he was awarded an Honorary Doctorate of Letters from UK and was later inducted into the Hall of Distinguished Alumni in 2005.
For many years, he served as president of Prairie View A&M University, the second oldest institution of higher education in Texas. Previously, he served in administrative or faculty positions at the University of Texas at Arlington, Duke University and the University of Texas at Austin. George is a noted African American Scholar, and his study of the history of lynching in Kentucky is considered groundbreaking work.
George rejoined our community last year as a visiting faculty member as we commemorated UK's 70th anniversary of integration.
We are steadfastly committed to both our continued progress and to doing even more, as we must, to create a community of belonging and acceptance during a time of anxiety and concern for so many.
Sonja has helped ensure a strong foundation for these efforts — a foundation upon which I know we will build, thanks in large part to the team she has helped establish and the example she has set for us.
In this mission, we all must play a role. I know you join me in wishing Sonja only the best as she takes this next step and as we redouble our efforts to continue our progress as a community of belonging and acceptance.
Eli Capilouto