Recognizing a Member of the UK Family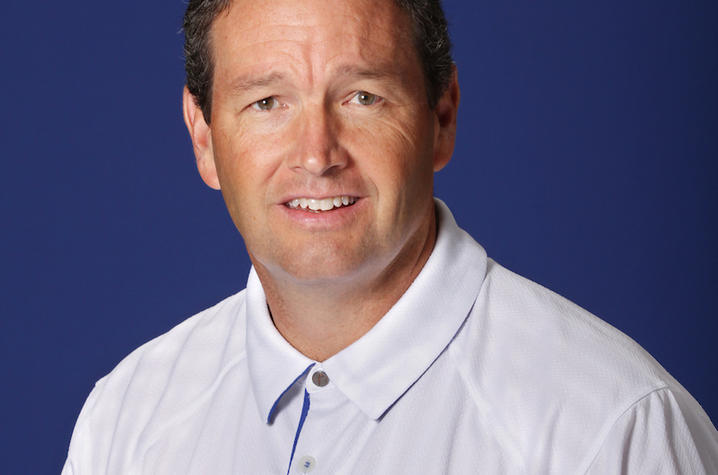 This past academic year, the Chronicle of Higher Education named the University of Kentucky a "Great College to Work For." And as I wrote to the campus following that honor, it was made possible by the talent—and the determination and compassion—that distinguishes the UK family.
Because of our people and their resolve to serve, this past year our community has had several opportunities to celebrate our progress and our vision for the future.
Last month, we celebrated Mitch Barnhart as he was named Athletic Director of the Year by the Sports Business Journal.
During Mitch Barnhart's tenure as Director of Athletics at the University of Kentucky, we have reached unprecedented levels of academic and competitive accomplishment. This award recognizes his deep and compelling commitment to students and their personal success, and to the academic mission of the institution.
He has set ambitious goals to establish UK Athletics among the truly elite athletics departments in America. His Elite 1-3-5 by 2022 initiative challenges UK to win a championship in all 22 sports, sustain a 3.0 grade point average in every semester, and finish in the top five of Directors' Cup standings.
You can see the strength of that commitment in the program's strong graduation rate and grade point average; for fourteen consecutive semesters, UK Athletics has reached the department-wide goal of maintaining a 3.0 and continues to place emphasis on performance in academics.
In addition, several teams have competed for and won conference and national championships, along with individual titles and recognitions in virtually every sport.
Sports Business Journal reviewed athletic directors during a period from March 1, 2018 to February 28, 2019. During this period, UK celebrated the best football season in 41 years culminating in a Citrus Bowl Win, an NCAA Regional appearance in gymnastics, a run to the NCAA super regionals in softball, the 2018 national championship in rifle, and conference championships in men's soccer and volleyball.
And UK Athletics' financial investment in academic and need-based scholarships as well as academic facilities is unmatched.
Three years ago, we celebrated the dedication of the Jacobs Science Building, a 240,000 square-foot, $112 million facility in the heart of the campus. This state-of-the-art classroom and research facility was made possible with funding of $65 million from UK Athletics and $10 million from The Don Jacobs Sr. Charitable Foundation. It was at the time an unprecedented investment in the academic life of an institution on the part of a major athletics program.
Collectively, UK Athletics is in the midst of its greatest run of comprehensive success in school history and recently finished 14th in the final 2018-19 Learfield IMG Directors' Cup standings.
Beyond UK and the Commonwealth of Kentucky, Mitch is a leader in athletics on the conference and national level. He serves as the chair of the Southeastern Conference Athletic Directors and recently completed his third year as a member of the NCAA Division I Men's Basketball Committee this spring.  
At each step of the way, Mitch has built upon the momentum of UK Athletics with respect and integrity. I know I speak for the entire UK family when I offer him our heartfelt congratulations on this well-deserved honor.